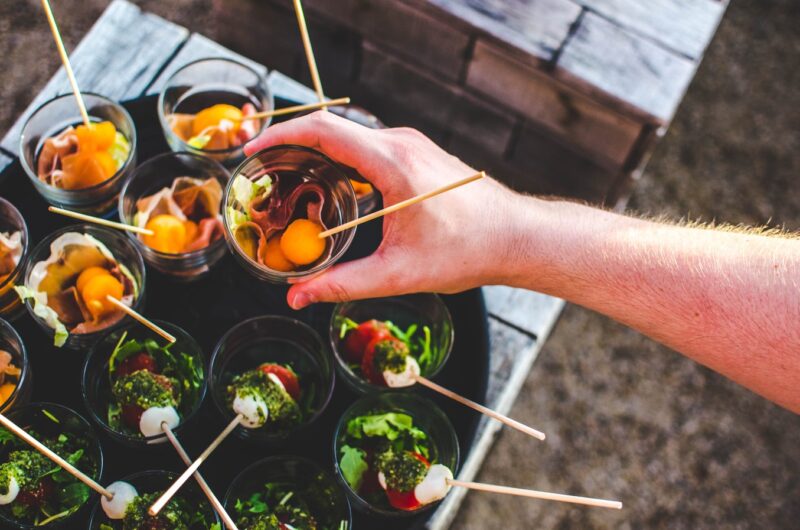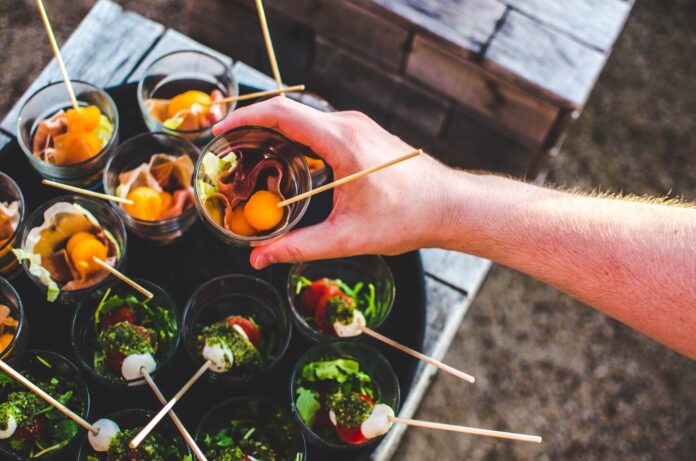 When it comes to hosting a wine tasting party, you have to make the right preparations for that big day. The preparations may include everything from inviting your favorite friends to arranging for party entertainment. Since the partying is about foods, drinks, and entertainment, you may have to plan for the right pairings for the wine; otherwise, the wine will drive your visitors off before the party ends. One of the popular pairings for wine is taking it along with food on a stick, from grilled Asian chicken skewers to Spicy Buffalo Cauliflower Skewers, among others. Here are six foods on stick recipes that are perfect for your wine party.
1. Margarita Chicken Skewers
The margarita chicken skewers will attract passers-by to your wine tasting party through their mouth-watering smell. They involve a quick and simple preparation process provided that you have the right ingredients. However, you should be careful not to get burnt during the preparation process. Experts from Grill Smoke Love recommend homeowners to use grills which are specifically designed for skewing to avoid sustaining burns. The following recipe will help you make your margarita chicken skewers.
Ingredients:
1.5 pounds chicken breasts divided into 12 strips, margarita mix, ½ cup chopped cilantro, 2/3 cup tequila, vegetable oil, two tablespoons chicken seasoning, lime halves, and baby arugula for serving.
Procedure:
Dip the wooden skewers in a basin of water
Put the sliced pieces in a sealable bag and then add the margarita mix, chicken seasoning, tequila and cilantro on top.
Massage the contents in the bag to make the ingredients combine and then refrigerate up to one hour
After marinating, thread each piece on the skewers.
Oil the grill grate and then place the chicken skewers on it
Grill the skewers to the desired doneness and then serve with lime and arugula
2. Sweet Churros and Chocolate Skewers Recipe
Sweet churros and chocolate can align well with wine. To give your visitors the perfect experience, ensure that the churros are crispy but soft and delicious from the inside. Follow the recipe below to make this sweet dessert.
Ingredients:
6 churros, 9 wooden skewers, ¼ cup heavy cream, ¼ cup milk, 1tbs corn syrup,6oz semi-sweet chocolate, ¼ tbsp, fine salt, 1 tbsp. Unsalted butter, ½ teaspoons, vanilla extract, and 2tbs water.
Instructions:
With a serrated knife, cut the churros into your preferred bite-sizes to multiply them, and then add 3 bite-sized churros into each of the 9 wooden skewers.
Mix the cocoa powder with water and then stir to create a cocoa paste
Put the corn syrup, the milk, the cream, and salt in a saucepan and heat them over low heat.
Add the cocoa paste, butter, and semi-sweetened chocolate to the hot mixture above before it boils.
Let the chocolate melt for 5 minutes and then add vanilla extract to the solution and whisk to get sipping chocolate.
Pour the sipping chocolate into glasses; dip the skewers with churros into each glass and serve
3. Grilled Asian Chicken Skewers with Chili Dipping Sauce
Chicken is a rich source of proteins which is free from saturated fats. Offering the Asian style chicken skewers can keep your event at the top of the visitors' memories. Here is a method on how you can prepare it.
Ingredients:
¼ cup vegetable oil, 1 tbsp, sugar, ¼ cup of cilantro leaves, 1tbsp of Asian hot chili, 2tsp of soy sauce, 2 inches fresh ginger, 2 cloves of garlic, 1 pound skinless and boneless chicken thighs, a dipping sauce, salt, and 6-inch wooden skewers.
Directions:
Blend the chili sauce, cilantro, soy sauce, ginger, garlic, salt, and oil to smooth paste.
Thread the pieces of chicken on to each of the 6 skewers and place them in a clean basin
Apply a marinade mixture on the pieces, cover them, and marinate them in the fridge for up to 2 hours.
Discard the marinade and cook the chicken over the grill for 5 to 7 minutes and then serve.
4. Spicy Buffalo Cauliflower Skewers
The spicy Buffalo Cauliflower skewers can bring about appetite in both vegans and meat lovers during that big day. Here is a recipe for preparing the appetizer.
Ingredients:
1 head cauliflower, ¼ tsp salt, ¼ teaspoonful black pepper, ½ cup Louisiana sauce, ¼ spoonful garlic powder, 2 tbsp melted butter, carrot sticks, blue cheese dressing, and celery sticks, and 15 4-inch skewers.
Procedure:
Mix the cauliflower, the garlic powder, pepper, and salt in a basin.
Add melted butter and hot sauce and shake to coat. Attach the cauliflower onto each of the 4- inch skewers
Cover the skewed cauliflower and heat over medium heat for 14 minutes
Remove from the grill when the cauliflower becomes tender and crispy.
Serve with carrot, celery sticks, and blue cheese dressing.
5. Bacon-Wrapped Scallops
You will need bacon-wrapped scallops to diversify your food portfolio. You can make tasty bacon scallops using the following recipe:
Ingredients:
1.5-pound big scallops, extra-virgin olive oil, ½ pound sliced bacon, sea salt, black pepper, cup hot chili, and 3 sliced avocados.
Directions:
Use the thin slices of bacon to wrap each scallop and secure the wrapping with a toothpick.
Place the wrapping on a baking sheet and then sprinkle olive oil over it.
Season them with pepper and salt.
You can serve the bacon-wrapped scallops with spicy mayo or avocado.
Grilled Chicken Sticks with Plum Sauce
Grilled chicken coated with plum sauce is a perfect barbecue for the ladies and the lovers of sweet colored chicken on the occasion. You need the following recipe to prepare it.
Ingredients:
4 skinless and boneless chicken breasts, 2tsp of olive oil, 2 tsp of fresh mint, lemon zest, salt, pepper, 15 wooden skewers, lightly toasted sesame seeds, plum jam, fresh lime juice, rice wine vinegar, minced ginger, honey, and chopped garlic.
Method:
Cut the meat into thin slices.
Put the slices in a sealable bag and then add mint, olive oil, garlic, lemon zest, salt, and pepper on it.
Massage the bag's contents to mix the ingredients thoroughly and then marinate the chicken up to 4 hours.
Remove the chicken from the refrigerator and allow it to thaw.
Thread the slices on the wooden skewers and keep them in a clean basin.
Put all the sauce ingredients in a common pot, allow them to simmer for five minutes over low heat, and then remove them.
Grill the chicken skewer while applying the plum sauce on it for 3 minutes. Remove it and serve while hot.
You can now prepare the perfect foods on a stick, given that you are now aware of the different preparation methods. Pick the recipe that resonates with you and surprise your friends.