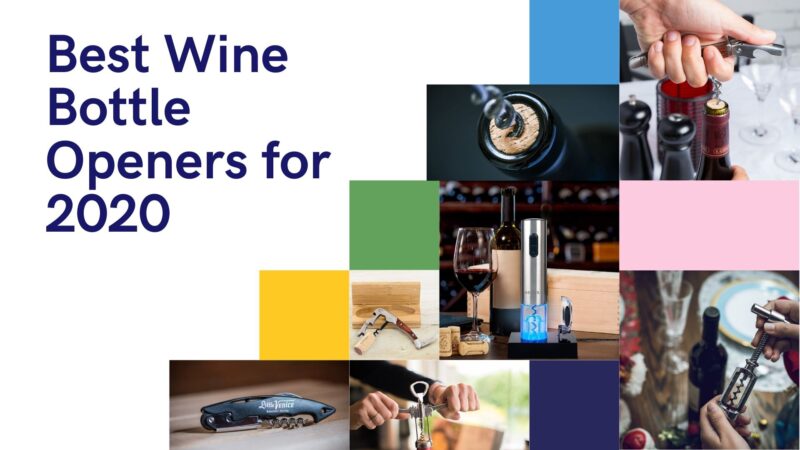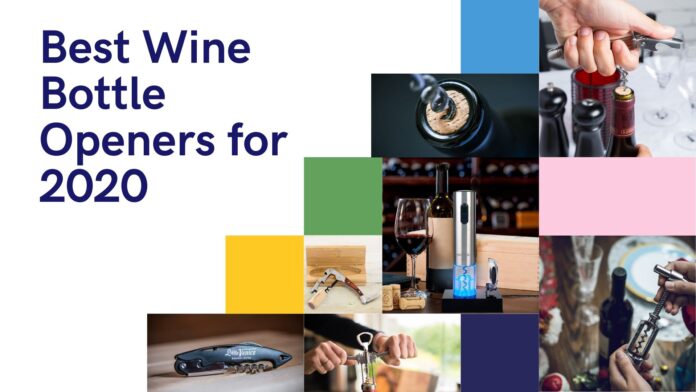 Secura Electric Wine Opener, Automatic Electric Wine Bottle Corkscrew Opener with Foil...
OXO Steel Vertical Lever Corkscrew with Removable Foil Cutter
Professional Waiter Corkscrew Wine Openers Set (4 PCS),Upgraded With Heavy Duty Stainless...
Stainless Steel Wing Corkscrew Wine Opener, Waiters Corkscrew Cork and Beer Cap Bottles...
Stainless Steel Wine Opener Compact Vertical Corkscrew Wine Bottle Opener with Foil Cutter
Every wine lover and enthusiast knows how important it is to have a good wine bottle opener. If you've been looking for a comfortable, efficient, and fast
corkscrew
, you are in the right place!
Every wine lover and enthusiast knows how important it is to have a good wine bottle opener and to know what are best winemaking kits like the ones you have at
https://www.myhomewine.com/best-wine-making-kits/
We'll show you the ten best wine bottle openers, which will help you leave your friends and guest envious. Pick the one which catches your eye and adds it to your home bar as a wine bottle opener is a must-have accessory.
1. Metrokane Vertical Houdini Corkscrew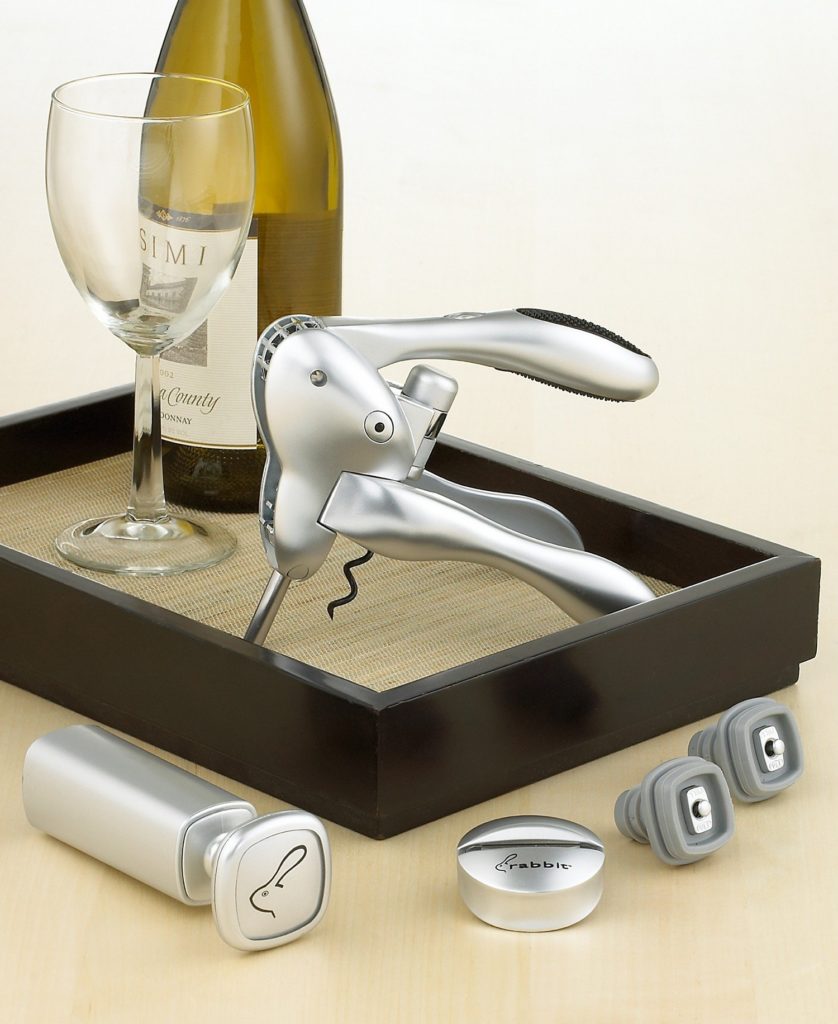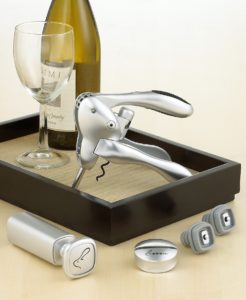 If functionality is what you're looking for, you should definitely get the Metrokane Vertical Houdini corkscrew. It is an ideal mix of elegant design, smooth surface, and superb functionality. The durable material and the silver color with black and metal accents make this corkscrew look very attractive.
Moreover, this is a durable product that is compatible with all cork types. What's great about it is the automatic release of the cork and not having to exert too much force. You will also get a foil cutter with this corkscrew. Note that over time the spiral might become loose.
Customer Reports
Shaltha
This corkscrew came in a hard plastic box with all the pieces listed and took the wine opening process from a five-minute struggle to a ten-second breeze. I think initially the part they were most fascinated with was the foil cutter, which cuts very cleanly and easily. When I tried it, I was surprised how smoothly it cut, I didn't think it had even done anything until I removed it to look at it and the little circle of foil came off with it.
David S
Love it. Easy to use, comes in a nice storage container.
2. HiCoup Wing Corkscrew Wine Opener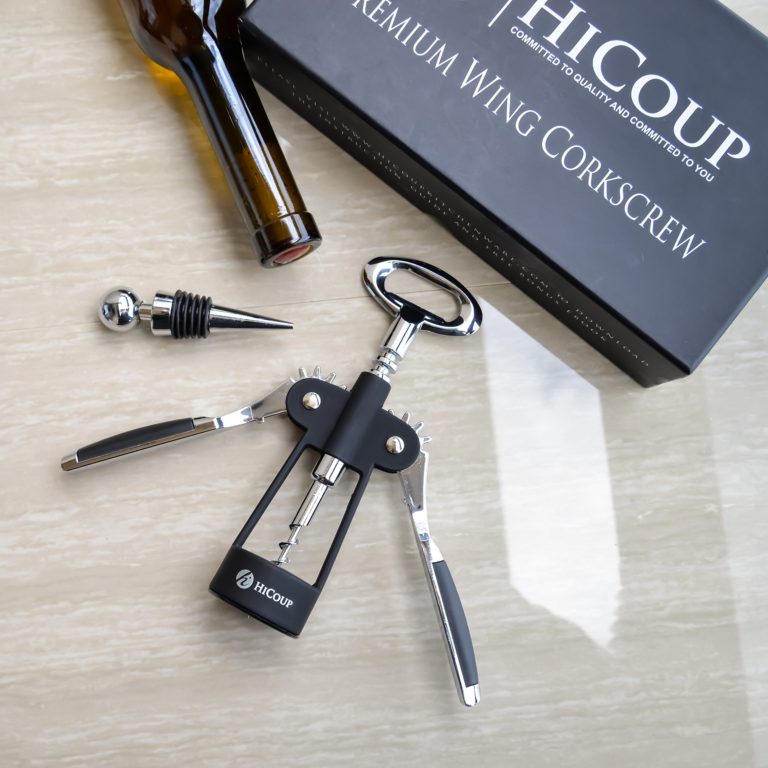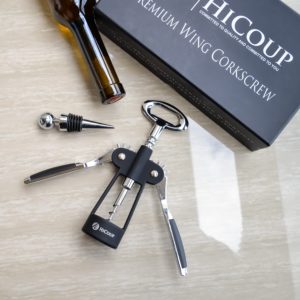 The HiCoup Wing corkscrew wine opener is the perfect option if you want functionality and elegance in one product. It comes with a non-stick crew that slips through corks of all bottle types and sizes. You will find it very easy to use it and feel how compact it is to touch.
This product consists of a bottle opener at the top and a wine stopper for half-drunk wine bottles. As a multi-purpose product what you might find troublesome is the plain design and the difficult portability.
Customer Reports
Amazon Customer
I have been a wine enthusiast for over 30 years. My go-to opener has always been the simplicity of the wing corkscrew. Finding a quality wing corkscrew was a different story, until now. The HiCoup opener has smooth gearing, rubber grips on the wings, and a perfectly straight point at the end of the corkscrew. The last item may seem small, but I have purchased winged corkscrews with a slight curve at the end which makes it difficult to center properly on the cork. If you are looking for a quality opener at a very reasonable price look no further, HiCoup is it. Added bonus is the beautiful box it comes in and the wine stopper. You will not be disappointed.
Traveler
The opener works perfectly for me. The crucial part is that I happened on one of the very helpful reviews on amazon before I bought the opener (many thanks to the fellow reviewer!), so I've been using the opener correctly from the start. I.e., open in stages: get the screw in partially, and press on the wings. Repeat 1-2 times. The cork slides out easily. The stopper that comes with the opener is handy as well, because I can't get the cork back in the bottle.
3. HQY Wing Corkscrew Wine Opener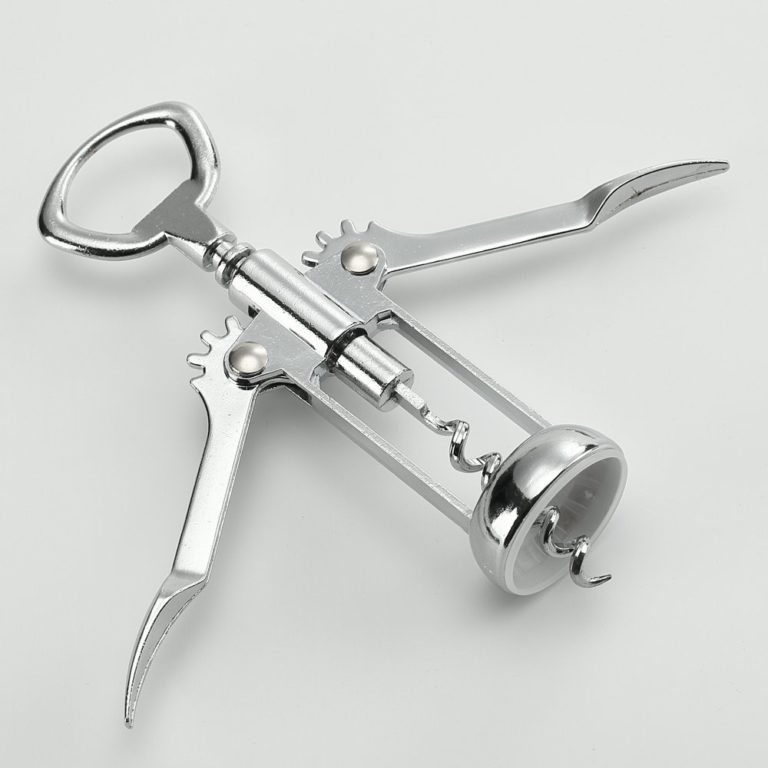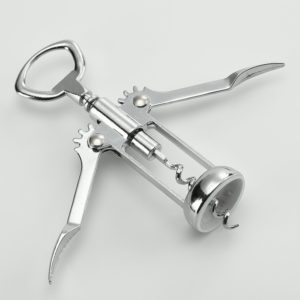 This corkscrew is a great combo between traditional feel and simple yet modern design. It features 3-inch wings on each side and a vertical design. You will open your wine bottles very easily with the HQY Wing corkscrew wine opener.
Simply position the opener over the bottle and twist to dig the screw in. What makes this opener so exceptional is its elegant and multi-purpose design. Its only downside seems to be the effort it requires to use it.
Customer Reports
Mary
I bought this to put in our 'hurricane' box-if we have to be stuck for days at least we can open up the wine. And yes, there are a few bottles of wine in the box. And not the cheap screw cap stuff-the good, let's celebrate kind with corks. It should make have no electricity more bearable.
Msowens85
This was my first time opening a wine bottle as I just started drinking wine and this worked perfectly. Although I didn't know what I was doing at first, watching others do it helped for me to use it on my own and this corkscrew worked very well and extremely easy to use. Love it.
4. Ozeri Nouveaux II Electric Wine Opener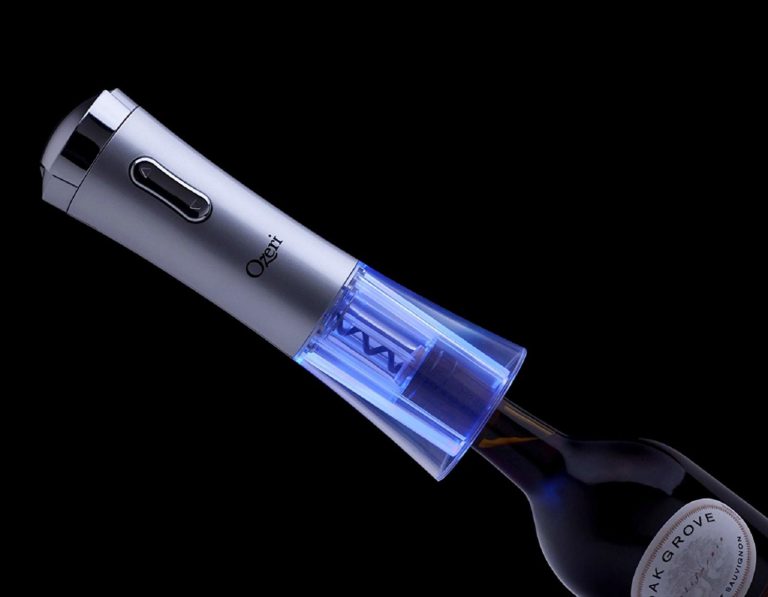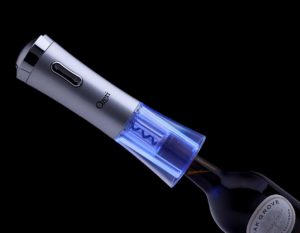 This is another exceptional electric wine opener that fits all bottle sizes and cork types. In order to use it, you will only need to press a button and witness the whole process through the transparent opener. You will also get a wine pourer and stopper for an enjoyable wine drinking experience, as well as a foil cutter.
The Ozeri Nouveaux II electric wine opener has a long battery life and it's very easy to handle. Nevertheless, many people find the necessity for optimum maintenance very bothersome.
Customer Reports
Clyde Wynant
This is an outstanding electric wine opener. Ease of operation couldn't be simpler: fit the clear plastic sleeve over the neck of the wine bottle, press down the toggle switch to extract the cork, then reverse the switch to remove the cork from the screw. Barring operator error, it's flawless. This model uses a wall adapter to recharge, although other models are battery-operated, eliminating the recharging step and the accumulation of adapters and cords.
Paul
This made wine tasting a more enjoyable experience! What I like especially about this is the wine bottle tip insert. Before I would have a separate device to decant the wine, but this made it super easy to decant. It fits right in the bottle as advertised and you can pour it out and it will do the decanting for you!
5. HQY Wine Opener Corkscrew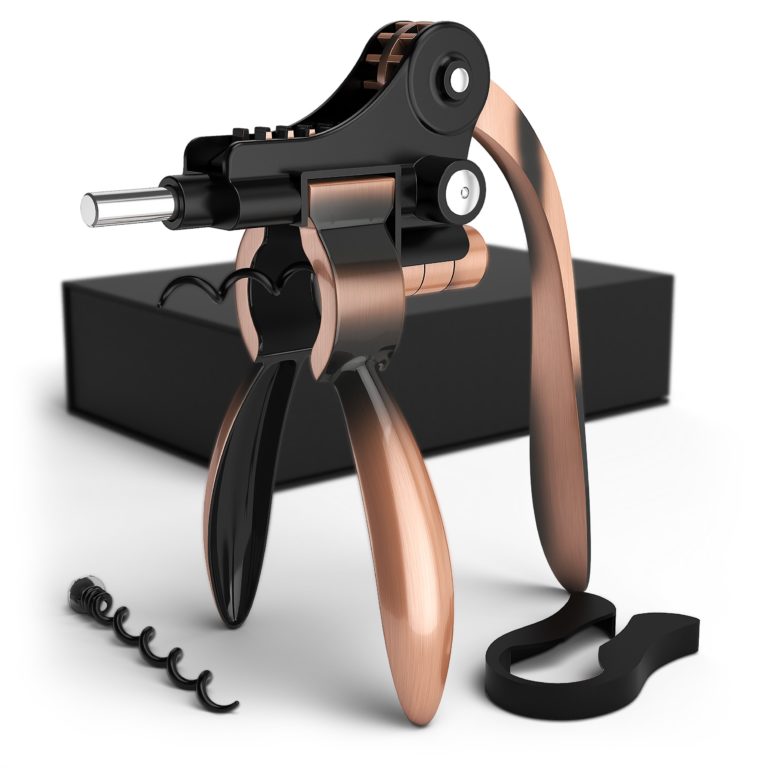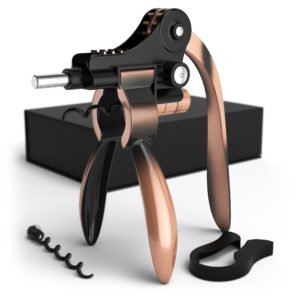 The HQY wine opener corkscrew is an ideal opener for the most challenging corks. It is easy to use and looks like a high-tech gadget. Furthermore, it features two wings on either side that fit wine bottles of all sizes, as well as, a foil cutter.
The positive aspects of this product are the ability to replace the screw, the durable material, and the dual-purpose design. Like every product, it also has a couple of negative aspects. Hence, it isn't easily portable and it looks very plain and compact.
Customer Reports
Jesse Rohr
The wife and I drink a bottle of wine pretty much every night and there is no telling how many countless hours have been spent fishing broken corks out of bottles or dealing with other nonsense. This thing has changed my life for the better. The opener has a bottle ready to drink in 10 seconds….without issue, always. I have not encountered a single problem with the product since its arrival.
Richard E. J. Burke
I like the most that it's the 2nd best wine opener I've owned. I bought the original version of this same opener through Costco and it was made substantially better. My gripe: this version does not unscrew the cork easily because the cork slips up and I must hold it down with my thrumb. The original did this perfectly.
6. Oster Cordless Electric Wine Bottle Opener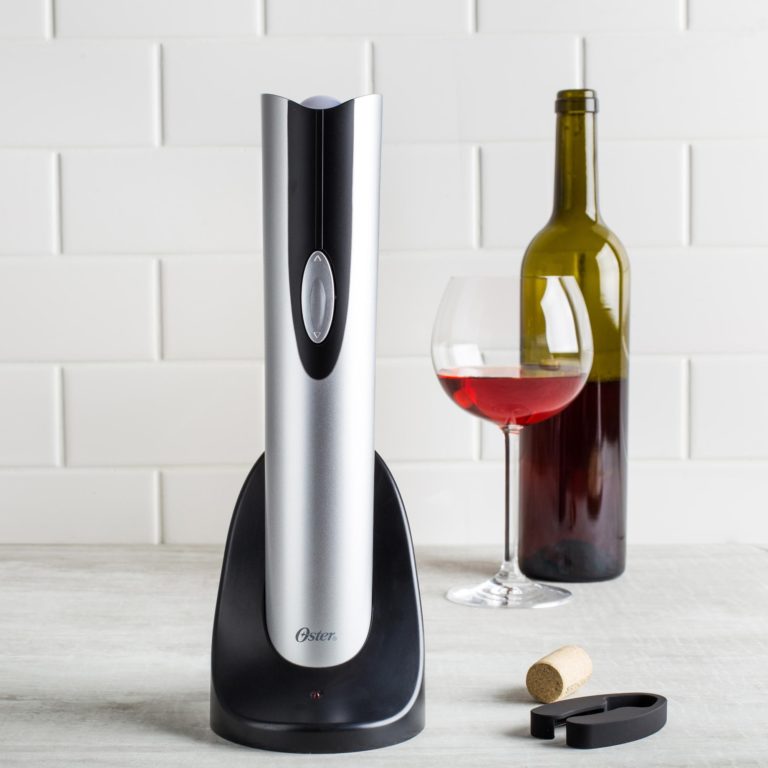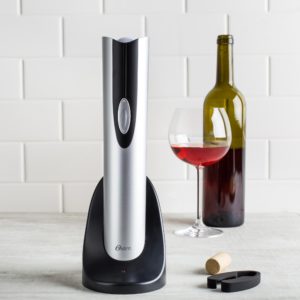 The Oster Cordless electric wine bottle opener offers an enjoyable and memorable wine opening experience. This is a comfortable product that utilizes the best of technology and has an elegant design. Likewise, it is an electric wine opener that fits all bottle sizes and shapes.
You will only need to push of a button to open a wine bottle, and then another push of a button to automatically remove the cork. This wine bottle opener features a transparent plastic at the base of the opener. It's an ideal wine accessory to have as it has long battery life. However, you will have to often maintain it and make sure it doesn't come in contact with liquids.
Customer Reports
Carolyn King Schmitt
Easy to charge and operate. Has a handsome stand to keep it and the foil cutter handy. It Opens 30 bottles before recharge it says. Great for off-grid camping when you still want some civilization and cocktails. I like the cork discharge function; makes it easy to get the cork off the opener.
Yvonne
Where have you been all my life? lol I have been struggling with the ol' wine bottle opener for years and as time has passed my hands have aged and its very very painful to open a bottle. I finally got this electric wine opener I'm in heaven!! Oh so easy in less than a minute!! Just hoping it lasts a while.
7. Ipow Stainless Steel Red Wine Beer Bottle Opener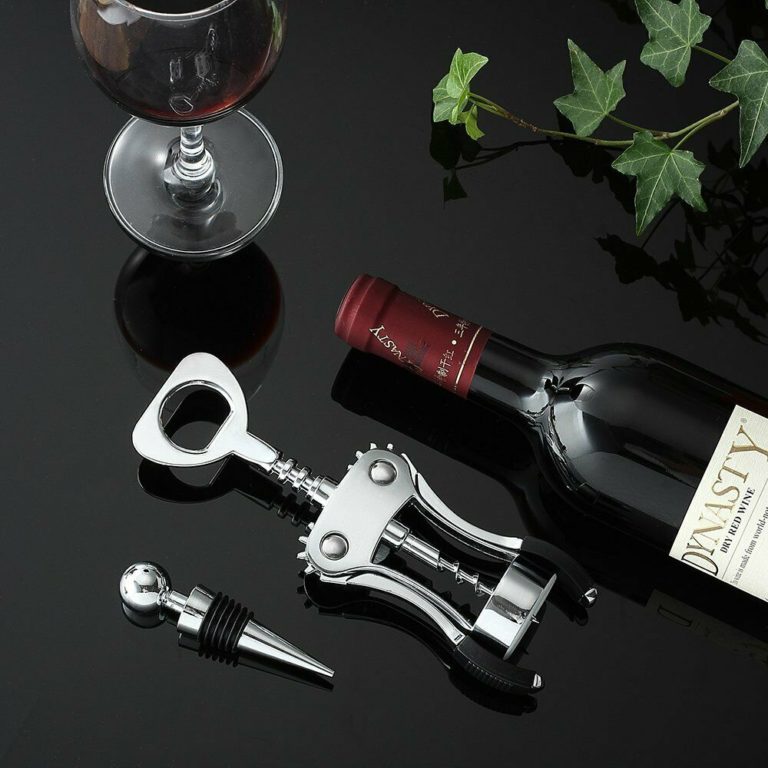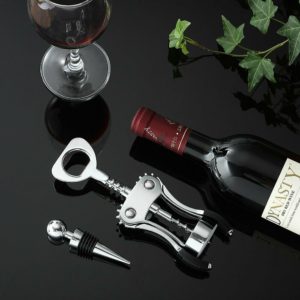 If you want a product with a modern design and traditional feel, this is the bottle opener you need to get. The Ipow Stainless Steel bottle opener features a mechanical design suitable for easy opening and an enjoyable experience. It comes with a smooth and sleek screw which fits all bottle types, as well as, a stopper mechanism which prevents cork breaks.
There is also a bottle opener positioned at the top if you want to use it for beer opening. The traditional feel and its versatility are what make this bottle opener so superb. However, it is a product that isn't easily portable.
Customer Reports
Brenda D.
I have been using this for a couple of months now. I have gone thru many wine openers over the years and was hopeful this one wouldn't be a cheap disappointment. Many reviews called it durable so I ordered. It is heavier than my last one and does seem like it will open many bottles, regardless of cork type. The tip pierces easily and the gears do pull the cork smoothly. Very happy!
KM
Sturdy and heavyweight. Great bottle opener!
8. Secure Stainless-Steel Wine Opener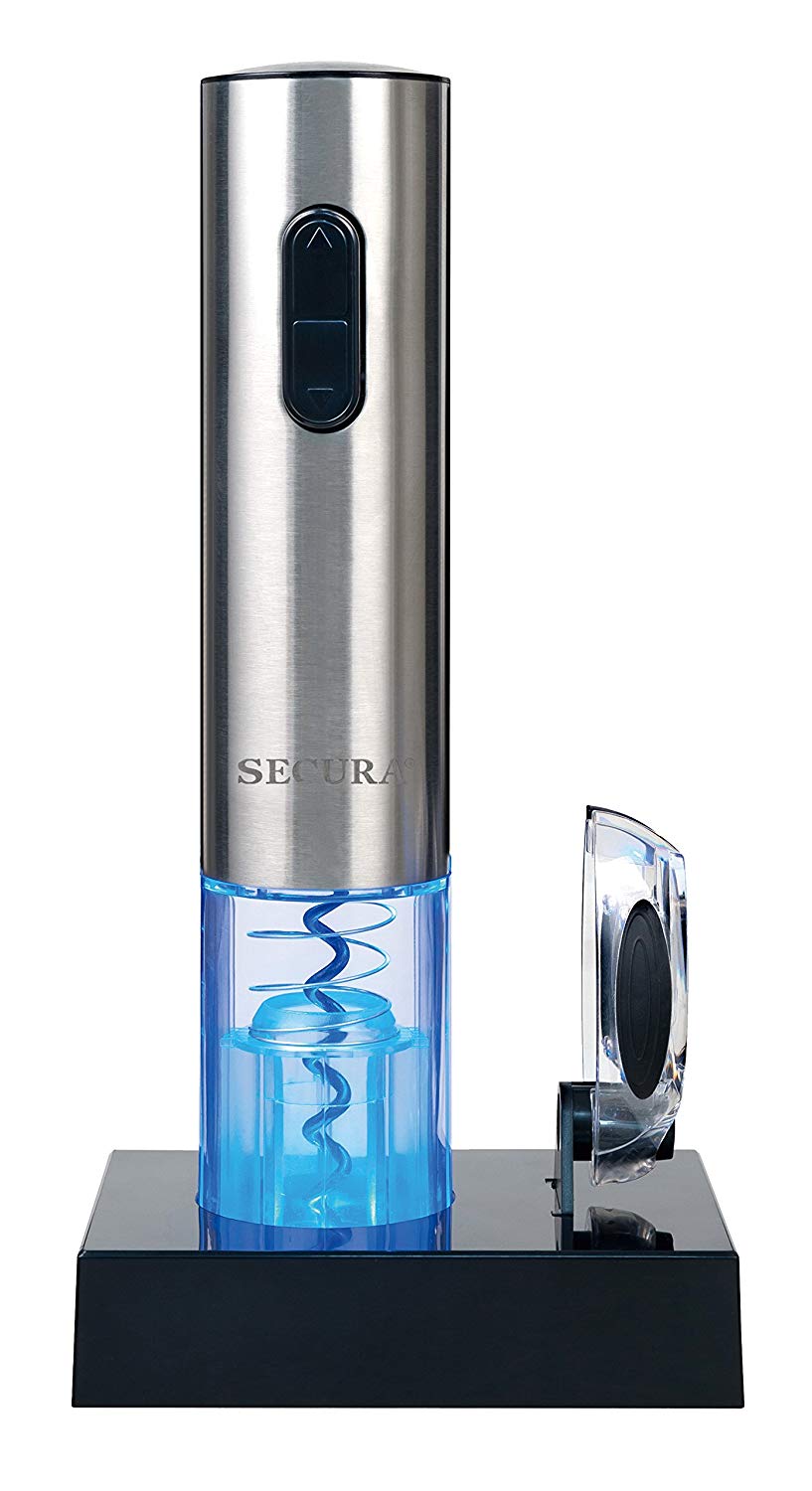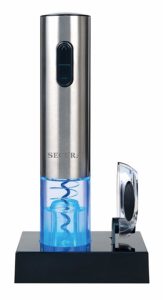 The Secura Stainless-Steel wine opener is an electric product that combined technology and style. The design seems simple at first glance, but it is more effective than most similar products available. Additionally, it has a stainless-steel extension on the top and a robust and transparent plastic at the base.
It is suitable for all sizes and the screw can penetrate all types of corks. Moreover, this easy and quick to use wine opener has a long battery life and it's extremely durable. Its only downside is the limited voltage and single-purpose functionality.
Customer Reports
Amazon Customer
I bought this as a gift for both my mother and stepmother on Mother's Day. They both love it. My mom has arthritis pretty bad in her hands but loves wine. This product saves her hands from having to grip and twist the cork bottle opener. You can have a bottle of wine opened in four seconds with this product. The foil remover is super spiffy too because no more sliding a knife carefully around the edge! Just place over the foil, grip together and twist in one motion. This is a great product and as soon as I'm not broke anymore I'm getting myself one.
Julie Mozingo
Bought this bad boy for work. The reviews were either great or people were upset about the battery. Ive had it at work over a month now and opened 1000s of bottles of wine with ease with it. I give this thing raving live reviews. I havent had a cork break off or any cork in the bottles since i purchased it. If the motor had gone out after 100 bottled id have called it worth my money but its still working 1000s later. It does seem to be going a little slower and the charger base is getting a tad finicky but ill just order another happily when it does go out.
9. 4 in 1 Wine Opener-Screwpull Corkscrew with Pour Spout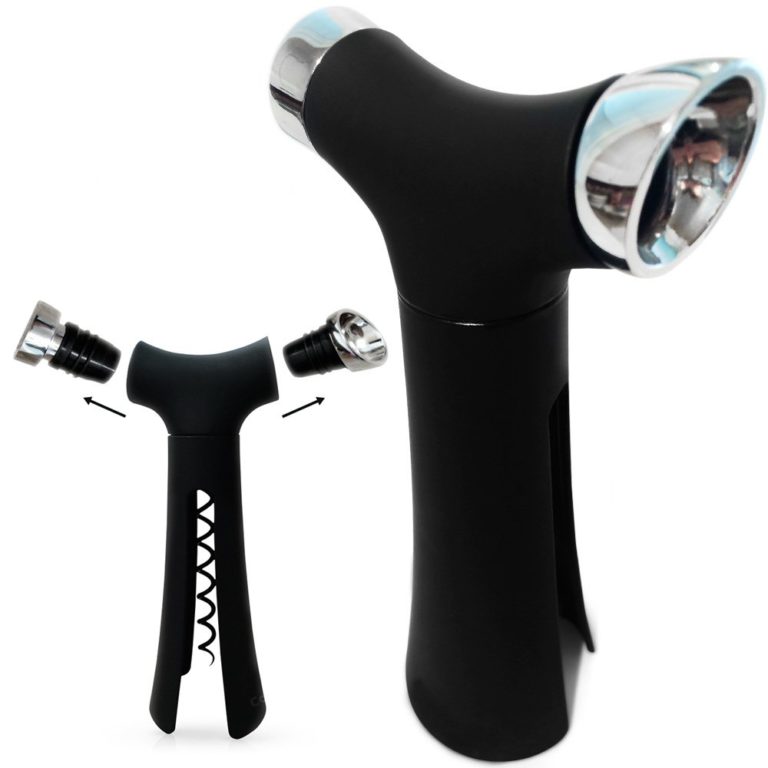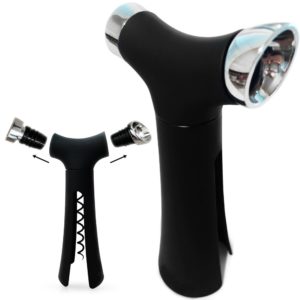 4 in 1 Screwpull Corkscrew with Pour Spout wine opener has a simple design and doesn't actually look like a corkscrew at all. Nevertheless, it's one of the best wine openers you can get. It features a long screw with adjustable stands on either side, a knob at the top that is twisted to bore through the cork. In order to use it, you won't need to push or pull.
Additionally, there are three extra accessories for multi-purpose use, including two foil cutters, a wine pour spout, and a leak-proof wine stopper. The only downside to this durable product is that it takes a bit longer than regular corkscrews to open a bottle.
Customer Reports
Moses Schwimmer
I'm pleased with the service, I chose the color red because it's a wine color. Overall, the product is great. Keep it up!!!
Tamara
I absolutely love the 4 in 1 Wine Opener. It makes it so easy to open a bottle of wine after a hard day. Usually, at the end of the day, my fingers are very sore using this wine opener has made having that glass of wine much easier. Also, it is so great because it is so compact it fits nicely in your drawer taking up less room them another wine opener & decanter.
10. Owl Topper Wine Opener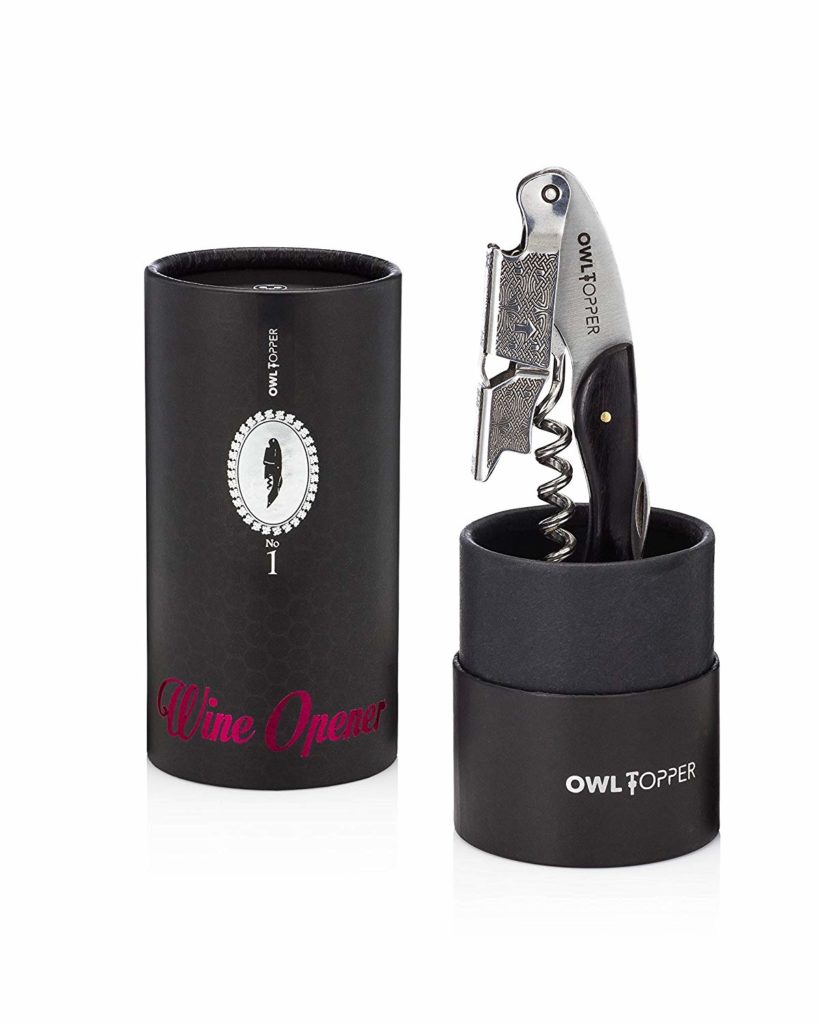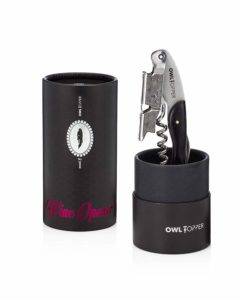 The elegant design of this wine opener will win your heart at first sight. It is made of stainless steel, ebony wood and Celtic trim. Hence, it is rust-proof and has a classy touch. You will enjoy the compact feel when using it and you'll love it for its smooth and quick performance. It is a versatile opener and fits all types and sizes of bottles.
Moreover, with a simple press of the lever, it will automatically pull the cork. The Owl Topper wine opener comes with a foil cutter and a bottle opener for beer lovers. The only disadvantage we could think of is the enclosed design.
Customer Reports
Eva Angsuco
I love it! It's so cute and whenever I use it people want to see it. I've only used it for about 2 weeks so I can't say if it will hold up but so far so good.
Yesenia
I'm in love with my owl wine key. I get so many compliments , Plus it's so easy to use !
11. TableCraft Chrome Wing Corkscrew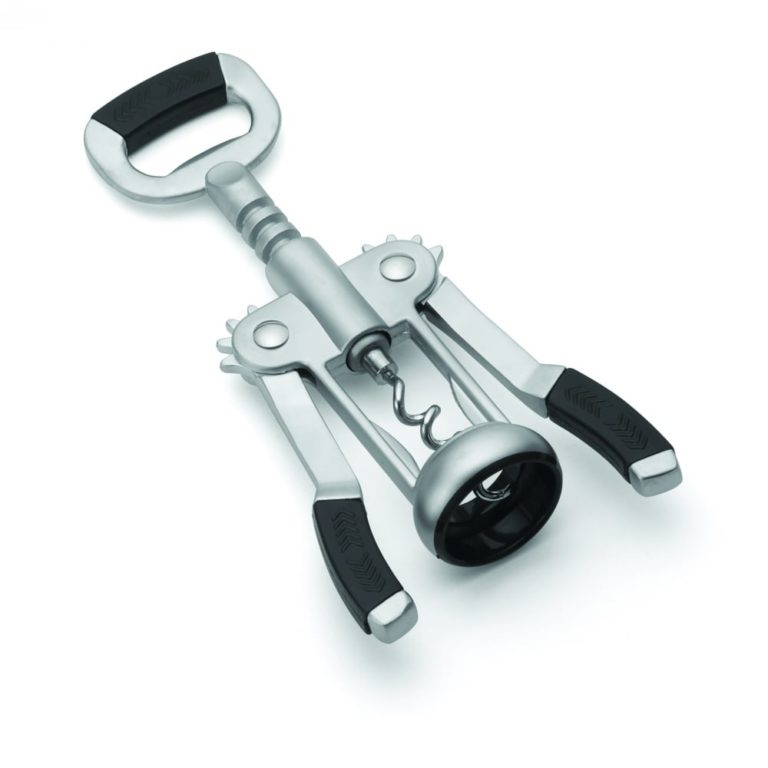 This wine opener is meant for people who don't mind getting their hands dirty and doing this the old-fashioned way, the TableCraft Chrome Wing Corkscrew is a solid choice for people who are on a budget. It definitely is not easy to work with like an electric wine bottle opener is, but it will still get the job done.
This old-fashioned wine opener has the standard "wing" design, you just have to screw in the corkscrew and then all you have to do is push the wings down and the corkscrew pops out. This specific model has a very robust chrome build and a plastic ring so that the bottle doesn't break. You can also put it in the dishwasher and the double levers have tight tension so they provide good leverage. It's a good wine opener for a good price.
Customer Reports
Sherry
This wine bottle opener is a good value at this price! It is as good as the expensive one which I bought!
Mary Belan
Worth having a high-quality wine opener at this price. Good zinc alloy, well polished, Hold it in hand, It has an amazing texture. The screw is easy to insert into the cork quickly with less crumbling. That's really helpful, I don't need much downward pressure. It is also a beer opener. Good to keep this high-quality one.
12. Fante's Self-Pull Corkscrew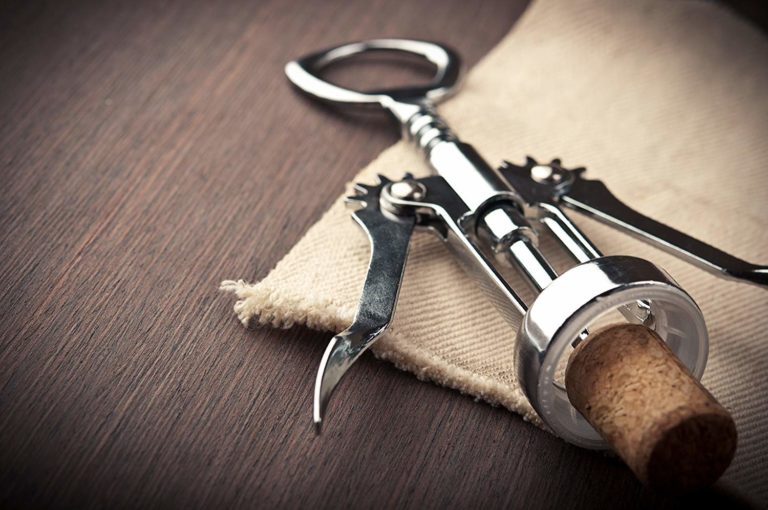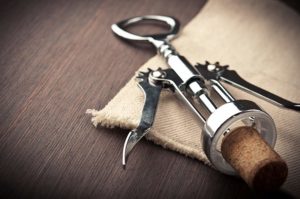 Just like the wing corkscrews, twist corkscrews are another traditional style of wine opening and when you consider all the twist corkscrew products there are, Fante's Self-Pull Corkscrew comes out near the top. This product is made by one of Europe's best corkscrew manufacturers and a lot went into building this so that it's easy to open those wine bottles.
This model has a solidly built metal construction and a handle with a comfortable grip. There's even a mechanism which keeps it in place while you are doing the work. All you have to do is line up the opener and turn the handle, and watch the magic happen.
Customer Reports
Joseph Patrick Collins
This little gem is unbelievable – I would love to learn what screw is made of and how it was heat-treated. I don't care how well-seated the cork is, it gets it out. GOOD GOING to your Metallurgist!
BillM-Raleigh
I like this style of a wine opener. It's very easy to use. You can't do it wrong (unless you decide to start the screw into the cork near the edge of the cork. This feels like it will last a lifetime. I went through 3 Screwpull of the same style. For some reason, they were made of plastic, and the more difficult to extract corks put too much pressure. All cracked in the same way.
13. Wine Ziz Wine Air Pressure Pump Bottle Opener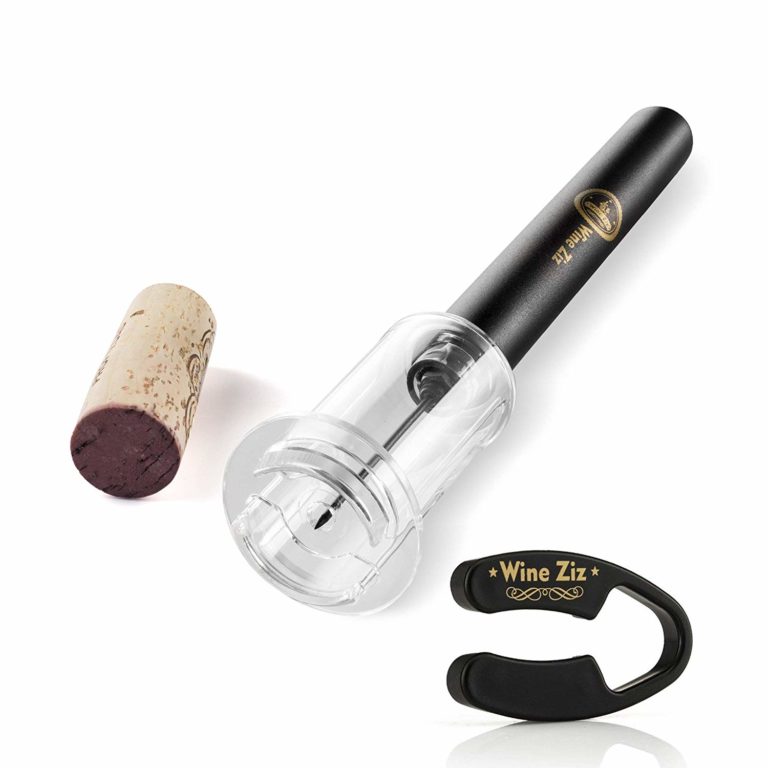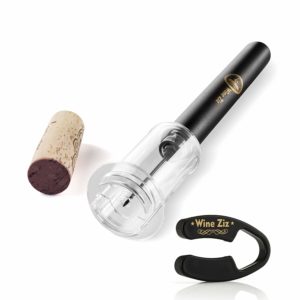 This small product does not look like it can pull out a wine cork, but you should expect the unexpected. This a pretty unique style of wine opening and it enables you to open wine bottles effortlessly, no twisting nor pulling.
All you have to do to open a wine bottle is slide the needle into the cork and pump It a few times. That is all it takes, it's a very simple way of doing it and in the process, it lowers the chances of the cork breaking. The only thing you can't do is open plastic corks, but it works with bottles of all sizes.
Customer Reports
Finestkind
Way easier than struggling to try to pry a cork out with a traditional corkscrew. Just insert the needle straight into the cork and pump a few times with your hand over the apparatus until the cork starts to work out, then another pump or two, and pop, the cork is in your hand.
Amazon Customer
I have some arthritis in my hands and this makes it so much easier for me to open a bottle of wine. I Love this!
14. Brookstone Compact Wine Opener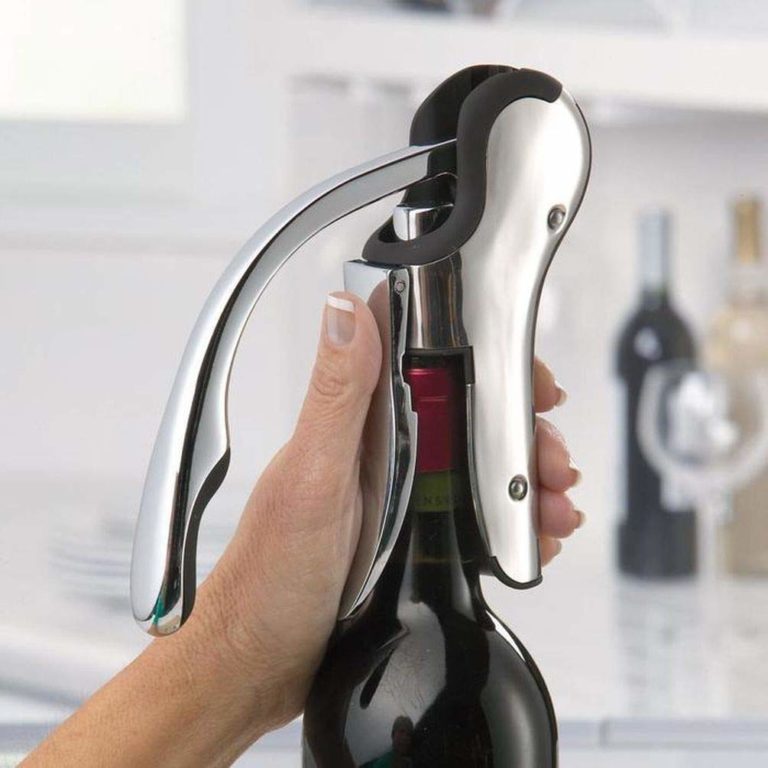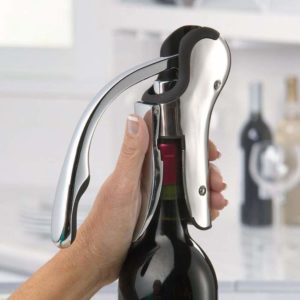 This is yet another different style of wine openers, this one uses a lever. The way you operate this compact little device is you line up the opener and push the lever down to insert the corkscrew into the wine bottle. After that, you just pull the handle up in one motion, without stopping, and voila, the cork is out.
What makes this specific lever-style wine opener great is how ergonomic it is, it makes for a very good hand grip and because of its small size, you easily store it anywhere you want, like a kitchen drawer. A lot of reviewers say they love how simple it is to operate.
Find more info about Brookstone Compact Wine Opener in our review.
Customer Reports
RJP4121
Awesome, best wine opener we have owned, gets lots of use.
Jazz Guy
Terrific! Never used a simpler, easier or just plain cooler corkscrew! It's been said that if you invent a better mousetrap, the world will beat a path to your door. Meet the greatest "mousetrap" ever. I have no idea what the reviewers meant with some of their issues, this is SO simple to use. Follow directions, and voila it's open! Even simpler is removing the cork from the device, I think it may be easier than falling out of bed. Sorry I had not discovered this device years ago.
15. Kalorik 2-in-1 Wine Opener and Preserver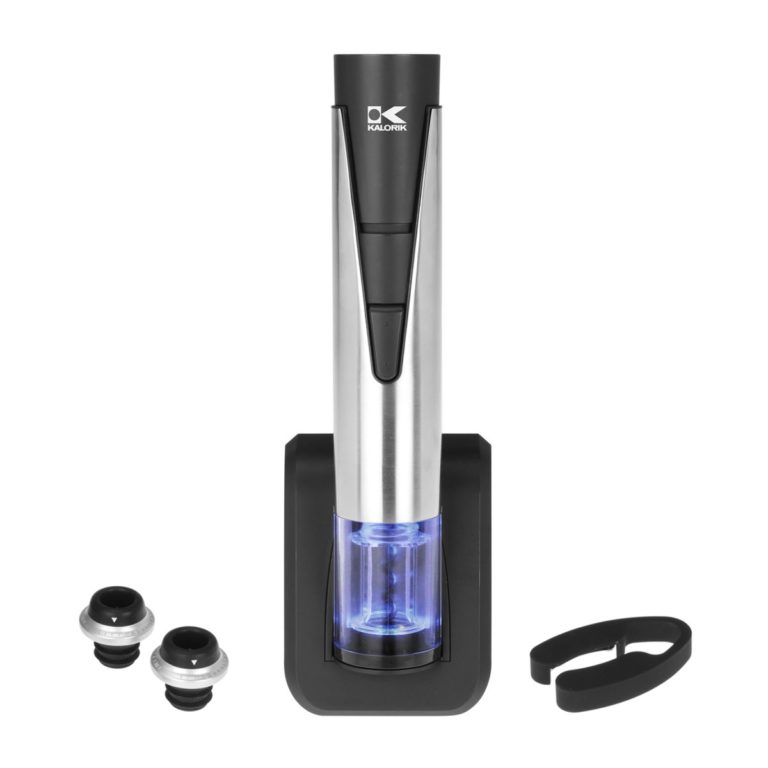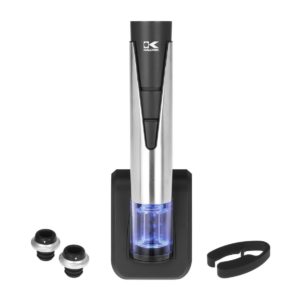 You can have two essential wine tools in one amazing device. This specific device is great for smaller homes since it allows you to put the cork back inside the wine bottle and save it for another time.
When you buy this wine opener you get more than you thought. You get its charging base, a foil cutter, and two wine stoppers. Basically, it's an electric wine opener on one end and the other is the wine preserver part. All you have to do is press the preserver down against the bottle and it will remove the air from the bottle in about 20 seconds.
Customer Reports
Amazon Customer
Very effective and cool. Actually works in removing and releasing cork and evacuating air.
CC
Bought for my husband for Christmas after a few hand crank ones had been broken. We love this Karlorik opener; and the feature that (sort of) takes the air out of a not yet empty bottle is very cool. When they perfect that feature it will be well worth the $60+. Time and use will tell if it's worth the cost.
Infographic:

Factors to Consider When Buying a Wine Opener
Buying a wine opener, or corkscrew probably doesn't elicit much reflection from most people. Most of the time people only buy corkscrews when their need is urgent, so they don't have the time to think about their needs. If you're not one of those people, then you're likely willing to invest some thought into buying a corkscrew before purchasing one. Here, you'll find the major factors to consider when buying a wine opener.
Questions to ask yourself
First, ask yourself what your needs and preferences are. How often do you use your corkscrew? Where do you use it? What types of bottles are you opening with it? How many bottles at a time do you open? Where will you store it? Will you be traveling with it? Answering these questions is a good start and will help you narrow down your choice.
How often you need a wine bottle opener?
If you open bottles frequently, at least once a day, then you'll want something that doesn't require so much brute force. In that case, consider an electric one. If you host guests often, an electric or automatic one might be for you too. Opening bottle after bottle with a traditional or screwball takes time and makes your hands sore.
Where?
If you are planning to open your wine outdoors where there's no access to electricity, then avoid the electric ones. Avoid the more cumbersome models, too, like the lever corkscrews. The same goes for traveling with your corkscrew – the less space it takes up in your suitcase the better. Remember to put your corkscrew in your checked, rather than carry-on luggage if you don't want it confiscated!
Storage?
Do you have adequate kitchen space for a larger model, like an electric, automatic, or even legacy? If you'd rather not leave your corkscrew out on your counter all the time, consider one of the smaller ones, like the screwpull, wine keys, or winged.
Types of Models
There are six major corkscrew models; all have been mentioned here already. They are traditional and screwpull, wine keys, winged, lever, automatic and electric, and legacy.
Traditional and screwpull are usually the hardest to open with, but they're portable. Wine keys are also very portable, due to their smaller size.
They also usually include a handy foil cutter. Winged models are some of the easiest to use, having levers on the side that you simply push down to remove the cork. They are not recommended for aged wine, though.
Lever corkscrews are also exceptionally easy to use, but they can be pricier. They're perfect for someone without the hand strength required for other models. Automatic and electric are the simplest models to work with. They come in battery-operated and rechargeable versions, and are, understandably, among the most expensive.
The final type is legacy wine openers. These are high-end corkscrews that generally appeal to collectors. They are antique style, taking up a lot of space and costing a lot of money. They make great presents for wine connoisseurs.
Standards
Now that you've identified your personal preferences and know the major types of models available, you should review the standards of good wine openers.
Your corkscrew should be able to handle various types of corks, whether traditional or synthetic. It should have a worm instead of an augur. A worm resembles a coiled worm, whereas as an augur looks like a worm wrapped around a nail. Augurs tend to ruin corks before you can open the bottle.
The wine experts from Backbeat Bar tell us that the screw should be at least 1.75 inches long, also to avoid breaking the cork. The corkscrew should incorporate mechanical assistance, like a lever, so that you don't have to use all your might to pull the cork out. The worm should be of decent thickness – too thin and it could break, too thick and it could destroy the cork.
A Final Note
The final thing to consider is, of course, price. As you research the corkscrew market and see what's available, decide on your budget. What are you willing to spend and how much value are you seeking?
Price is important, but don't let it be your deciding factor. As you can see, there are many factors to consider when buying a wine opener. If you rely merely on the price to guide your decision, then you won't end up finding the perfect corkscrew for you.
Check out some other interesting choices:
IPOW Zinc Alloy Wine Opener with Wine Stopper, Premium Wing Corkscrew, Giftable Wine...
[Sturdy Material, Strong Construction] This wine bottle opener is made of premium zinc alloy. And the wine stopper is made of stainless steel. All parts are thick and durable.
[No Cork Tear] Sharp pointed spiral goes into the cork quickly and efficiently. No need to worry about the cork remnants in the wine. Just enjoy the sip without hassle.
[Easy To Screw] Featured with a big sleek turn handle for easy to screw. For people with arthritic hands and the elderly, IPOW wine opener will be a great choice.
[Quick Pop] Just pull down the wings and your cork will come out! Sturdy wings with rubber provide ease and comfort for each grip. And the stable rivets ensure the cork is extracted out of the center.
[Nice Gift Set] Premium wing corkscrew with wine stopper! With IPOW, wine drinkers can easily open difficult bottles. A fine and elegant addition to anyone's kitchen utensils. No wine lover should miss it.
Brookstone Compact Wine Opener
Brookstone Compact Wine Opener
Open any wine bottle in just 3 seconds
Lever-pull design makes opening effortless
Extra-long handle provides greater leverage
Works with natural and synthetic corks
The Durand® two part device to successfully remove older and fragile wine corks whole and...
The Durand is a broadly patented device that is exceptionally effective in removing compromised and fragile corks, whole and intact, from older, valued wines. The Durand has been repeatedly tested on the most challenging corks. It has performed consistently and flawlessly.
Using The Durand for older, fragile or compromised corks eliminates the unwanted outcomes of broken corks, corks pushed into bottles or corks partially removed leaving pieces floating in the wine. The Durand removes the cork whole and contained.
The Durand is named for Yves Durand, a world-renowned sommelier, and a personal friend and mentor.
The Durand is simple and easy to use…when used correctly. Please take a moment to look at the instructions diagram or the informative video on this page. Directions for use are also printed on the inside of the reusable wrapper that encases the cork presentation box of The Durand.
Sale
Hicoup Wine Opener - Professional Corkscrews for Wine Bottles w/Foil Cutter and Cap...
ERGONOMIC - A sleek, wooden handle and durable stainless steel body give this tough wine bottle opener a reassuringly sturdy hold. Makes popping that cork as easy as 1, 2, 3!
EASY TO USE - Our specially designed wine corkscrew effortlessly removes natural and synthetic corks in 5 twists or less – no more hand cramps, cork breakage, or hard work required
DURABLE DESIGN - The double-hinged fulcrum on this wine key for bartenders allows for maximum efficiency by articulating the pivot, while providing extra leverage for easy removal on your end.
SERRATED FOIL CUTTER - The built-in, serrated edge on the built-in wine foil cutter allows for seamless cork removal. The go-to all-in-one wine opener set for waiters and wine lovers everywhere.
THE PERFECT PRESENT - Know any party hosts, servers, or wine connoisseurs that could use an easier way to sip? Our cork screw wine openers make incredible Christmas gifts, stocking stuffers, and holiday party favors.
Sale
Wine Bottle Opener Wing Corkscrew, Godmorn Rose Gold Beer Bottle Opener with Wine Pourer,...
❤【 Heavy Duty Stainless Steel 】-- Our wine bottle opener is made of stainless steel with heavy duty and weighed 212g/7.5oz. You can feel the premium quality when you hold it in hand. Unlike cheap thin wine opener, all parts are thickened for durable and sturdy.
❤【Unique Rose Gold Color】-- Shiny rose gold wine opener looks stylish and fit for all occasions like home, bars, party or wedding. Comparing with common silver color, elegant rose gold makes you unusual and noble. A perfect gift idea for Mothers day, birthday, anniversary, valentine's day, Christmas, house warming ,etc.
❤【Combines Beer Opener】-- The ring on the top is a beer opener and easy to hang up to storage. Our wine opener come with a wine pourer, which can avoid wine dripping when pouring and staining the carpet or tablecloth.
❤【Ergonomic Handle】-- Ergonomic handle make it comfortable and easy easy to grip. Ultra-sharp screws can keeps corks from breaking.Remove corks easily with leverage principle.
❤【100% Satisfaction Service】-- If there is any problem with our wine bottle opener, please feel free to contact us and we will refund or send you a replacement, we will not let you bear any loss.
Sale
OTOTO Vino Spooky Bat Wine Opener - 2-in-1 Wine & Beer Opener, Corkscrew & Bottle Opener -...
Meet Vino, the bat - From the Design Awarded Studio OTOTO, we bring you Vino, the Bat! Grab the wine and don't hold back; Vino keeps your night on track! Vino makes the perfect gifts for wine lovers! Opens corks easily without pain; treat yourself to a glass of wine or two, for this bat is here as your trusty corkscrew. Add him to your collection of cute kitchen tools and gadgets and you're all set!
Spook'-tacular gift for anyone - Looking for fun kitchen gadgets or housewarming gifts? Vino's durable wings and sharp fang open corks in a swift! This funny novelty item is also ideal if you're in search of new home gift ideas. A corkscrew opener made with functional design, Vino is built to pop open your bottles, whether beer or wine. Easy open as one two three, pour up your fizzy drinks and toast with glee.
Take your drinks to the 'neck's' level - Drinking sessions are more fun with this cork screwer that's ready to stun! Make beer cocktails like Beer Margarita and Black Velvet. How about wine mixes like Sangria, Mimosa, or Apple Snaps Fizz? Vino flaps its wings and lands on the bottlecap. He twists and turns until you hear the cap snap! He pierces through the foil and cuts with no mess. Vino does the magic for when you need to impress!
Fang'-tastic cork opener - It's a wine bottle opener that's extra special, for it's made from high quality silicone and metal. Enjoy your blood-red wine with a handy corkscrew to open it up. Watch Vino sink its fang on the cork and make it pop up! No toxins and chemicals that are harmful for you- it's BPA-free and doesn't rust too! A 'spook'-tastic staple that's right for the night. Let Vino, the Bat set your sesh alight!
A sprinkle of fun - Ever heard of the one where they lived happily ever after? Well, that's always the story with OTOTO's household products, because everyday chores are no longer a bore when you've got adorable gadgets to explore! Our team strives to create functional products with a quirky and unexpected twist. We love sprinkling in a bit of fun and magic in all that we do and we hope you feel the same way too!