Secura Electric Wine Opener, Automatic Electric Wine Bottle Corkscrew Opener with Foil...
OXO SteeL Vertical Lever Corkscrew with Removable Foil Cutter,Black/Silver,2.1
4 Packs Professional Waiter Corkscrew Wine Openers Set,Upgraded With Heavy Duty Stainless...
Stainless Steel Wing Corkscrew Wine Opener, Waiters Corkscrew Cork and Beer Cap Bottles...
Stainless Steel Wine Opener Compact Vertical Corkscrew Wine Bottle Opener with Foil Cutter
Every wine lover and enthusiast knows how important it is to have a good wine bottle opener. If you've been looking for a comfortable, efficient, and fast
corkscrew
, you are in the right place!
We'll show you the ten best wine bottle openers, which will help you leave your friends and guest envious. Pick the one which catches your eye and adds it to your home bar as a wine bottle opener is a must-have accessory.
1. Metrokane Vertical Houdini Corkscrew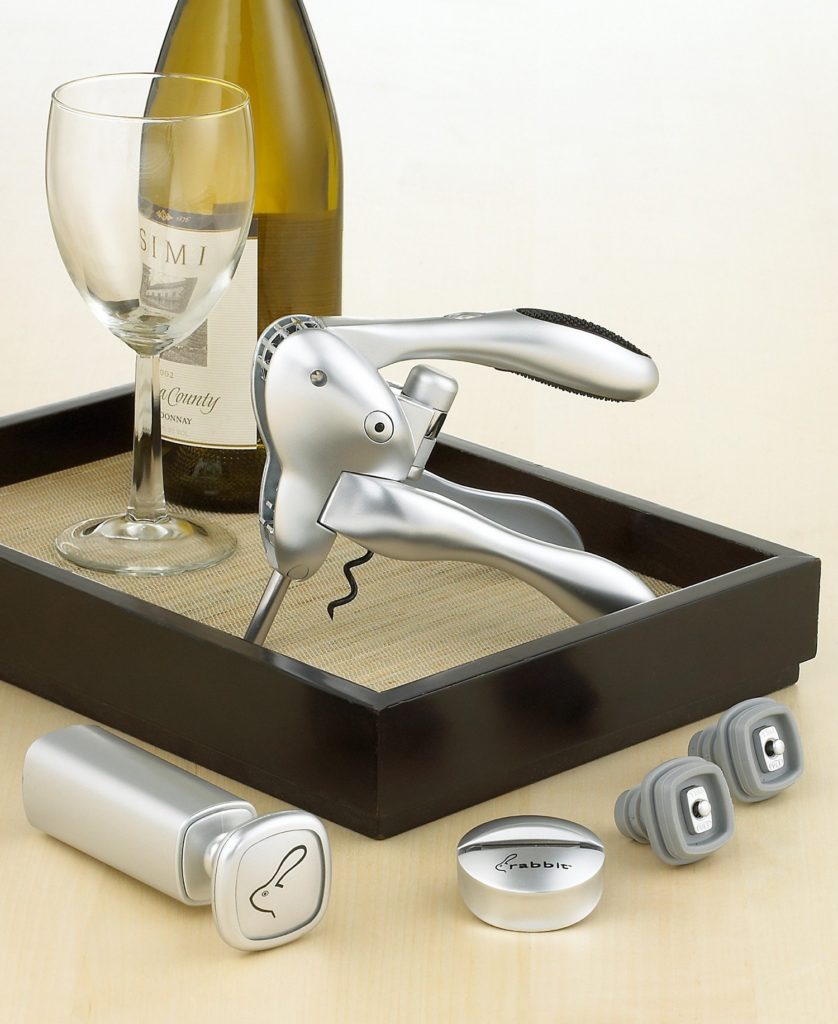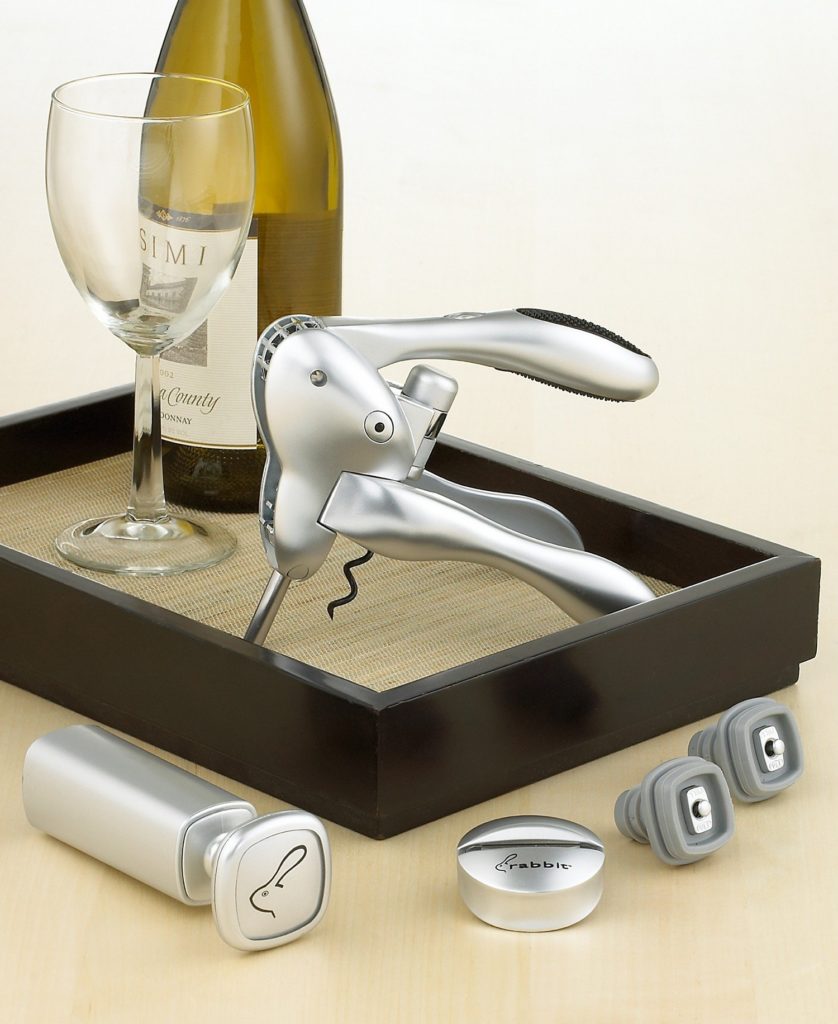 If functionality is what you're looking for, you should definitely get the Metrokane Vertical Houdini corkscrew. It is an ideal mix of elegant design, smooth surface, and superb functionality. The durable material and the silver color with black and metal accents make this corkscrew look very attractive.
Moreover, this is a durable product that is compatible with all cork types. What's great about it is the automatic release of the cork and not having to exert too much force. You will also get a foil cutter with this corkscrew. Note that over time the spiral might become loose.
2. HiCoup Wing Corkscrew Wine Opener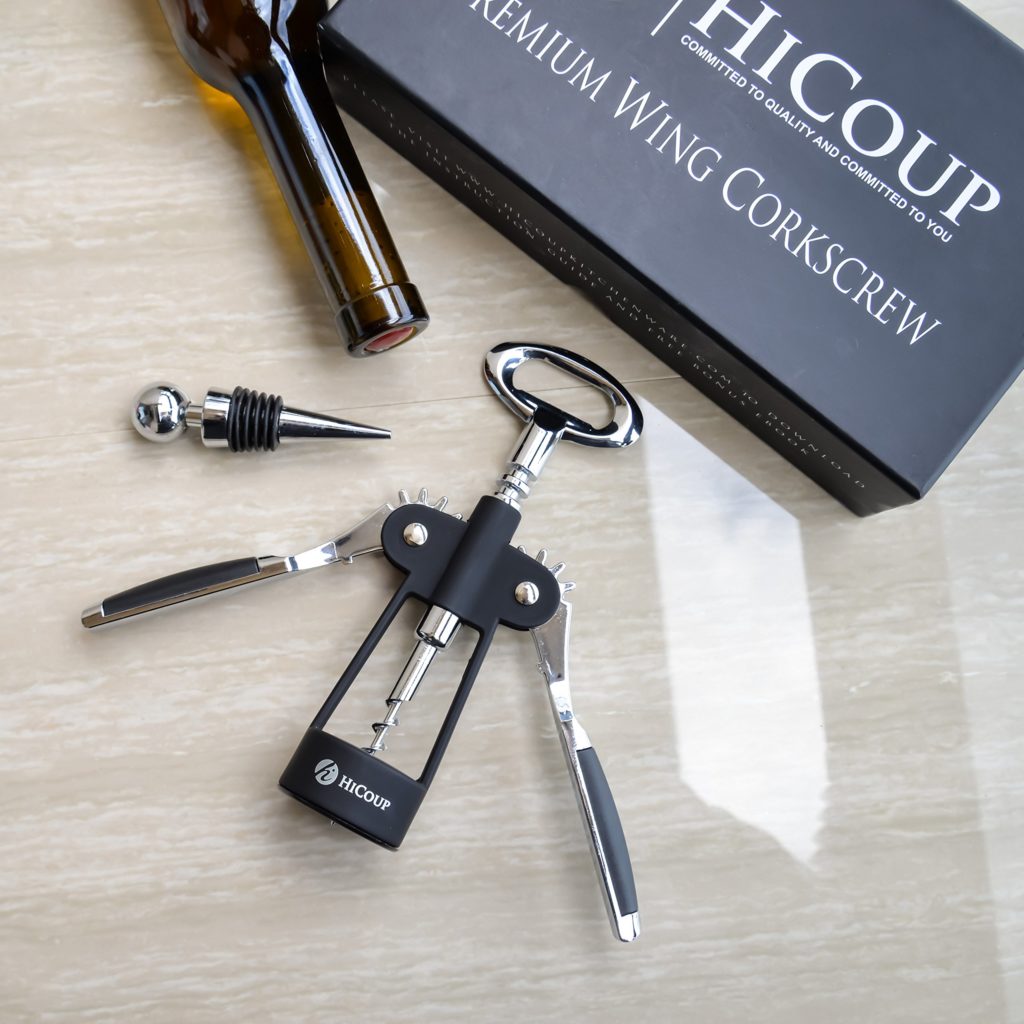 The HiCoup Wing corkscrew wine opener is the perfect option if you want functionality and elegance in one product. It comes with a non-stick crew that slips through corks of all bottle types and sizes. You will find it very easy to use it and feel how compact it is to touch.
This product consists of a bottle opener at the top and a wine stopper for half-drunk wine bottles. As a multi-purpose product what you might find troublesome is the plain design and the difficult portability.
3. HQY Wing Corkscrew Wine Opener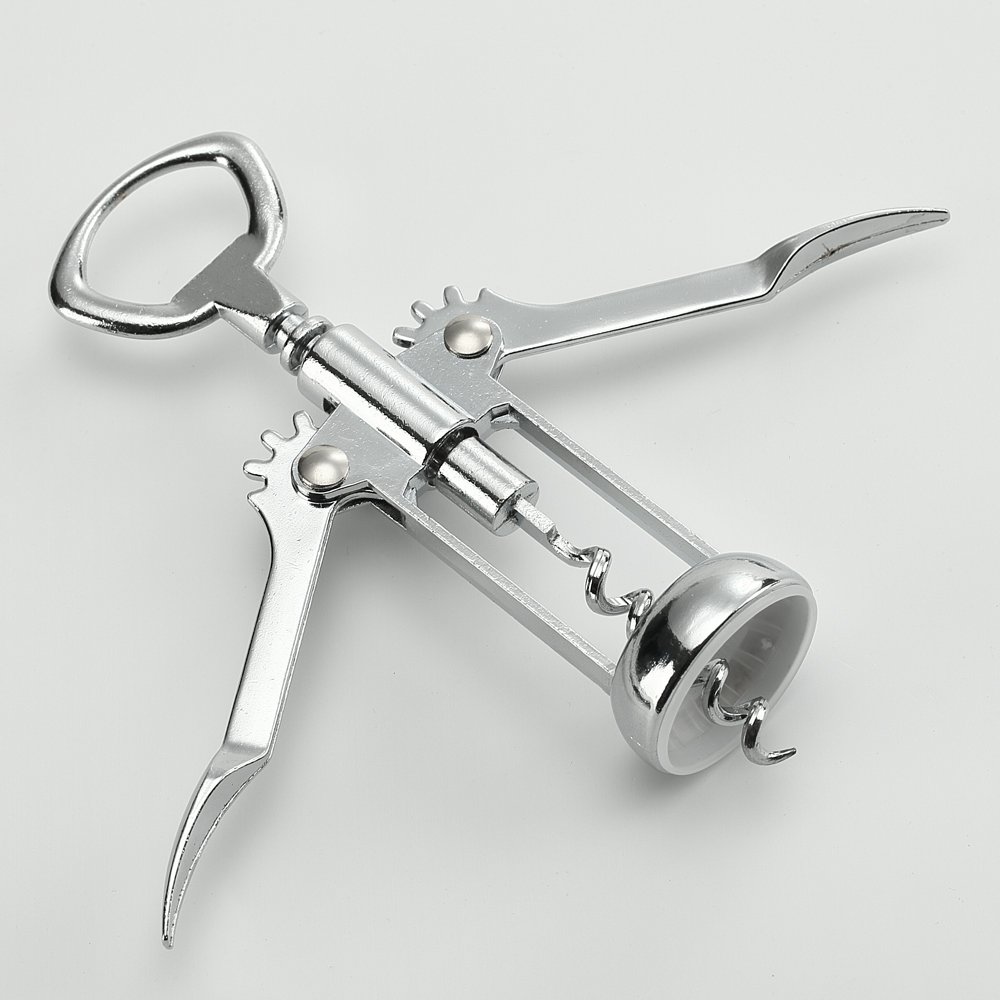 This corkscrew is a great combo between traditional feel and simple yet modern design. It features 3-inch wings on each side and a vertical design. You will open your wine bottles very easily with the HQY Wing corkscrew wine opener.
Simply position the opener over the bottle and twist to dig the screw in. What makes this opener so exceptional is its elegant and multi-purpose design. Its only downside seems to be the effort it requires to use it.
4. Ozeri Nouveaux II Electric Wine Opener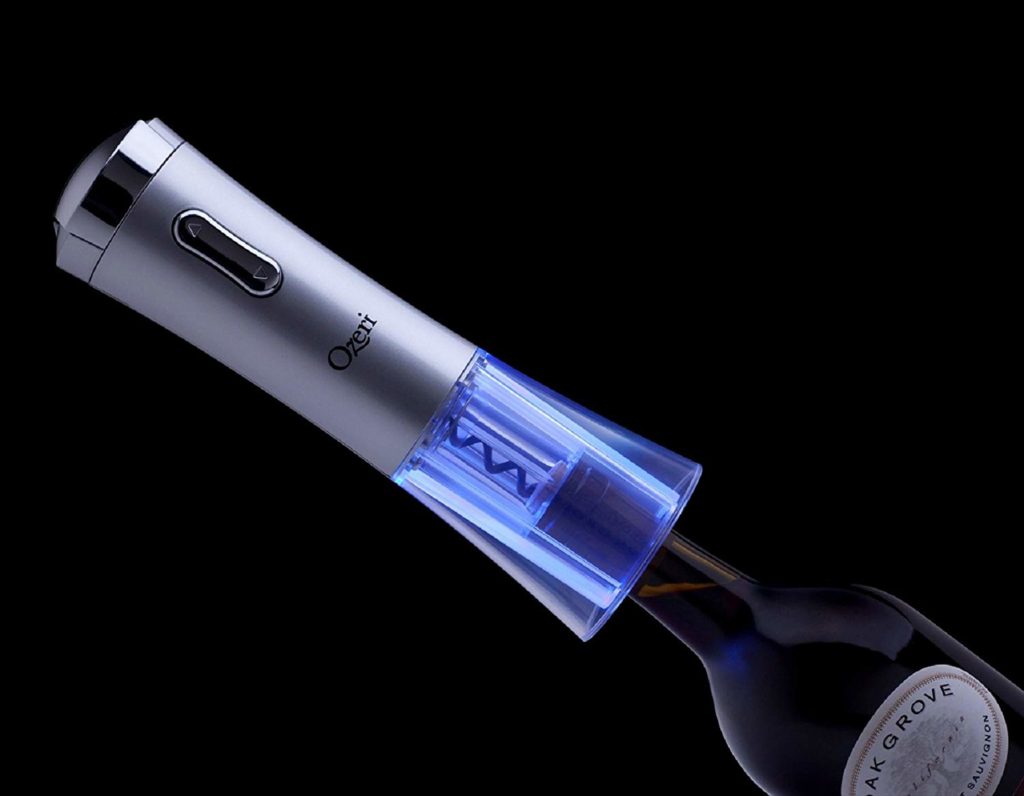 This is another exceptional electric wine opener that fits all bottle sizes and cork types. In order to use it, you will only need to press a button and witness the whole process through the transparent opener. You will also get a wine pourer and stopper for an enjoyable wine drinking experience, as well as a foil cutter.
The Ozeri Nouveaux II electric wine opener has a long battery life and it's very easy to handle. Nevertheless, many people find the necessity for optimum maintenance very bothersome.
5. HQY Wine Opener Corkscrew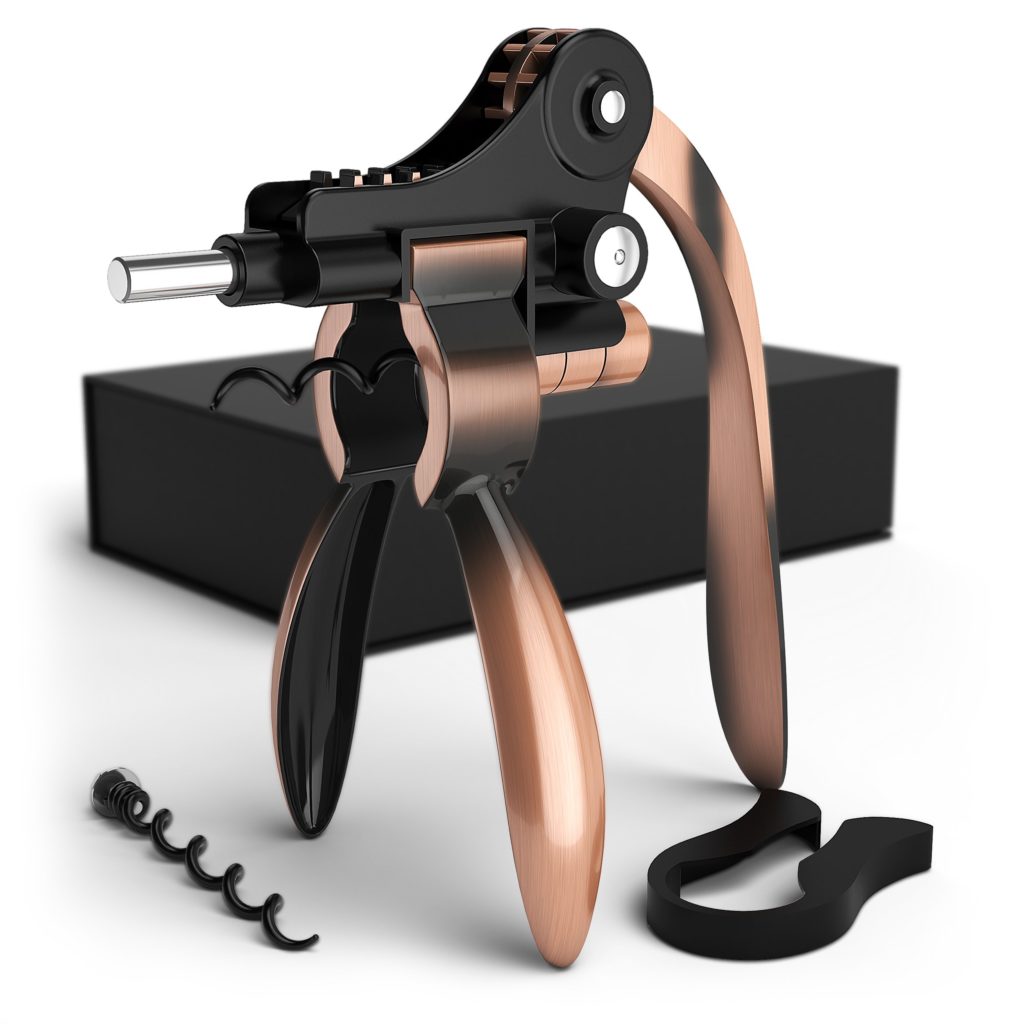 The HQY wine opener corkscrew is an ideal opener for the most challenging corks. It is easy to use and looks like a high-tech gadget. Furthermore, it features two wings on either side that fit wine bottles of all sizes, as well as, a foil cutter.
The positive aspects of this product are the ability to replace the screw, the durable material, and the dual-purpose design. Like every product, it also has a couple of negative aspects. Hence, it isn't easily portable and it looks very plain and compact.
6. Oster Cordless Electric Wine Bottle Opener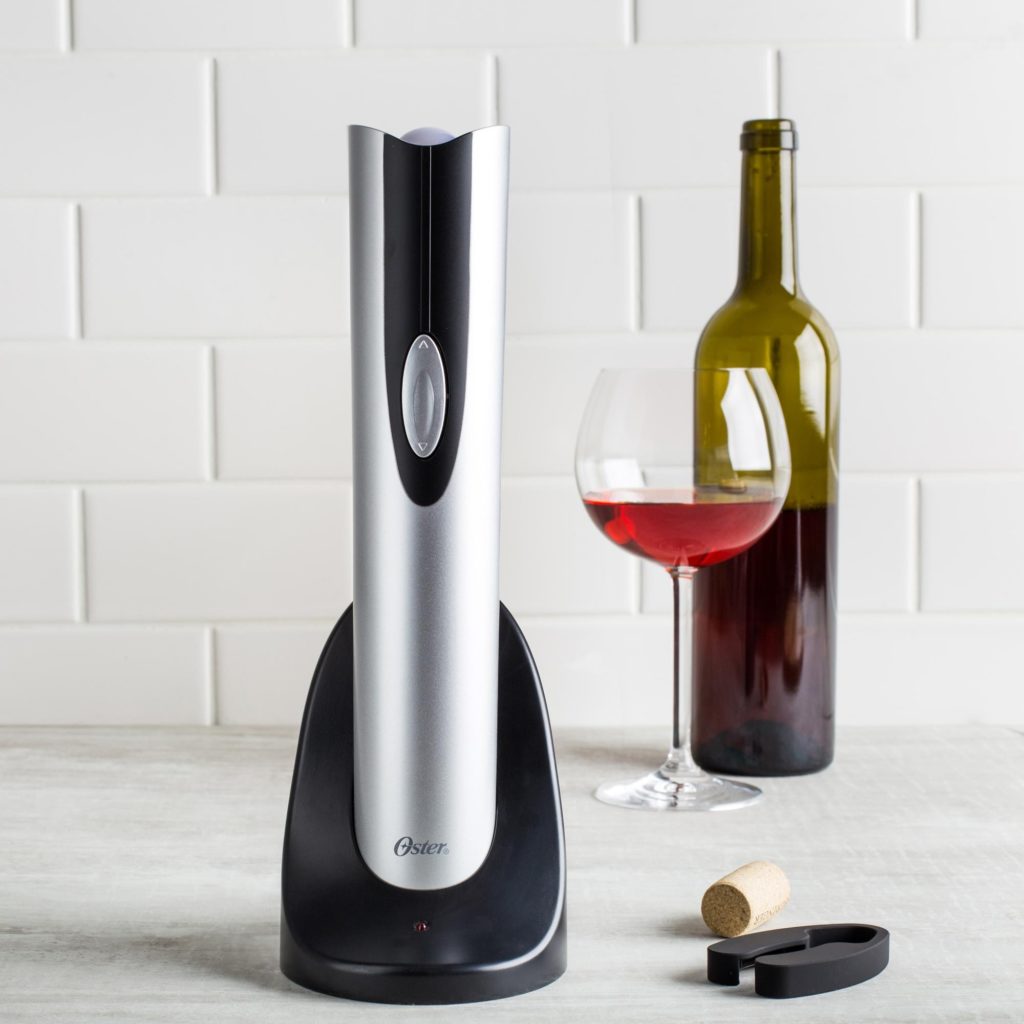 The Oster Cordless electric wine bottle opener offers an enjoyable and memorable wine opening experience. This is a comfortable product that utilizes the best of technology and has an elegant design. Likewise, it is an electric wine opener that fits all bottle sizes and shapes.
You will only need to push of a button to open a wine bottle, and then another push of a button to automatically remove the cork. This wine bottle opener features a transparent plastic at the base of the opener. It's an ideal wine accessory to have as it has long battery life. However, you will have to often maintain it and make sure it doesn't come in contact with liquids.
7. Ipow Stainless Steel Red Wine Beer Bottle Opener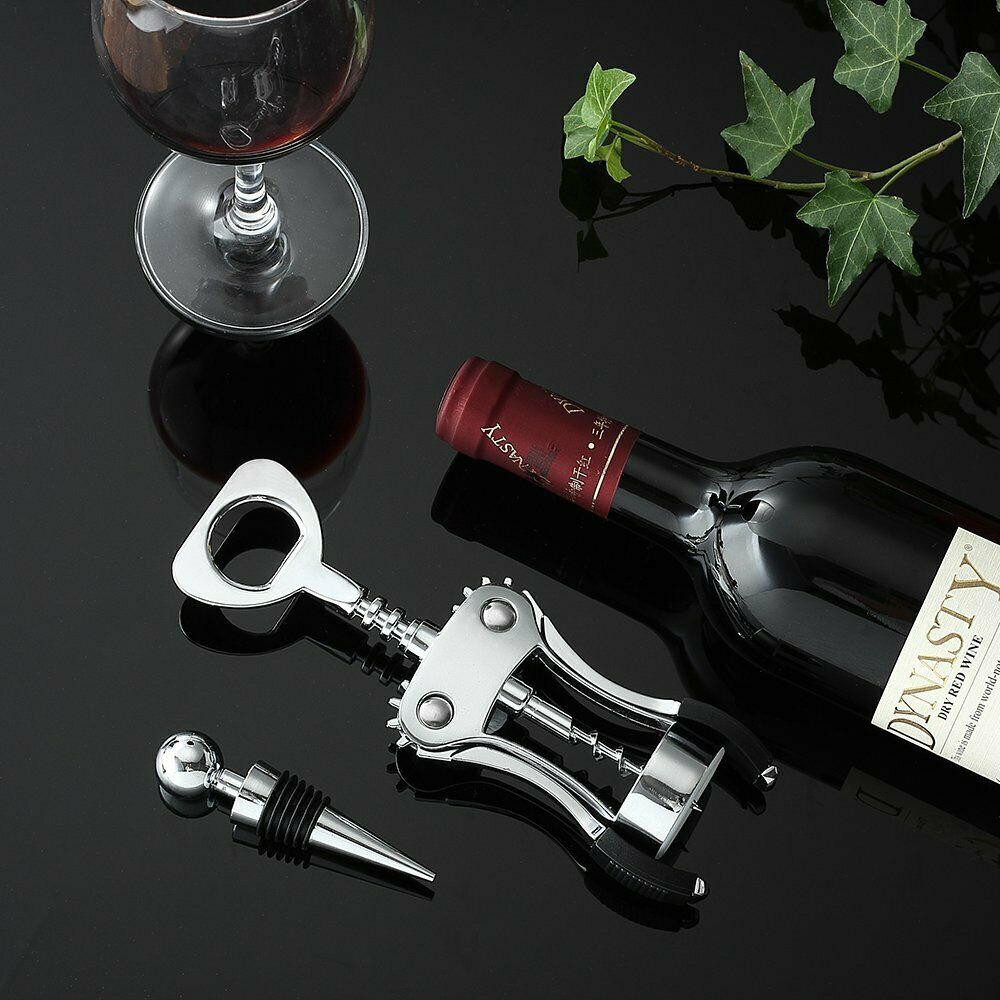 If you want a product with modern design and traditional feel, this is the bottle opener you need to get. The Ipow Stainless Steel bottle opener features a mechanical design suitable for easy opening and enjoyable experience. It comes with a smooth and sleek screw which fits all bottle types, as well as, a stopper mechanism which prevents cork breaks.
There is also a bottle opener positioned at the top if you want to use it for beer opening. The traditional feel and its versatility are what make this bottle opener so superb. However, it is a product that isn't easily portable.
8. Secure Stainless-Steel Wine Opener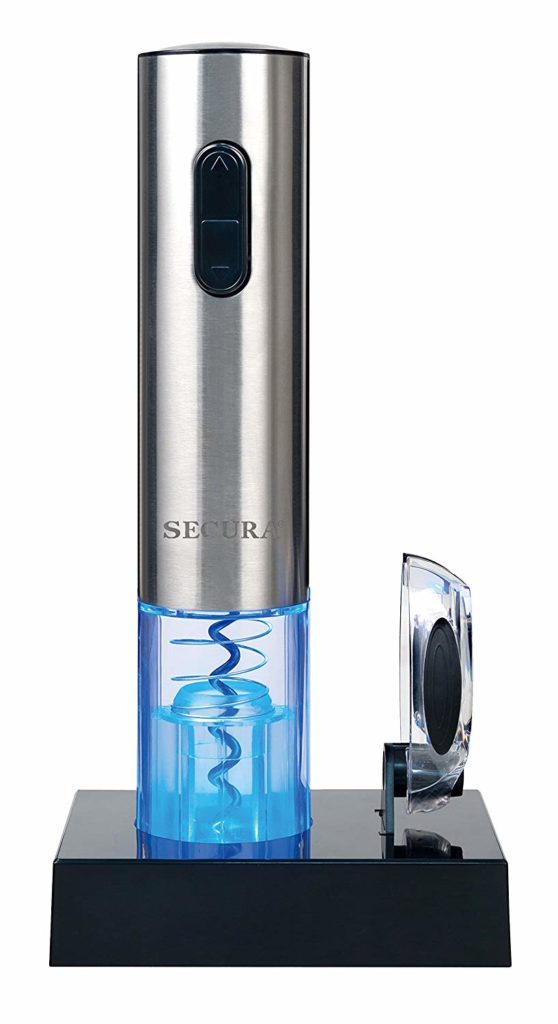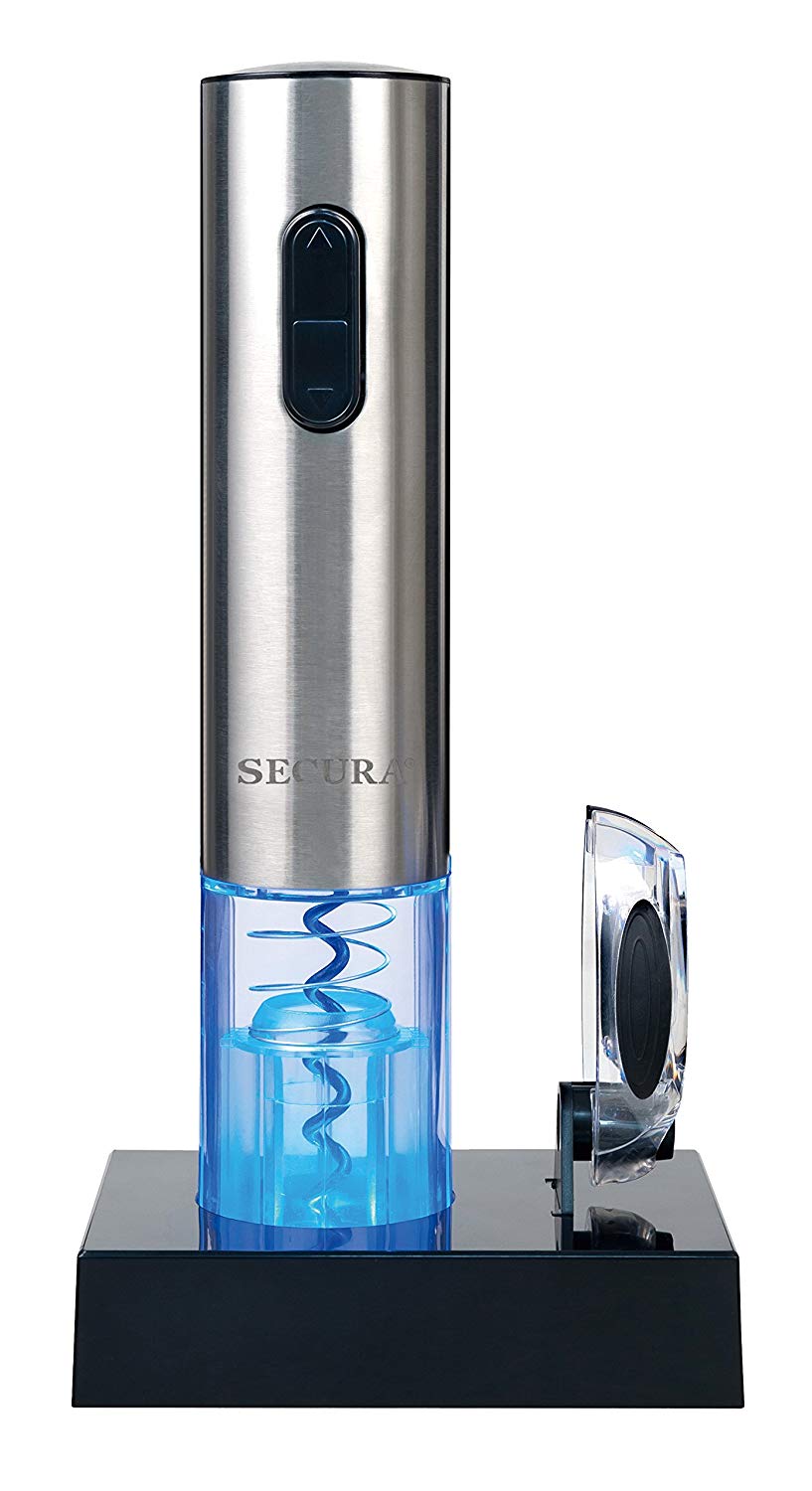 The Secura Stainless-Steel wine opener is an electric product that combined technology and style. The design seems simple at first glance, but it is more effective than most similar products available. Additionally, it has a stainless-steel extension on the top and a robust and transparent plastic at the base.
It is suitable for all sizes and the screw can penetrate all types of corks. Moreover, this easy and quick to use wine opener has a long battery life and it's extremely durable. Its only downside is the limited voltage and single-purpose functionality.
9. 4 in 1 Wine Opener-Screwpull Corkscrew with Pour Spout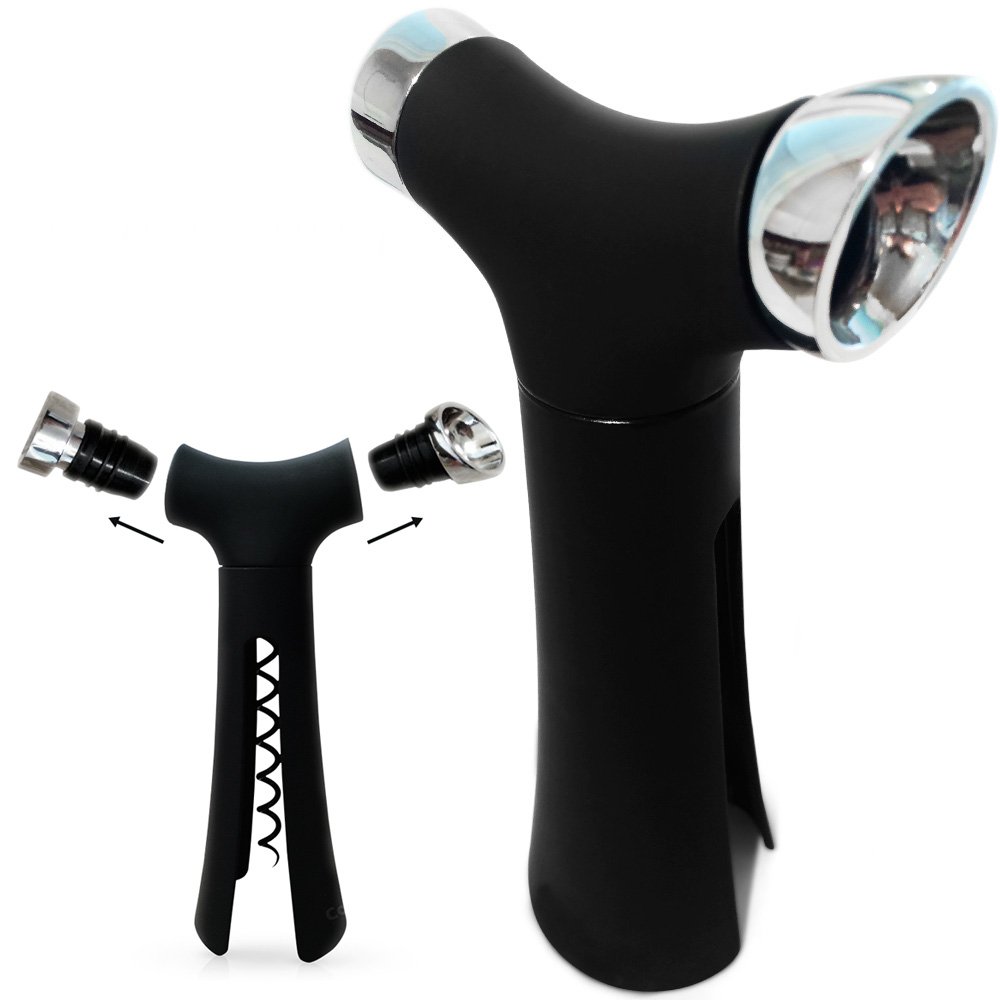 4 in 1 Screwpull Corkscrew with Pour Spout wine opener has a simple design and doesn't actually look like a corkscrew at all. Nevertheless, it's one of the best wine openers you can get. It features a long screw with adjustable stands on either side, a knob at the top that is twisted to bore through the cork. In order to use it, you won't need to push or pull.
Additionally, there are three extra accessories for multi-purpose use, including two foil cutters, a wine pour spout, and a leak-proof wine stopper. The only downside to this durable product is that it takes a bit longer than regular corkscrews to open a bottle.
10. Owl Topper Wine Opener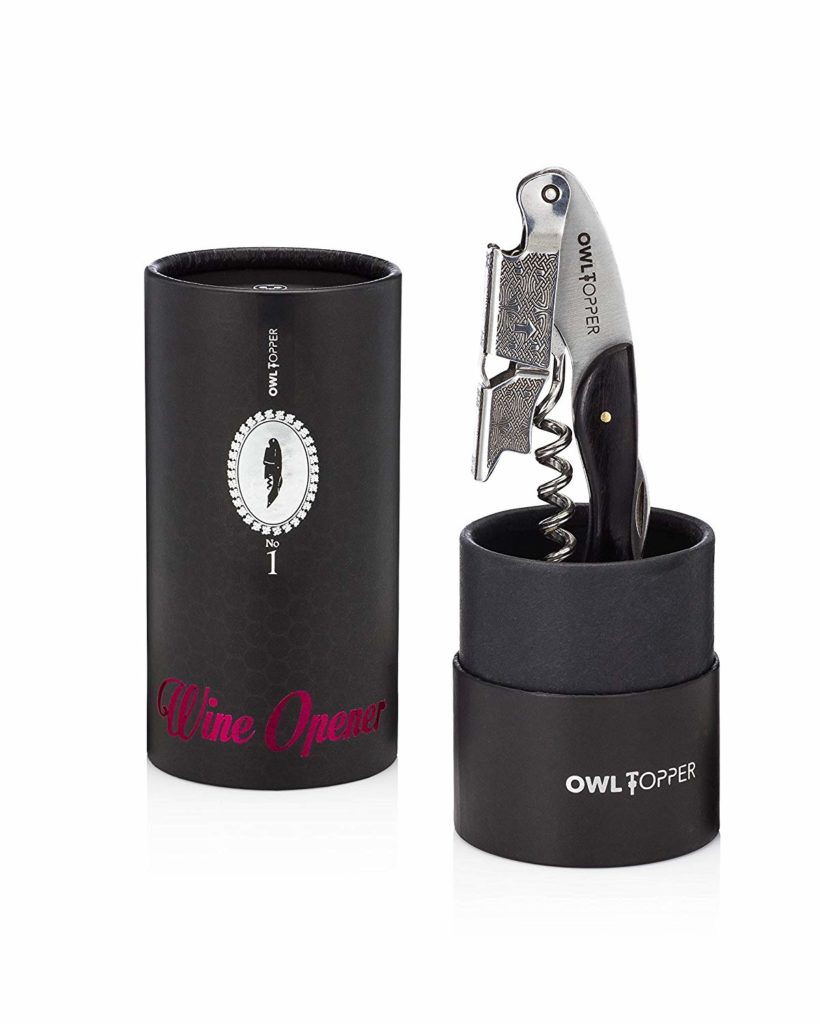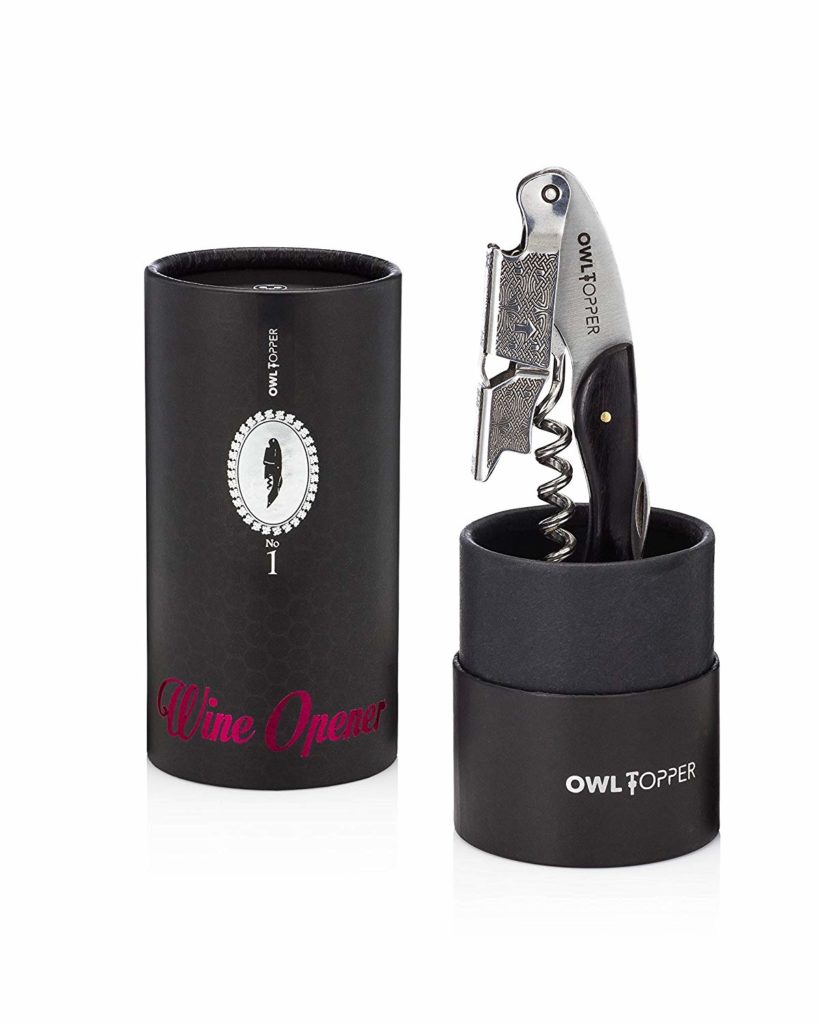 The elegant design of this wine opener will win your heart at first sight. It is made of stainless steel, ebony wood and Celtic trim. Hence, it is rust-proof and has a classy touch. You will enjoy the compact feel when using it and you'll love it for its smooth and quick performance. It is a versatile opener and fits all types and sizes of bottles.
Moreover, with a simple press of the lever, it will automatically pull the cork. The Owl Topper wine opener comes with a foil cutter and a bottle opener for beer lovers. The only disadvantage we could think of is the enclosed design.
11. TableCraft Chrome Wing Corkscrew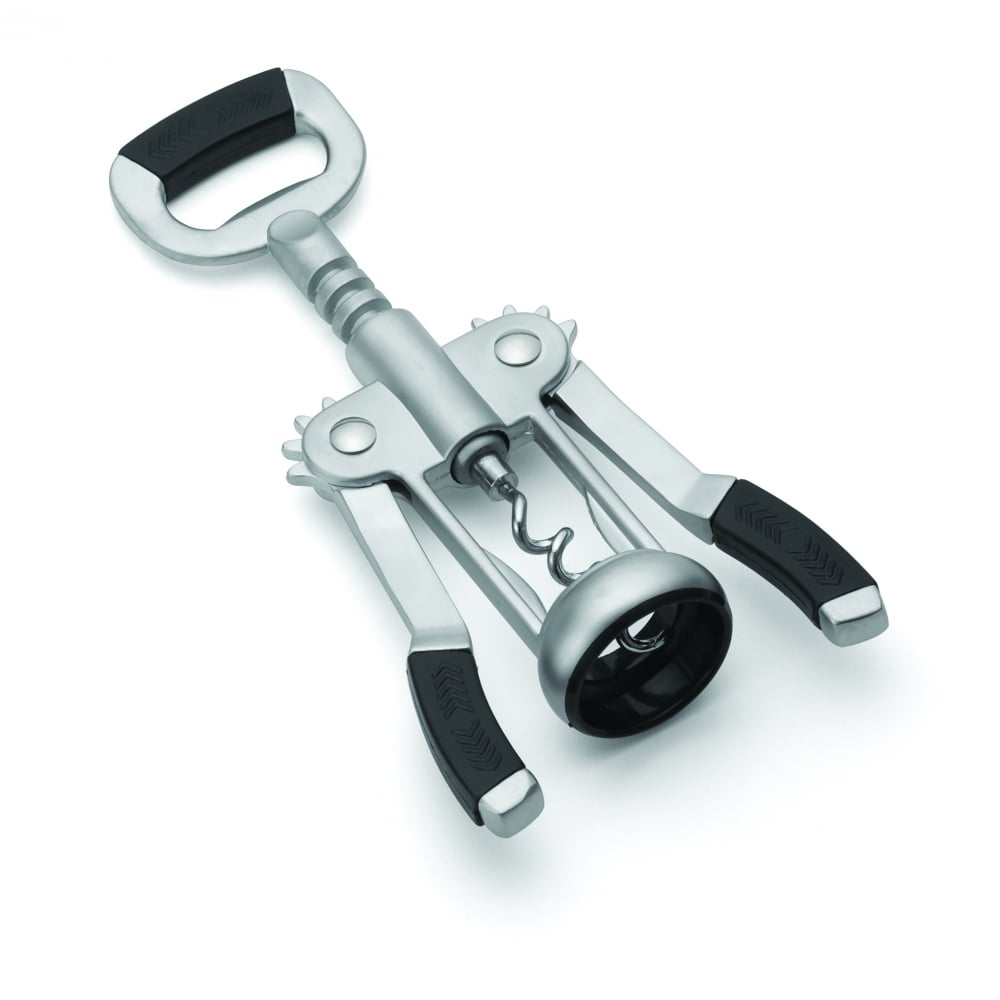 This wine opener is meant for people who don't mind getting their hands dirty and doing this the old-fashioned way, the TableCraft Chrome Wing Corkscrew is a solid choice for people who are on a budget. It definitely is not easy to work with like an electric wine bottle opener is, but it will still get the job done.
This old-fashioned wine opener has the standard "wing" design, you just have to screw in the corkscrew and then all you have to do is push the wings down and the corkscrew pops out. This specific model has a very robust chrome build and a plastic ring so that the bottle doesn't break. You can also put it in the dishwasher and the double levers have tight tension so they provide good leverage. It's a good wine opener for a good price.
12. Fante's Self-Pull Corkscrew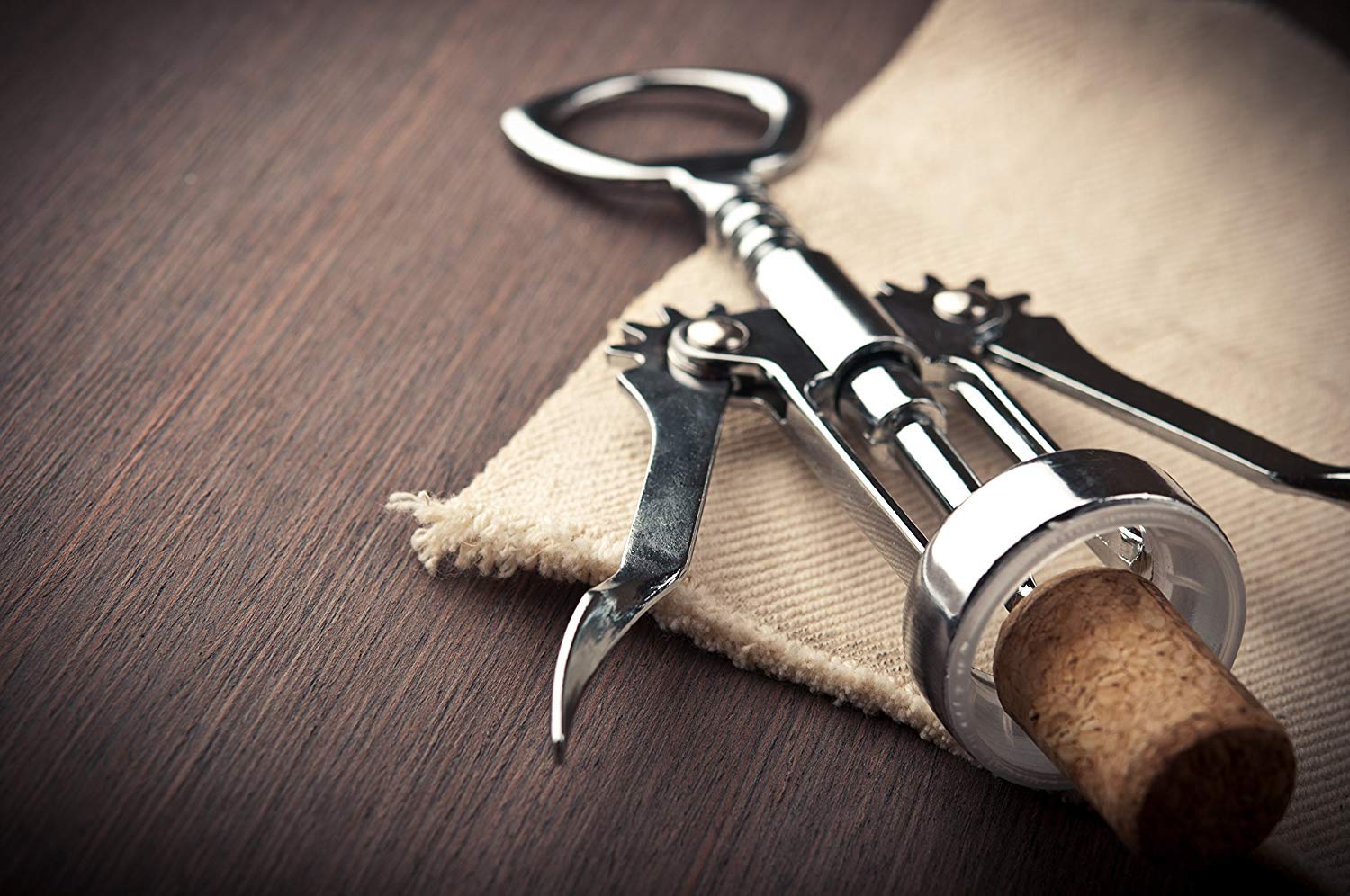 Just like the wing corkscrews, twist corkscrews are another traditional style of wine opening and when you consider all the twist corkscrew products there are, Fante's Self-Pull Corkscrew comes out near the top. This product is made by one of Europe's best corkscrew manufacturers and a lot went into building this so that it's easy to open those wine bottles.
This model has a solidly built metal construction and a handle with a comfortable grip. There's an even a mechanism which keeps it in place while you are doing the work. All you have to do is line up the opener and turn the handle, and watch the magic happen.
13. Wine Ziz Wine Air Pressure Pump Bottle Opener


This small product does not look like it can pull out a wine cork, but you should expect the unexpected. This a pretty unique style of wine opening and it enables you to open wine bottles effortlessly, no twisting nor pulling.
All you have to do to open a wine bottle is slide the needle into the cork and pump It a few times. That is all it takes, it's a very simple way of doing it and in the process, it lowers the chances of the cork breaking. The only thing you can't do is open plastic corks, but it works with bottles of all sizes.
14. Brookstone Compact Wine Opener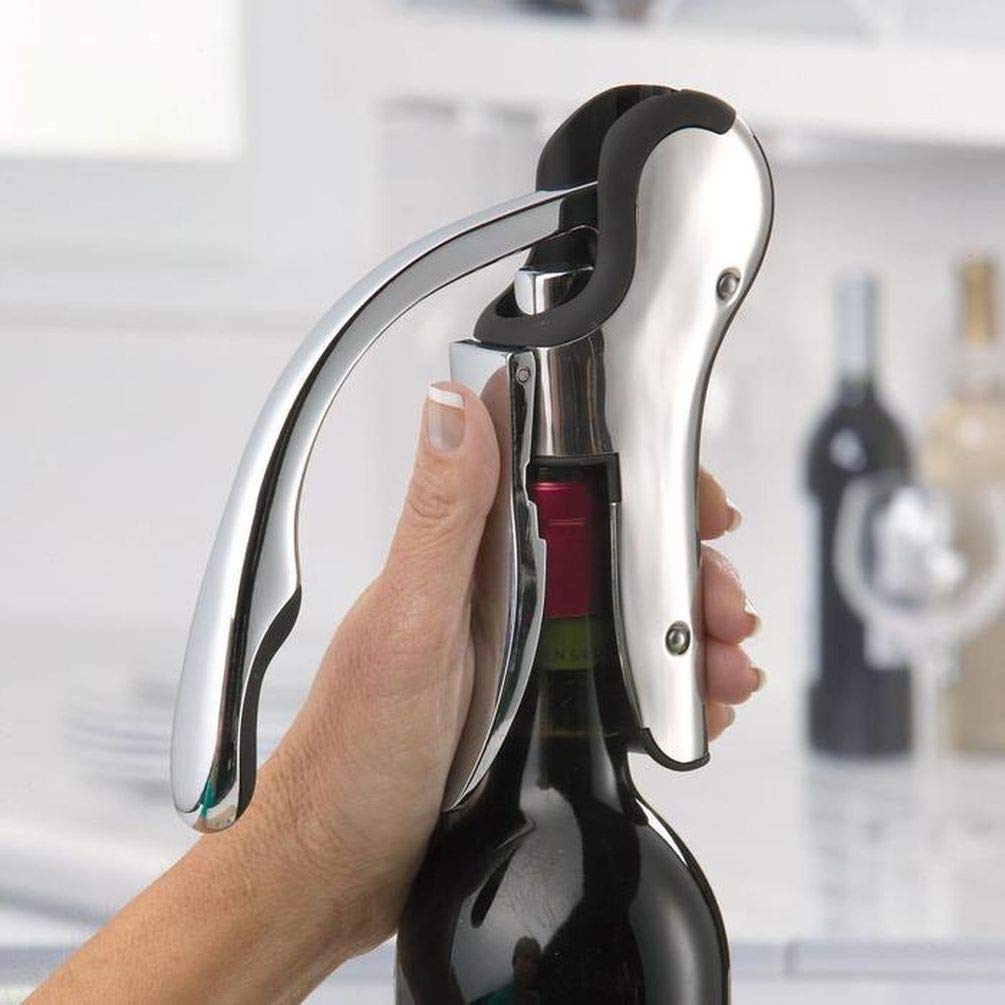 This is yet another different style of wine openers, this one uses a lever. The way you operate this compact little device is you line up the opener and push the lever down to insert the corkscrew into the wine bottle. After that, you just pull the handle up in one motion, without stopping, and voila, the cork is out.
What makes this specific lever-style wine opener great is how ergonomic it is, it makes for a very good hand grip and because of its small size, you easily store it anywhere you want, like a kitchen drawer. A lot of reviewers say they love how simple it is to operate.
15. Kalorik 2-in-1 Wine Opener and Preserver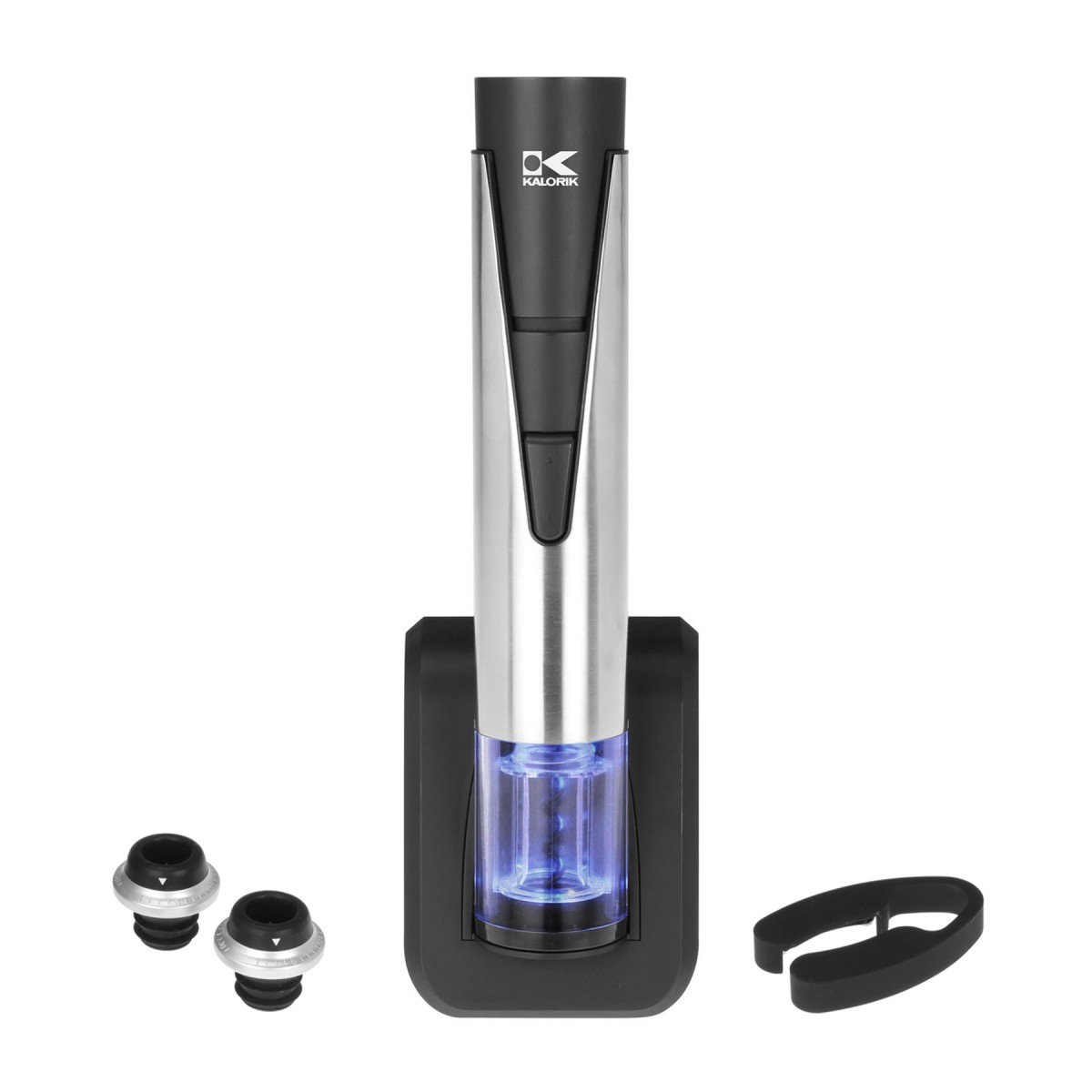 You can have two essential wine tools in one amazing device. This specific device is great for smaller homes since it allows you to put the cork back inside the wine bottle and save it for another time.
When you buy this wine opener you get more than you thought. You get its charging base, a foil cutter, and two wine stoppers. Basically, it's an electric wine opener on one end and the other is the wine preserver part. All you have to do is press the preserver down against the bottle and it will remove the air from the bottle in about 20 seconds.
Infographic:

Factors to Consider When Buying a Wine Opener
Buying a wine opener, or corkscrew probably doesn't elicit much reflection from most people. Most of the time people only buy corkscrews when their need is urgent, so they don't have the time to think about their needs. If you're not one of those people, then you're likely willing to invest some thought into buying a corkscrew before purchasing one. Here, you'll find the major factors to consider when buying a wine opener.
Questions to ask yourself
First, ask yourself what your needs and preferences are. How often do you use your corkscrew? Where do you use it? What types of bottles are you opening with it? How many bottles at a time do you open? Where will you store it? Will you be traveling with it? Answering these questions is a good start and will help you narrow down your choice.
How often you need a wine bottle opener?
If you open bottles frequently, at least once a day, then you'll want something that doesn't require so much brute force. In that case, consider an electric one. If you host guests often, an electric or automatic one might be for you too. Opening bottle after bottle with a traditional or screwball takes time and makes your hands sore.
Where?
If you are planning to open your wine outdoors where there's no access to electricity, then avoid the electric ones. Avoid the more cumbersome models, too, like the lever corkscrews. The same goes for traveling with your corkscrew – the less space it takes up in your suitcase the better. Remember to put your corkscrew in your checked, rather than carry-on luggage if you don't want it confiscated!
Storage?
Do you have adequate kitchen space for a larger model, like an electric, automatic, or even legacy? If you'd rather not leave your corkscrew out on your counter all the time, consider one of the smaller ones, like the screwpull, wine keys, or winged.
Types of Models
There are six major corkscrew models; all have been mentioned here already. They are traditional and screwpull, wine keys, winged, lever, automatic and electric, and legacy.
Traditional and screwpull are usually the hardest to open with, but they're portable. Wine keys are also very portable, due to their smaller size.
They also usually include a handy foil cutter. Winged models are some of the easiest to use, having levers on the side that you simply push down to remove the cork. They are not recommended for aged wine, though.
Lever corkscrews are also exceptionally easy to use, but they can be pricier. They're perfect for someone without the hand strength required for other models. Automatic and electric are the simplest models to work with. They come in battery-operated and rechargeable versions, and are, understandably, among the most expensive.
The final type is legacy wine openers. These are high-end corkscrews that generally appeal to collectors. They are antique style, taking up a lot of space and costing a lot of money. They make great presents for wine connoisseurs.
Standards
Now that you've identified your personal preferences and know the major types of models available, you should review the standards of good wine openers.
Your corkscrew should be able to handle various types of corks, whether traditional or synthetic. It should have a worm instead of an augur. A worm resembles a coiled worm, whereas as an augur looks like a worm wrapped around a nail. Augurs tend to ruin corks before you can open the bottle.
The screw should be at least 1.75 inches long, also to avoid breaking the cork. The corkscrew should incorporate mechanical assistance, like a lever, so that you don't have to use all your might to pull the cork out. The worm should be of decent thickness – too thin and it could break, too thick and it could destroy the cork.
A Final Note
The final thing to consider is, of course, price. As you research the corkscrew market and see what's available, decide on your budget. What are you willing to spend and how much value are you seeking?
Price is important, but don't let it be your deciding factor. As you can see, there are many factors to consider when buying a wine opener. If you rely merely on the price to guide your decision, then you won't end up finding the perfect corkscrew for you.