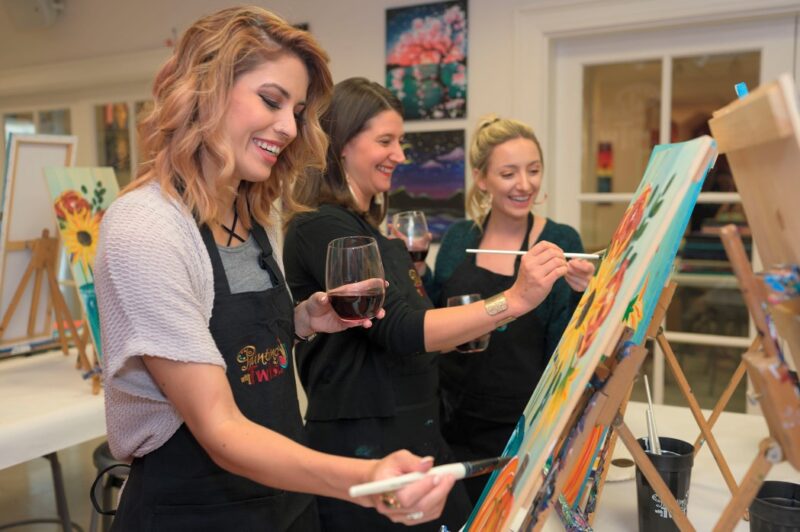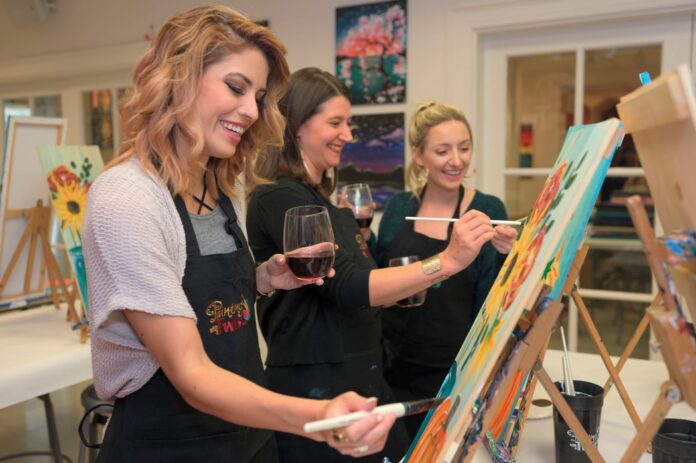 When you attend a painting and wine class, you particularly become a part of the "Sip and Paint" world. It's an interesting way of entertainment, for all those who are talented painters and enjoy a nice glass of wine. Usually, it's a session that may last up to two hours, and you have enough time to create an art masterpiece while enjoying the taste of wine and having fun with the other people attending the classes.
According to paintjuicy.com.au, you can expect a great time in the class, without any grades. It's up to you to unleash your creativity and use the art supplies to create unique pieces of art. You can even show up five to ten minutes early, so you can meet the people and moderators, and get comfortable with the surroundings.
Very often these events are strongly organized and have special invitations. Sometimes you can use equipment provided by the organizers themselves, and you can also bring your own painting kit. The wine is usually sponsored by a winery that wants to promote its products to real artists. What is certain is that such events are not for everyone, but those who enjoy them do so with all their senses.
Do these events have rules?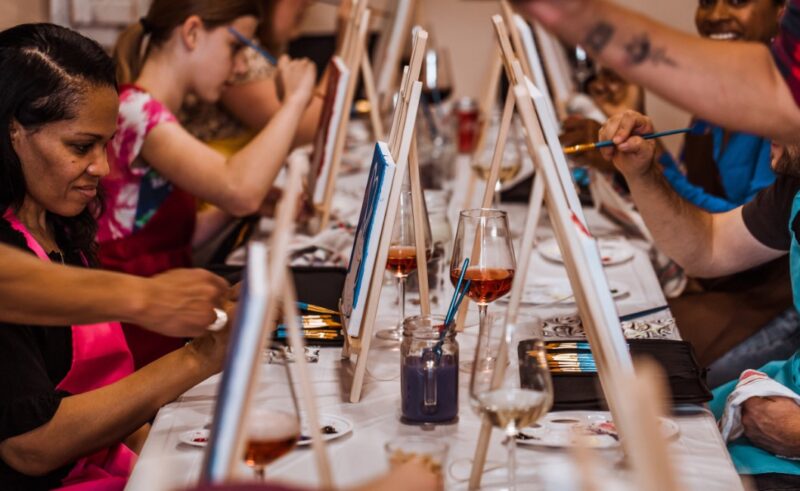 It may sound strange to you, but the most interesting rule is that you should not feel obligated to have a perfect painting technique. These sessions are meant for real fun, for those who want a more sophisticated way of enjoying themselves.
So, these are actually the things you need to know!
1. Relax well
These events should not create any pressure for you. On the contrary, even if you are not artistically talented, you should not prevent yourself from participating in such events. This is part of the fun, not a new career path. Even if you feel stressed and pressured to be better than the other participants, it's up to you to drink the wine.
Thus, in a very short time, you will realize that the purpose of this kind of party is socialization and contacts with the same interests. Sometimes these events are virtual, which is even more interesting if you already have a painting kit and wine at home. Anyway, it's up to you to have fun. And if you're feeling stressed by your competitive nature, maybe you should have another sip of wine.
2. Schedule a private lesson for beginners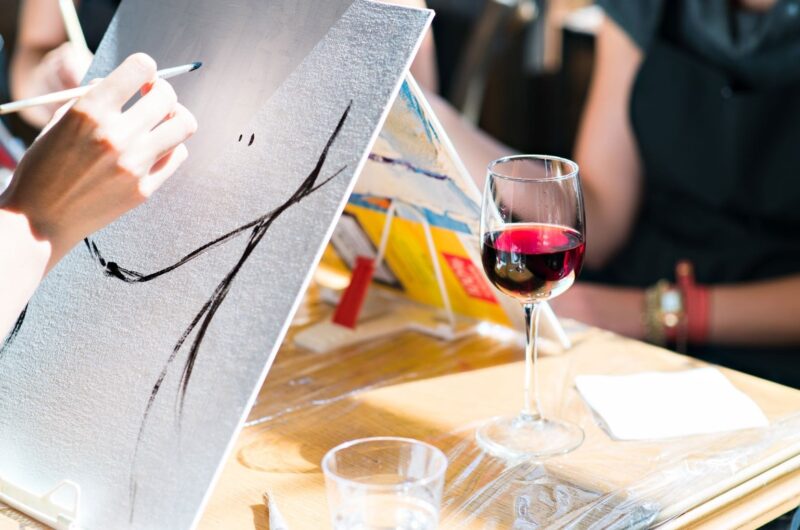 Many beginners lack the confidence to join group classes. But that doesn't mean you can't enjoy art and wine. On the contrary, you can focus on private lessons or small groups, in which the attention will be given to you and a small number of people.
This way you gain enough confidence to be able to participate in a regular class. Of course, introverts can stay in private or private classes. But trust us when we say that the experience in a larger group is unforgettable. You can make lifelong contacts and have friends from different walks of life.
3. How are the classes going?
Many participants in these classes are not sure what to expect. But as we've already emphasized, expect relaxation, fun, creative expression, and new friendships. The main goals are to learn new painting techniques, taste wine, and have fun.
Most of the time, you can expect to stay for two to three hours, although some formats allow for shorter sessions. There are usually breaks every 30-40 minutes, and in the meantime, you can learn interesting facts about wine.
These classes, as expected, are intended for adults. Younger people can also participate, but only if they do not consume alcohol or are accompanied by parents or guardians. Of course, we recommend that you familiarize yourself with these rules and policies of the studio so that you are not surprised when you arrive.
4. Be unique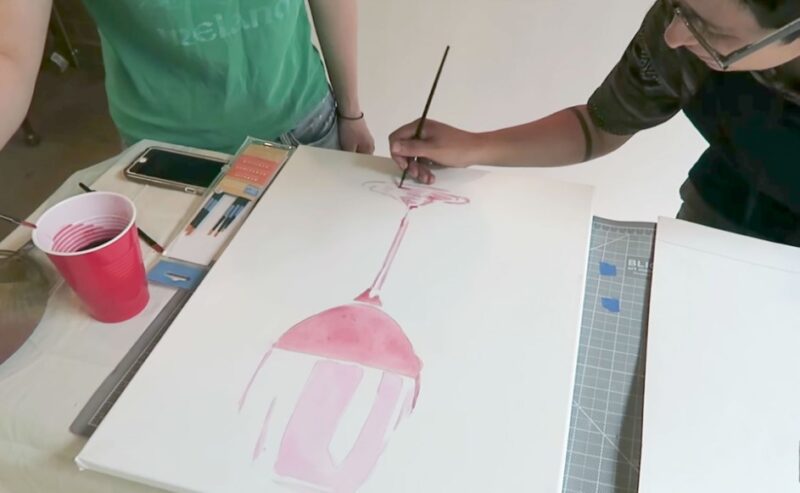 Wear old clothes, because you don't want to stain your everyday outfit. Sometimes the studio itself will provide you with a coat or apron to protect yourself. Be careful, because spilling paint can happen even when it seems impossible.
And of course, don't try to copy other participants. Find your own unique artistic expression and try to perfect it in these classes. You may not have held a paintbrush since elementary school, but that doesn't mean you don't have talent. You just have to let go and believe in yourself. That's all you need for classes like this.
5. Schedule more than one class
As much fun as it may seem, you'll actually want to come back to this type of entertainment often. No matter how old you are, you may be tired of classic parties, loud music, and cheap booze. That's why you should believe us when we say that the entire experience with paint and wine classes is premium and at the highest level.
Can you imagine drinking the best wines in your country while having fun with people who have similar interests as you? Imagine how many meaningful friendships can come from these gatherings.
Therefore, try to schedule more than one hour. Let it be regular classes every month or every two weeks. If you like it, you can do it more often. Who knows, maybe something good and constructive will come out of this party for you and you will find a new hobby. One day you could even find yourself in an artistic direction and sell your works.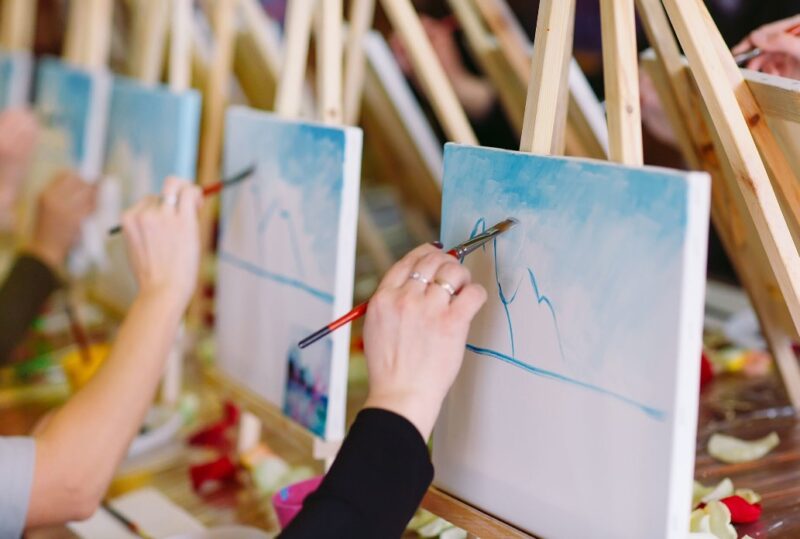 Conclusion
If you like this idea, hurry up, because most places are already filled up with these types of classes. It's time to try something different, and focus on unleashing your talents.
If you like wine and art, this activity may be ideal for you. Of course, you don't have to be top talent. It is enough to just love art and enjoy what you do. Furthermore, you will build your own path, and perhaps these classes will open up new professional perspectives for you.
Do you like the idea of paint and wine classes? Ensure you find a nice option around you and enroll today!