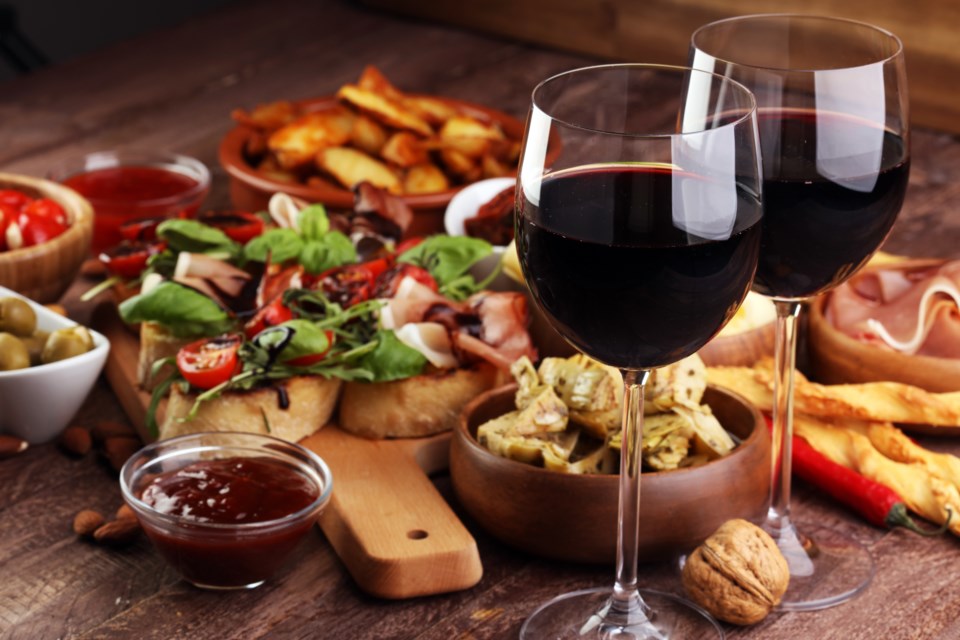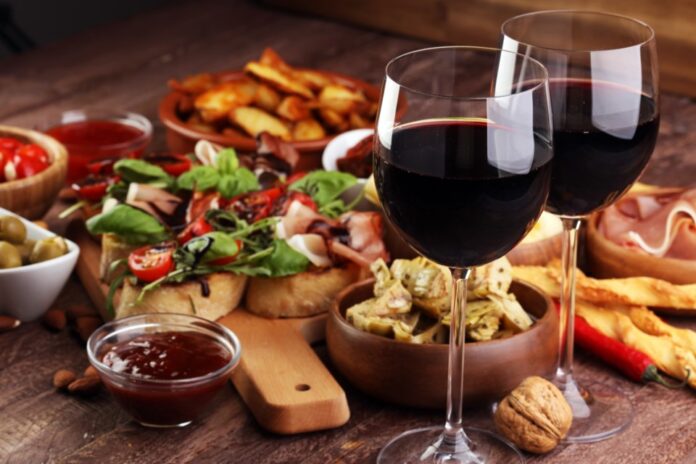 Food brings happiness to every occasion. It is one of the most essential ingredients to make our celebration truly enjoyable. Your event is even more delightful when you add wine to the celebration.
However, choosing the right pairing of wine and food is critical here. While wine is your must-have beverage for every party, you need to know the food that goes perfectly with it. Here, you will get some of the best ideas for pairing the right food with the right wine. Continue reading for the top 7 dishes that will spice up your celebration.
1. Pinot Noir and Mushroom Beef Stew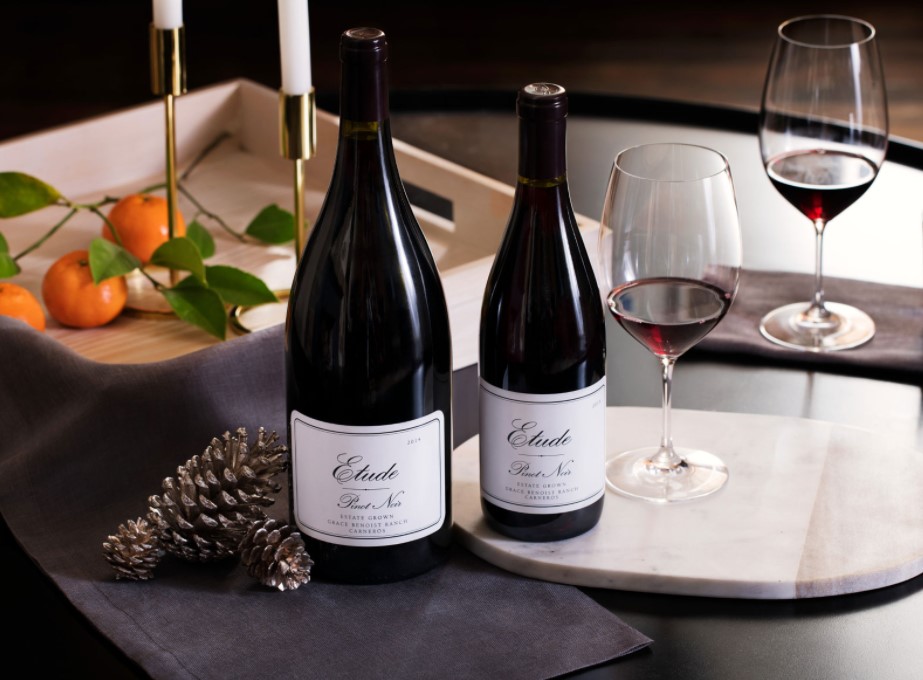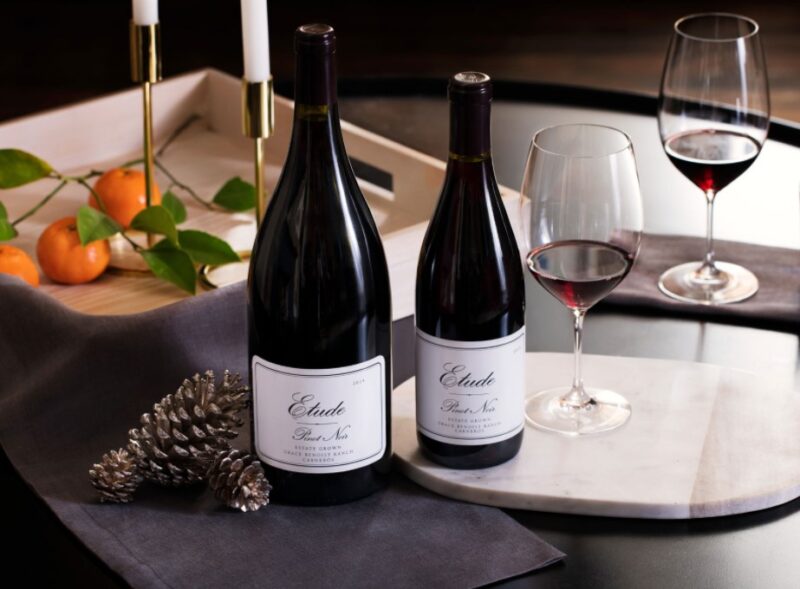 Pinot Noir is fruity in taste. It has an earthy, almost savory note. It goes well with hearty dishes like mushroom beef stews and braised meats. This pair tastes amazing together. To prepare mushroom beef stew, you will need beef broth, dried mixed mushrooms, all-purpose flour, salt, pepper, cubed boneless beef chuck roast, canola oil, sliced baby portobello mushrooms, chopped carrots and onion, minced cloves and fresh rosemary, cornstarch, cold water, hot cooked egg noodles, crumbled blue cheese.
Boil broth and dried mushrooms in a large saucepan. Let it stand for 15-20 minutes after turning off the heat. When it is softened, finely chop mushrooms and reserve the liquid. Now, take a large resealable plastic bag and combine salt, flour, and pepper. Take a tablespoon of sauce from there and set aside. Add beef to the mixture and shake to coat.
Use a Dutch oven to brown beef. Add carrots, portobello mushrooms, and onion. When the onion is tender, add rosemary, garlic, and rehydrated mushrooms, and cook for 1 minute. Stir in reserved flour mixture and add the broth.
Reduce heat when boiling. Cover and simmer for 2 hours. Then combine water and cornstarch to make it smooth. Bring to a boil. Cook and stir until it is thickened. Serve with egg noodles and top with blue cheese. Don't forget the wine. This pair will make your mealtime filled with happiness. However, if you're a vegetarian and want to avoid beef, check out pickyeaterblog.com to find some healthy vegetarian stew recipes.
2. Riesling and Thai Shrimp Soup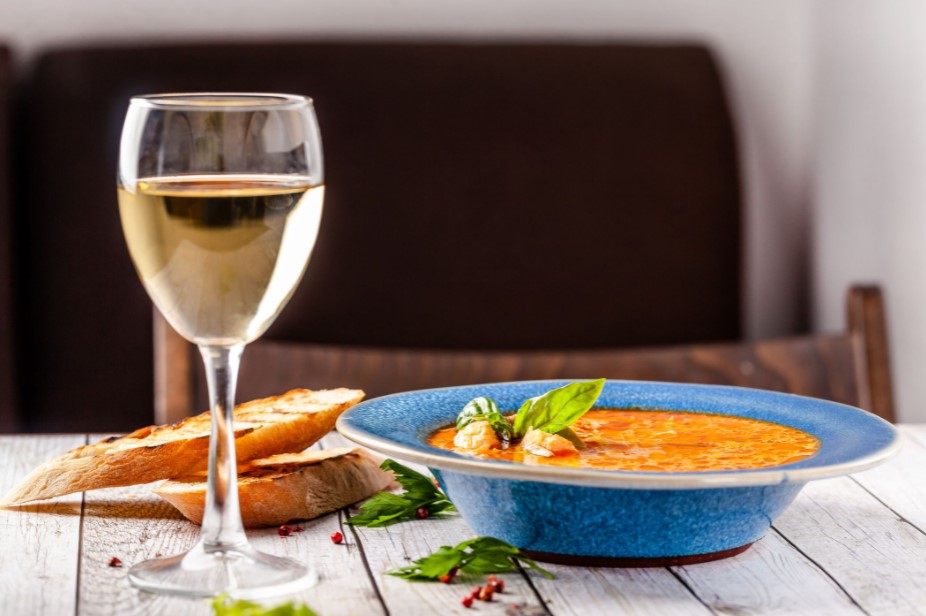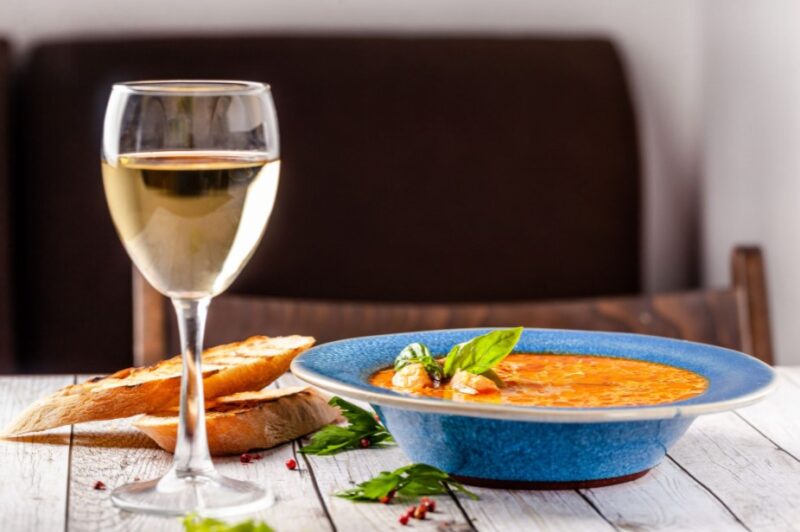 Riesling is a food-friendly wine. It is wildly versatile as it is made in a wide range of styles. This wine is perfect for seafood and chicken. A perfect Riesling pairing would be a Thai shrimp soup.
To prepare this mouth-watering dish, you will need olive oil, chopped onions, reduced-sodium chicken broth, water, brown sugar, minced fresh ginger root, soy sauce or fish sauce, red curry paste, lemongrass stalk, and peeled (and deveined) and jumbo raw shrimp. You will also need frozen shelled edamame, light coconut milk, drained and cut in half whole baby corn, bamboo shoots, fresh julienned basil leaves, minced fresh cilantro, lime juice, grated lime zest, and curry powder.
To make Thai shrimp soup, first, saute onion using a Dutch oven. Add the broth, brown sugar, water, ginger, curry paste, fish sauce, and lemongrass. When it's boiling, reduce heat. Stir in shrimp as well as edamame. Cook for 5-6 minutes until shrimp turn pink.
Keep it uncovered while cooking. When the shrimp turns pink, add coconut milk, bamboo shoots, corn, basil, cilantro, lime zest, lime juice, and curry powder. Heat through and discard lemongrass. Now serve with Riesling and enjoy a fun and tasty mealtime.
3. Pinot Grigio and Pasta Primavera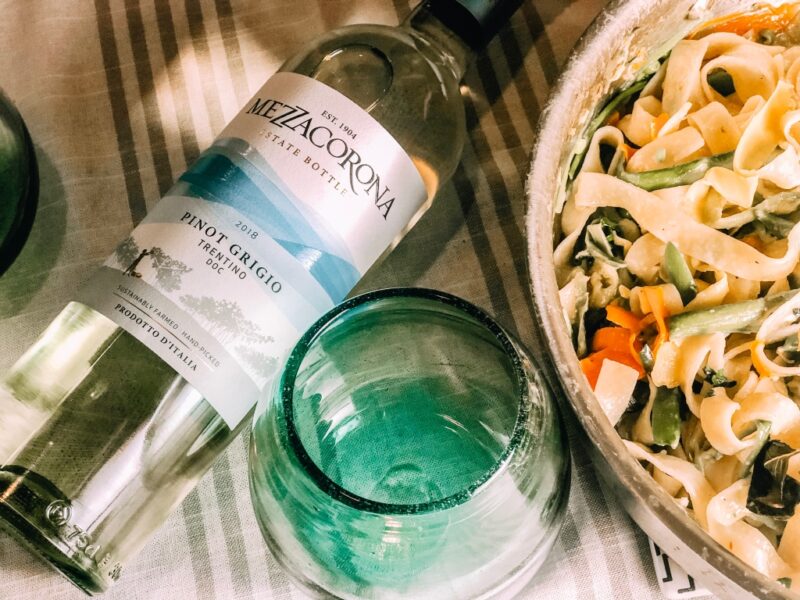 Pinot Grigio goes well with lighter dishes like fish tacos, light salad, fried calamari, etc. But it tastes best with pasta primavera. It's an easy recipe yet mouth-watering. It is even tastier while paired with a glass of pinot grigio.
To prepare this dish, you will need fresh broccoli florets, undiluted condensed cream of mushroom soup, julienned carrot, milk, grated Parmesan cheese, minced garlic clove, pepper, and cooked spaghetti.
First, take a large saucepan and combine all the ingredients except spaghetti and cook it uncovered and over medium heat. After 12 minutes, when the vegetables are tender, stir in spaghetti and heat through. Mix well and serve. Pair it with pinot grigio and make it taste more delicious.
4. Merlot and Baked Mac and Cheese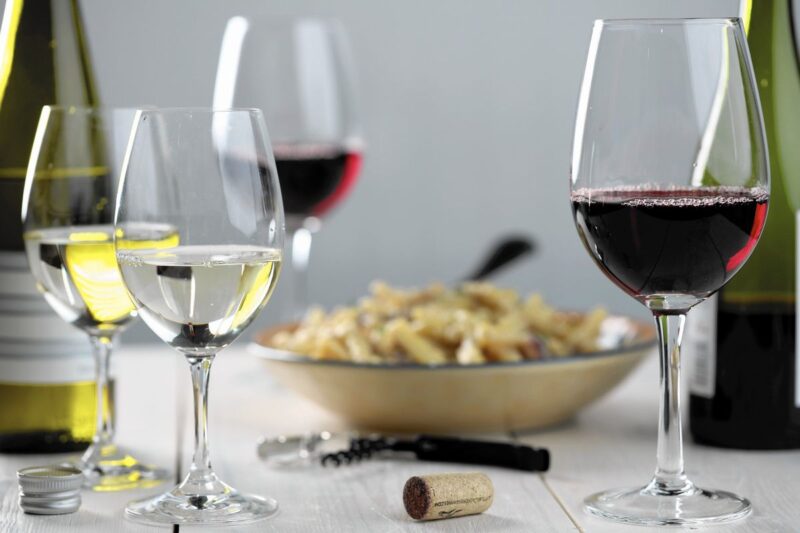 Merlot is a wine with lush red fruit flavors. It has a plush texture that goes well with any kind of roast. For a Thanksgiving dinner, it can be brilliant wine to choose from. It will be more enjoyable with the classic food: Mac and Cheese. To prepare this tasty dish, the ingredients you will need are uncooked elbow macaroni, butter, finely chopped onion, all-purpose flour, ground mustard, salt, pepper, milk, shredded sharp cheddar cheese, and dry bread crumbs.
First, preheat your oven to 350°. Now, cook the macaroni. Heat 1/3 cup butter using a Dutch oven and stir in seasonings and flour. When blended, gradually add milk. Stir constantly until it's thickened. Once it comes to a boil, stir in the cheese. When it's melted, add macaroni.
Now transfer it to a baking dish. Melt the remaining butter using a microwave. Mix in the bread crumbs in the melted butter. Then sprinkle the bread crumbs and butter mixture over the casserole. Bake it uncovered for about 30 to 35 minutes. Your Mac–Cheese is ready. Serve it with Merlot and have a blast.
5. Dry Rosé and Grilled Fish Tacos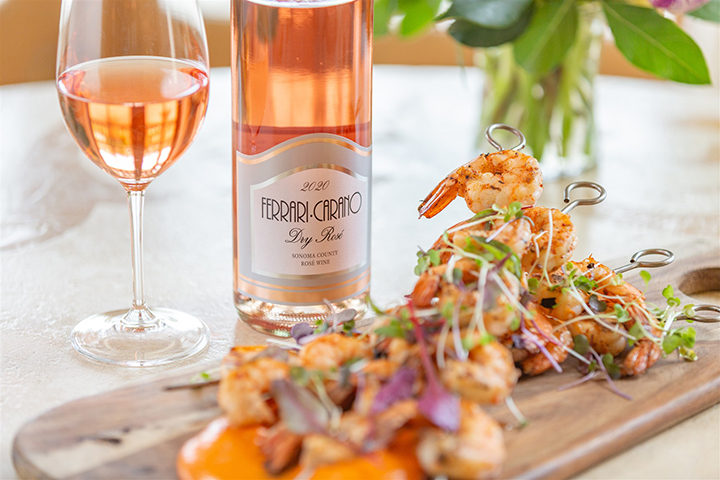 Dry Rosé crisp mild tones taste best with grilled fish tacos for its mild taste.
To prepare this dish, you will need sweet corn on the cob, a poblano pepper split in half with its seeds removed, tilapia fillets, salt, summer squash, chopped heirloom tomato, red onion, coarsely chopped fresh cilantro, grated lime zest, lime juice, taco shells, and peeled and sliced warmed ripe avocado.
Start by grilling corn, squash, and pepper in a lightly oiled hot grill. Keep it covered and turn it occasionally on medium heat, and grill for 10-12 minutes until they are tender; keep the grilled veggies aside to cool slightly. Sprinkle the fish with salt and then grill it over medium heat. Keep it covered. Flip the fish once after a few minutes and cook until the fish can be flaked easily.
Now take a bowl and cut corn from the cob. Add chopped squash and pepper into it. Then stir in tomato, cilantro, lime zest, onion, and lime juice. Take the taco shells to serve them with fish. Top with avocado slices and corn mixture. Now pair it with a glass of chilled Rose and enjoy this gorgeous duo.
6. Moscato d'Asti and Five-Spice Chicken Wings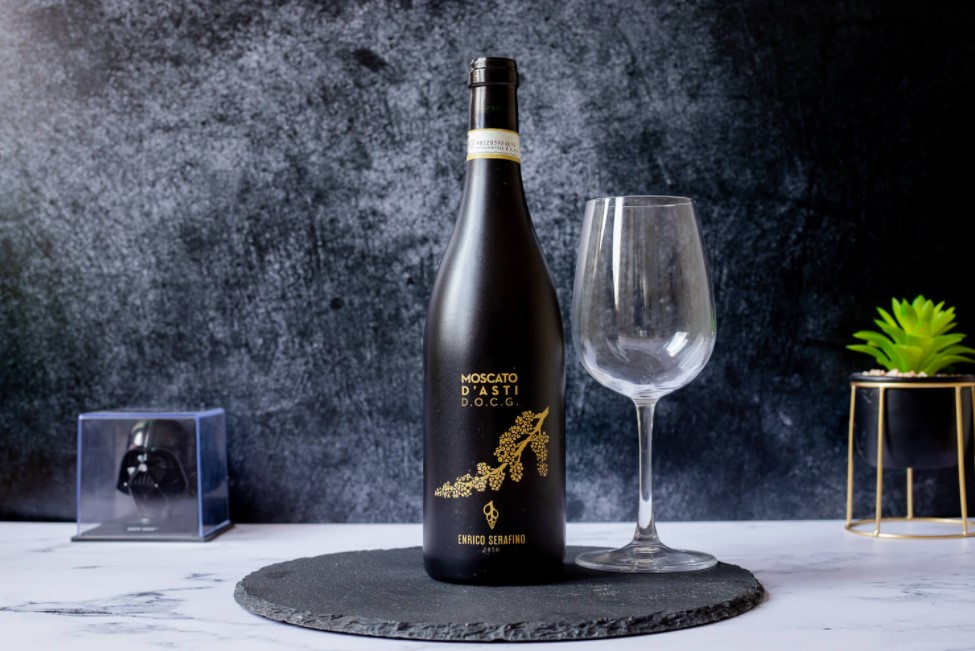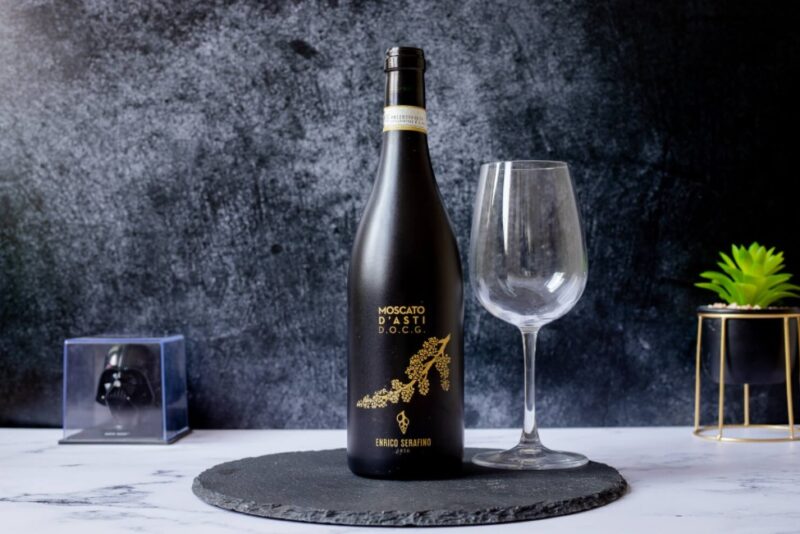 Many people think of Moscato d'Asti as wine only to enjoy with desserts; however, this delicious wine can be even tastier with spicy and salty foods. You can try it with five-spice chicken wings to get a flavorful mealtime.
You will need chicken wings, chopped green onions, sweet chili sauce, reduced-sodium soy sauce, fish sauce, minced garlic cloves, sugar, Chinese five-spice powder, and limes that are cut into wedges to prepare this mouth-watering dish.
First, take chicken wings and cut them into three sections. Make sure to discard wing tip sections. Take a large container and add the onions, soy sauce, chili sauce, fish sauce, sugar, garlic, and five-spice powder to it. Coat the wings with the mixture – cover to refrigerate it. After 8 hours of marination time, discard the marinade by draining it.
Preheat your oven at 350 degrees F. Once the oven is ready, place the wings in a greased baking pan and base for 25 to 30 minutes until the internal temperature of the chicken wings reaches 170 F.. Be sure to flip the wings once or twice during the bake time for even browning of the skin. Serve it with Moscato d'Asti and enjoy a flavourful time.
7. Chardonnay and Butternut Squash Ravioli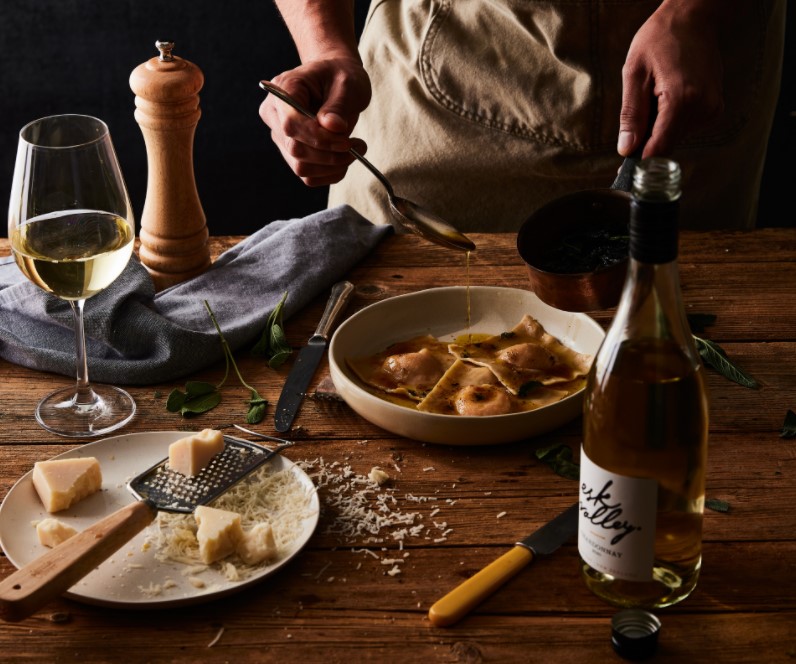 A full-bodied oaked Chardonnay is enjoyable more when you pair it with heartier dishes. One of the richer dishes to enjoy with it is butternut squash ravioli. These two are practically made for each other.
To prepare this dish, you will need frozen butternut squash ravioli or refrigerated cheese ravioli, chopped pecans or walnuts, butter, brown sugar, salt, ground nutmeg, cayenne pepper, heavy whipping cream, minced fresh sage or rubbed sage, and shredded and shaved parmesan cheese.
First, cook ravioli as per the package directions. Then take a large dry skillet to toast pecans using medium-low heat for 1 to 2 minutes. Stir occasionally. Add butter to melt. Stir in brown sugar, nutmeg, salt, and cayenne. After removing from heat, add cream and sage. Add drained ravioli to the skillet. Toss to coat and then top with cheese. Serve your guests this delectable dish with some chilled Chardonnay for a fantastic main dish.
To Conclude
The above-mentioned recipes can make sure to come with a flavorful celebration. Try out some of these pairs and have a real tasty treat with your family and friends. To learn more about wine to enjoy with your fellows, click here. Make your occasion more special and memorable.
Have a great time!