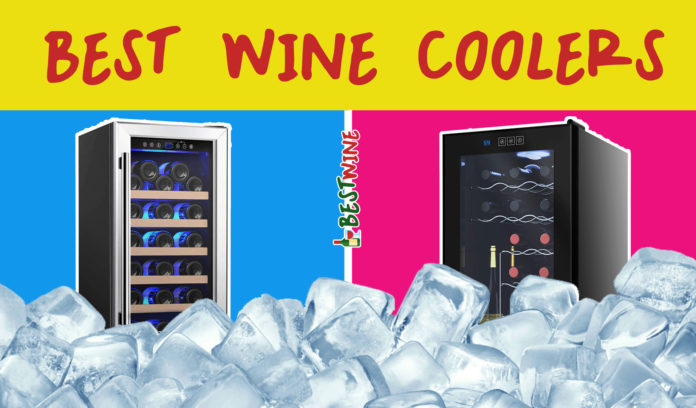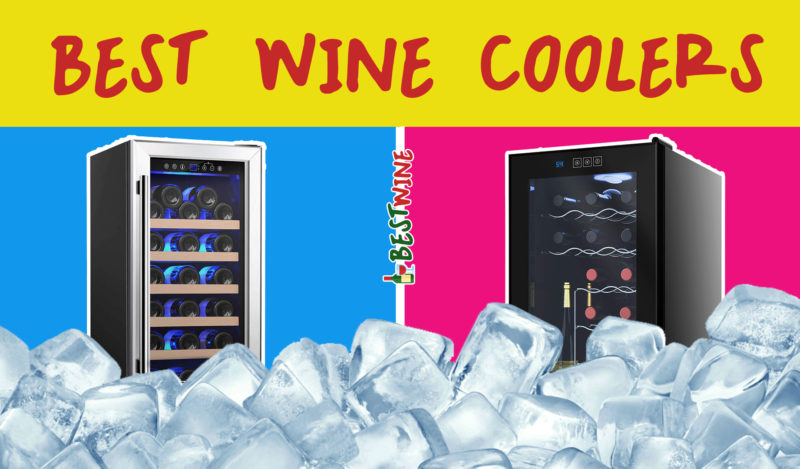 Unless you have a big wine cellar to store your favorite wine, a wine cooler inside of your home is the best option you can go with.
They are designed to store and cool wine at an optimum temperature and are a good investment if you like to mature your wine, or if you have a habit and enjoy buying and trying different wines. Read on to learn about the top 10 wine coolers to get this year.
1. Haier 12 Bottle Dual Zone Wine Cellar




This wine cellar has an upper zone temperature range between 46°F and 66°F, while the lower zone is from 54°F to 66°F. It has an ultra-quiet electric cooling, but some reviews claim it is rather noisy, so consider the best place for it in your home.
The cabinet part has a black trim, while the dual pane insulated glass door is fitted with a piece of smoked glass. Chrome shelves can be pulled out and the interior has LED lighting. There is a dual touch screen display with controls, and a one year limited warranty in case of mishaps.
2. Avanti 12 Bottle Countertop Wine Cooler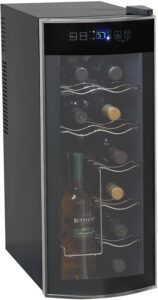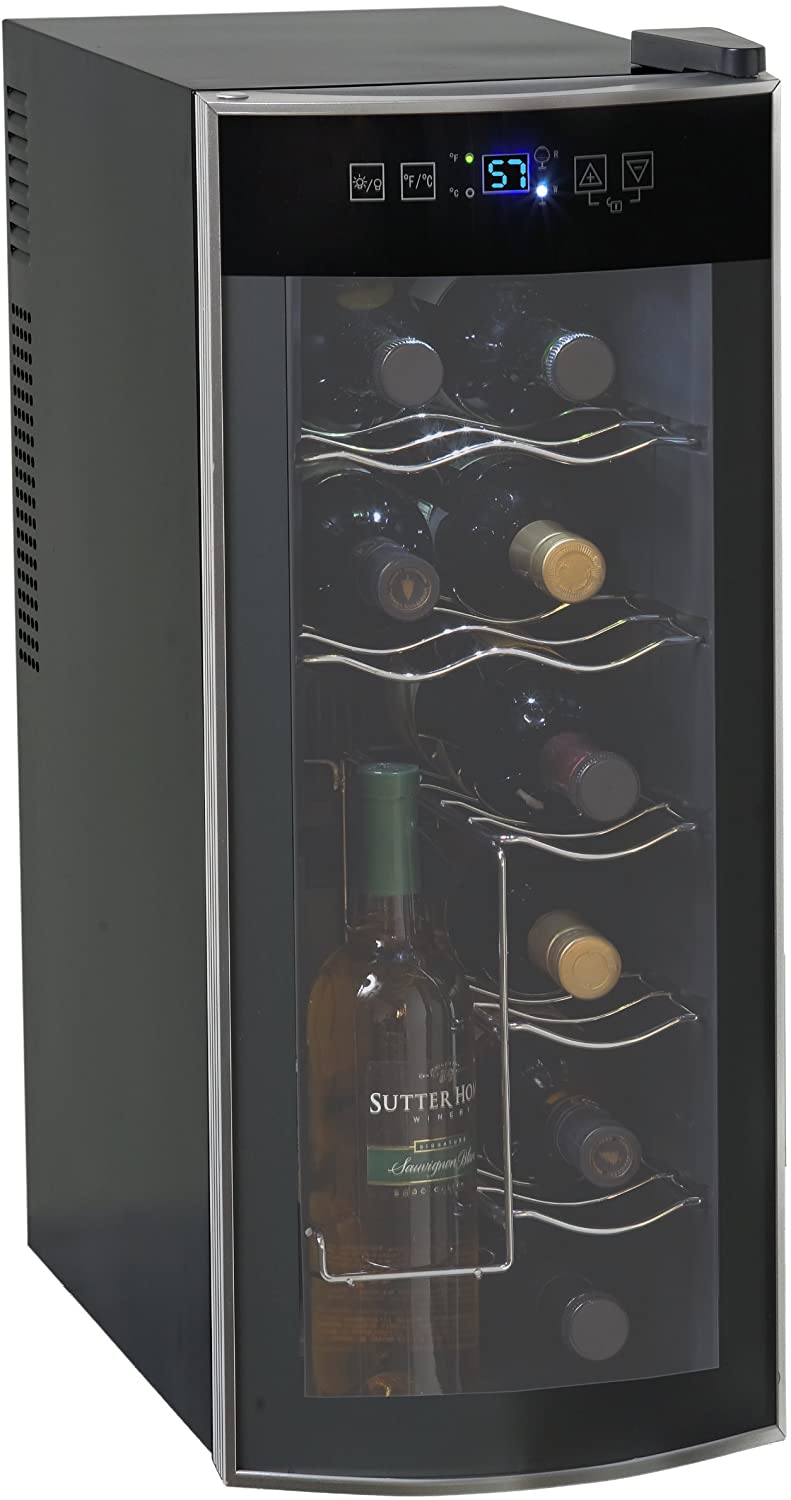 This compact 12 bottle countertop wine cooler is black with a curved glass door. It uses a thermoelectric cooling system, and it has no vibration. It is made for standard 750 ml bottles, but the top shelf can be removed to accommodate larger bottles on the second shelf.
The cooler also has a convenient upright bottle storage slot for an opened bottle. Some of the owners experienced considerable temperature fluctuations.
It does have a one-year limited warranty, but there can be issues with customer services regarding warranty claims. Make sure to check the warranty for any exclusions.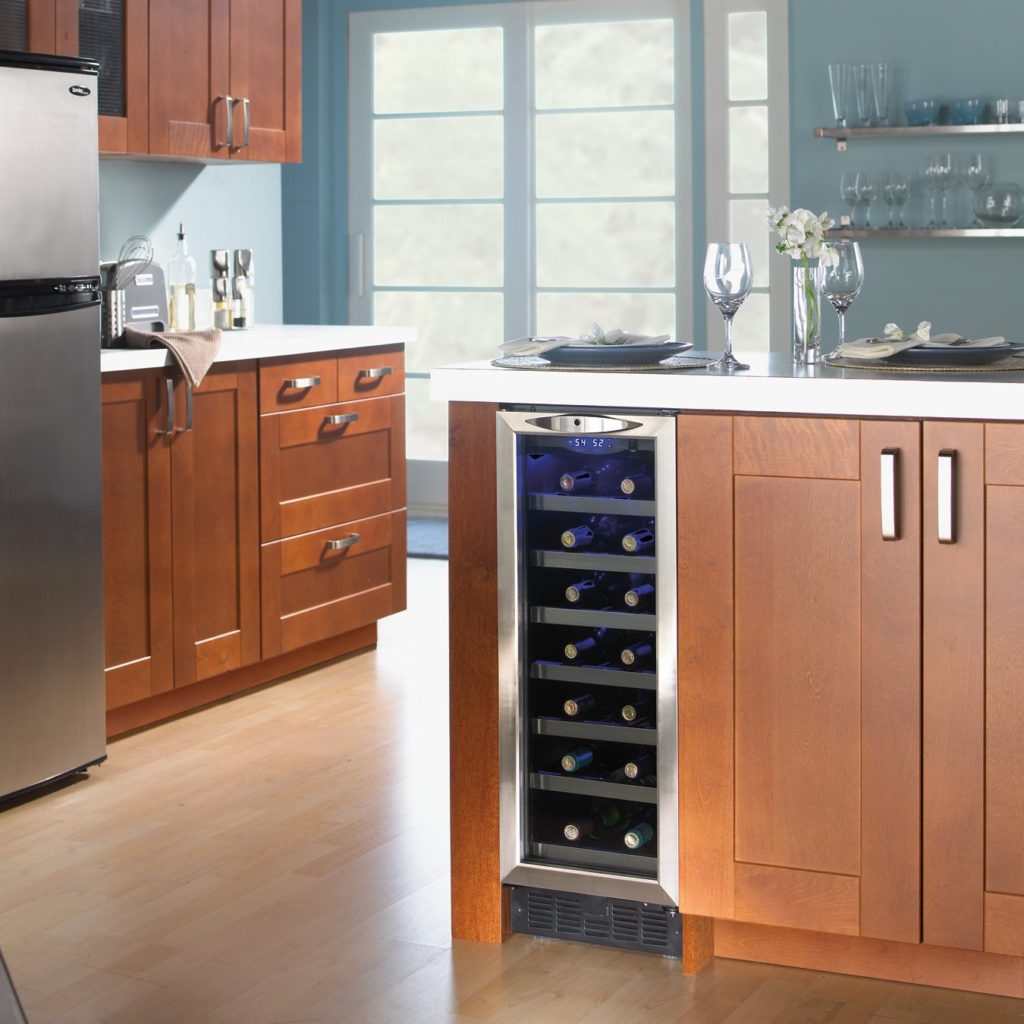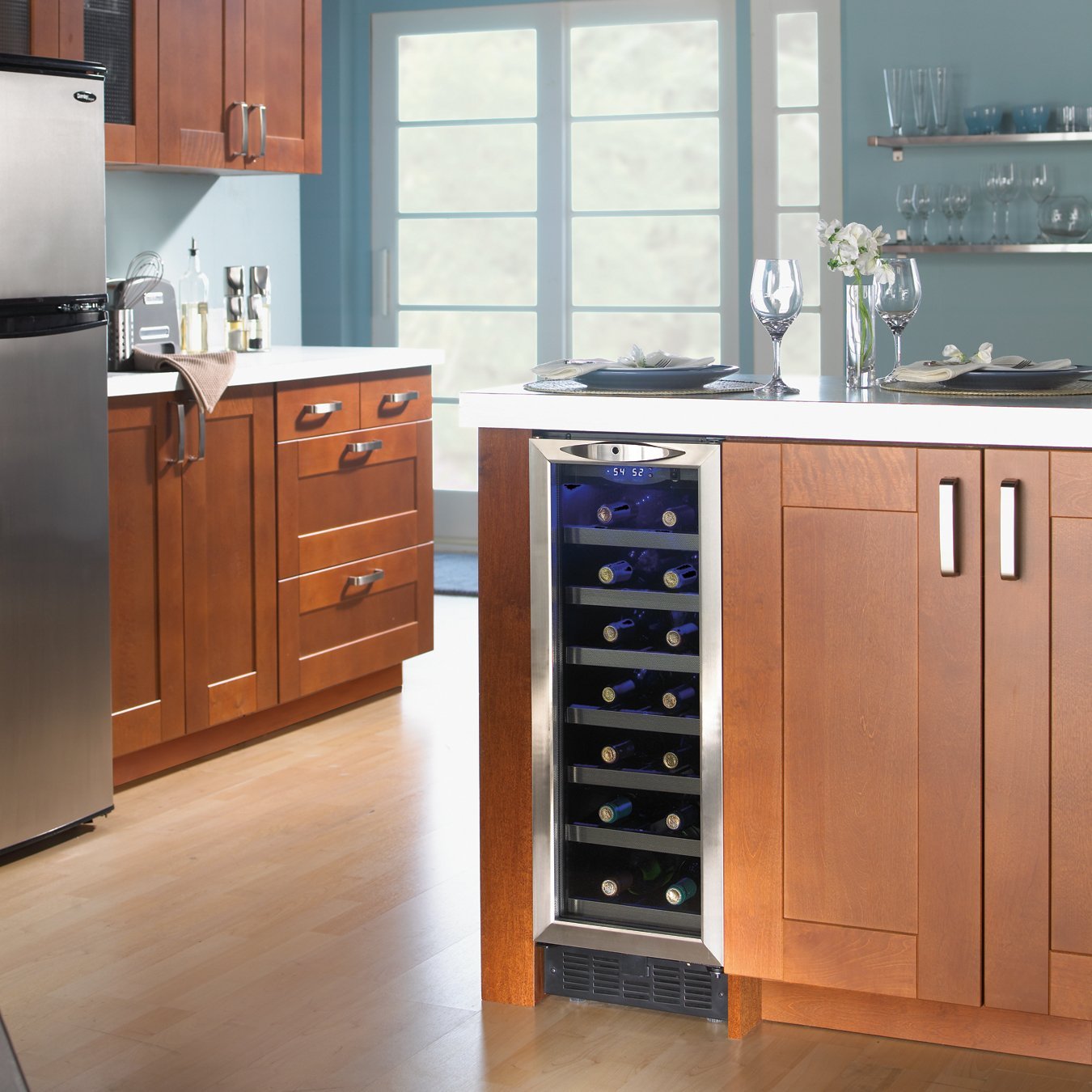 3. Ivation 18 Bottle Wine Cellar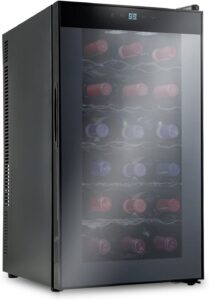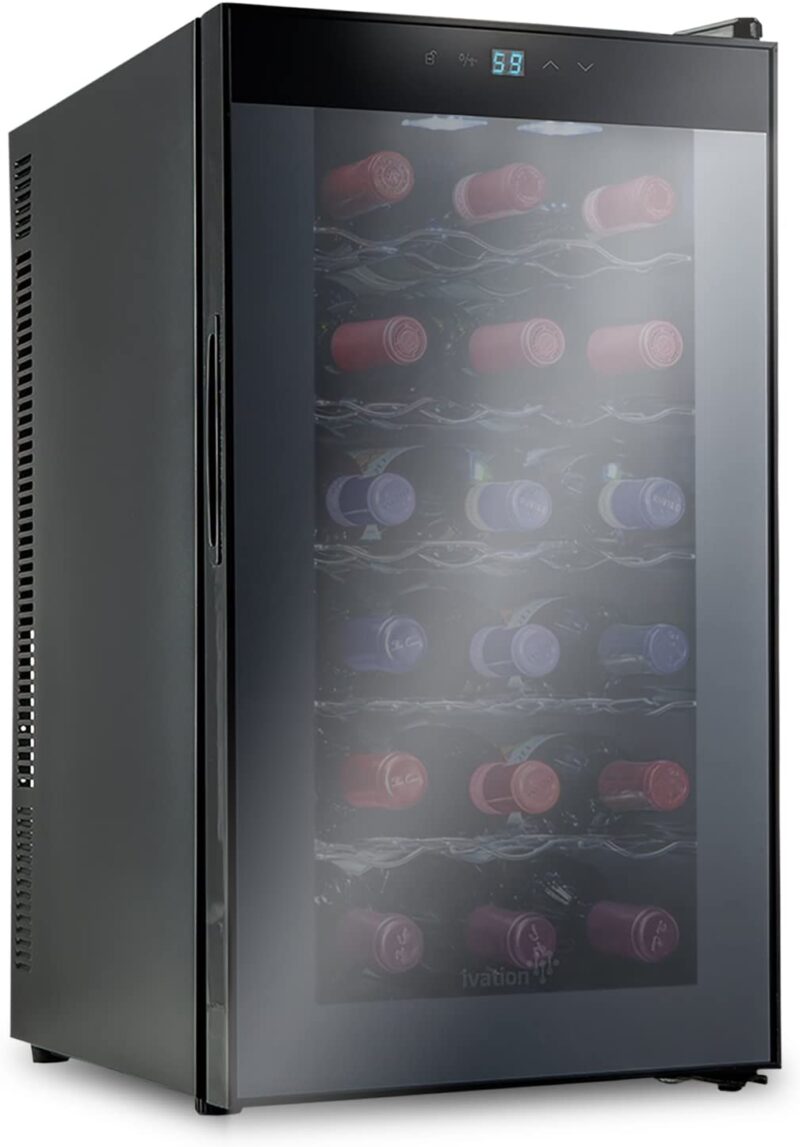 This compact freestanding cellar has thermoelectric non-compressor cooling and insulation free of CFC, meaning it keeps the environment stable and vibration-free. It has an adjustable temperature ranges from 54°F to 64°F, suitable for different wine types.
The controls are touch and the display is LED. There are LED lights inside and the glass door is dual-pane smoked glass that protects the wine from room temperature and light.
The shelves are for 750 ml bottles, and they slide out for easier access to the bottles. There are concerns with temperature changes when the cooler is running, like the last one, the one year warranty comes with customer service troubles while making warranty claims.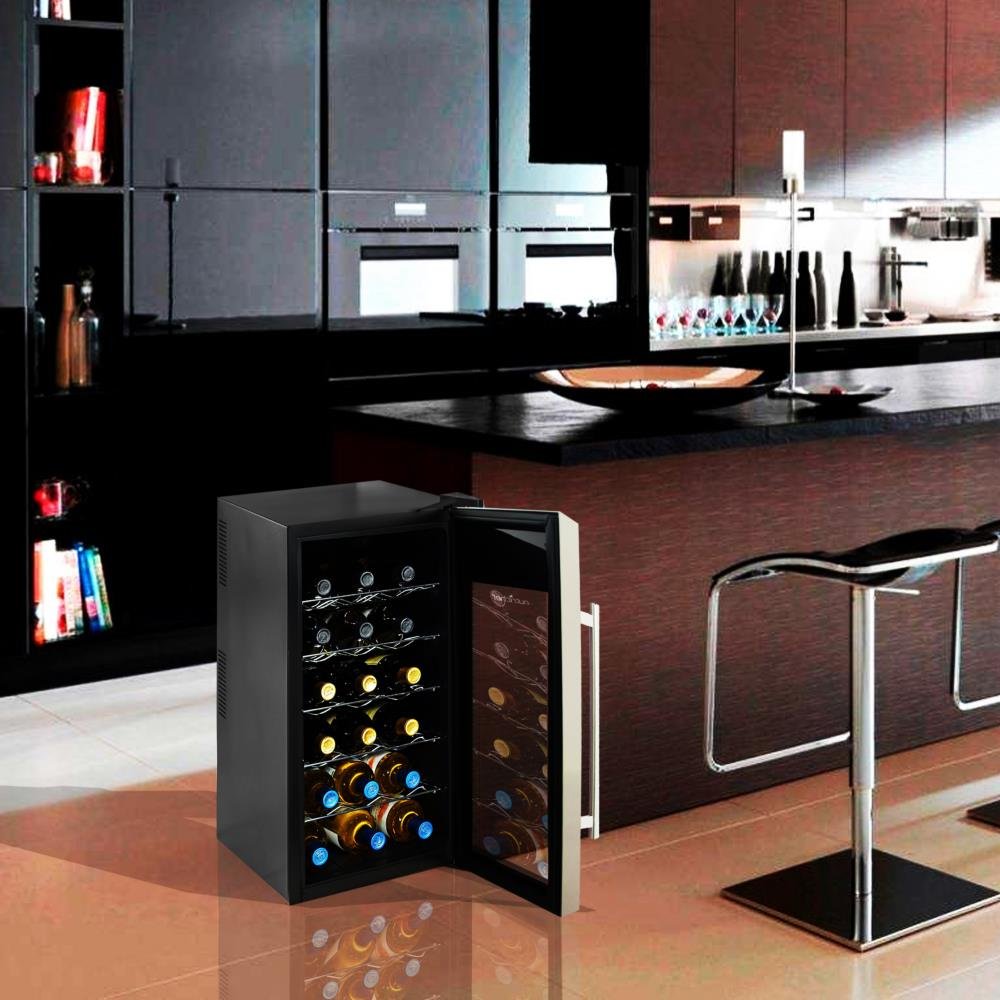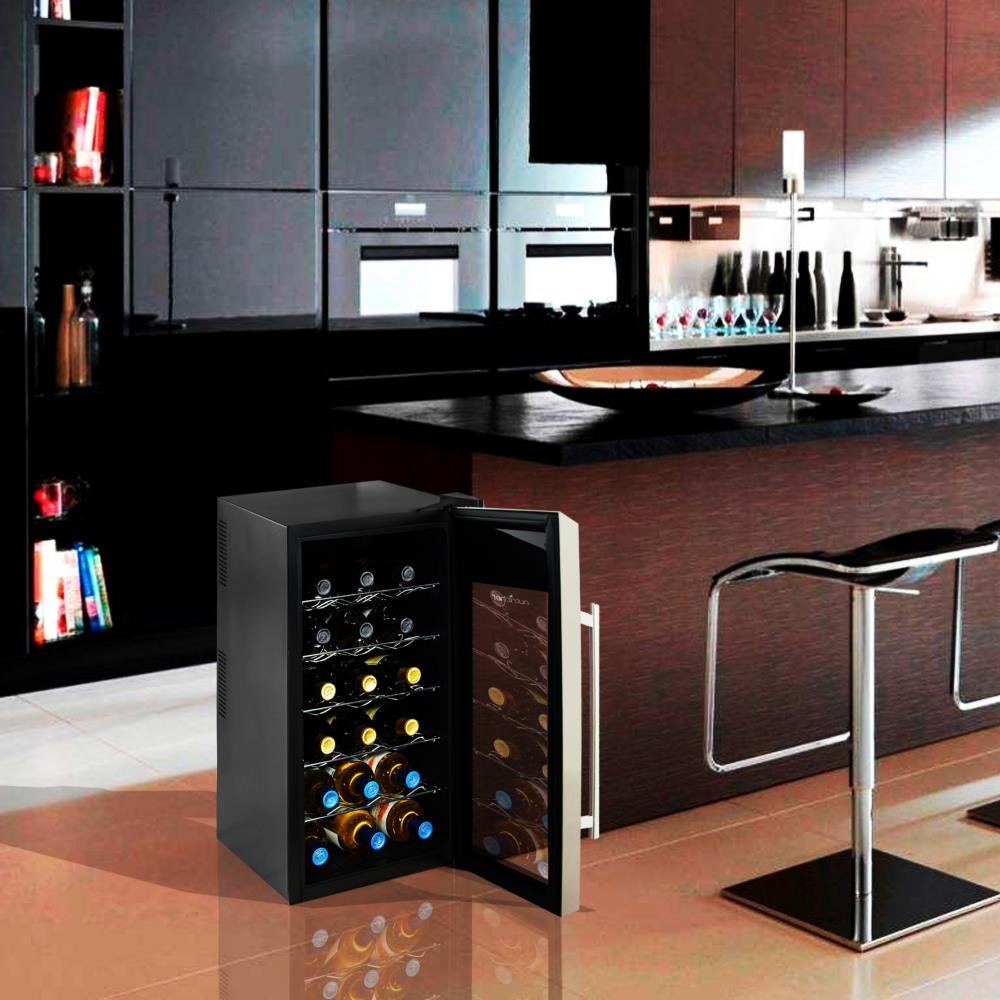 4. ​​Kalamera 15 Bottle Wine Cooler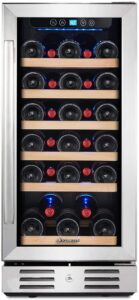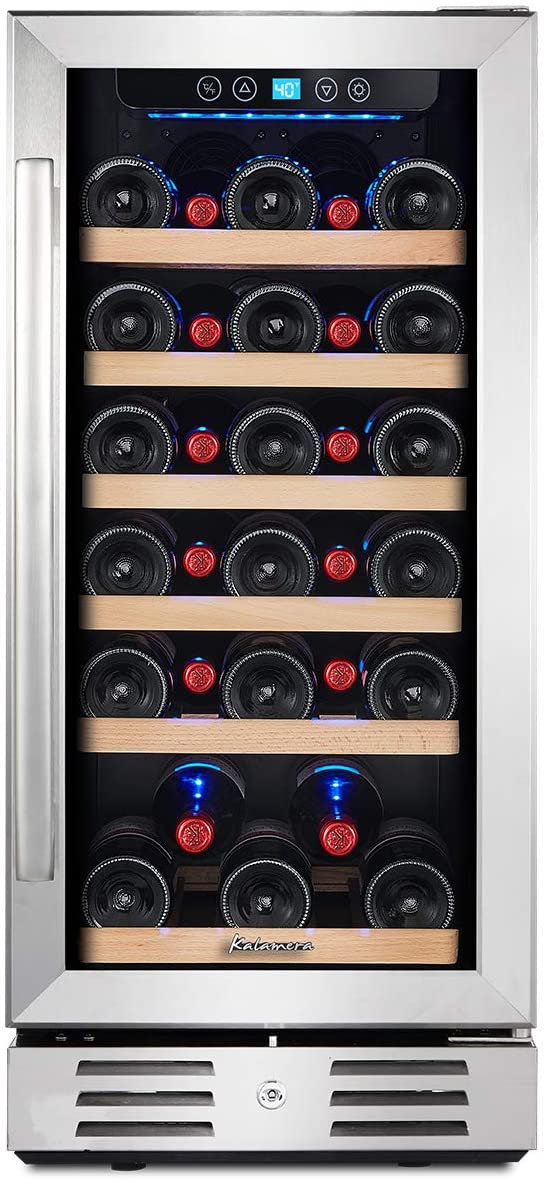 This cooler is suitable as either a freestanding unit or a built-in unit. It can hold different sized bottles, and you can remove a shelf to fit in larger bottles of wine or Champagne. It works with compressor cooling and has vibration reduction technology.
The cabinet is made from stainless steel and has a black finish, while the tempered glass door is dual-layered for extra protection.
The racks on the inside are beechwood, and the inside also has a carbon filter and soft LED lighting. Temperature ranges between 40°F and 66°F and it has a memory function that can return the temperature to its previous setting after a potential power outage. The cooler also has a lock and comes with a one year warranty that can be extended for extra.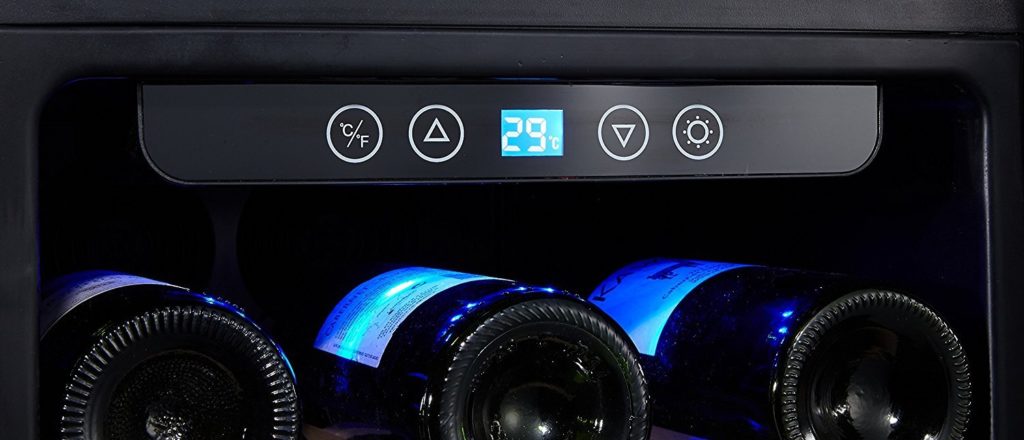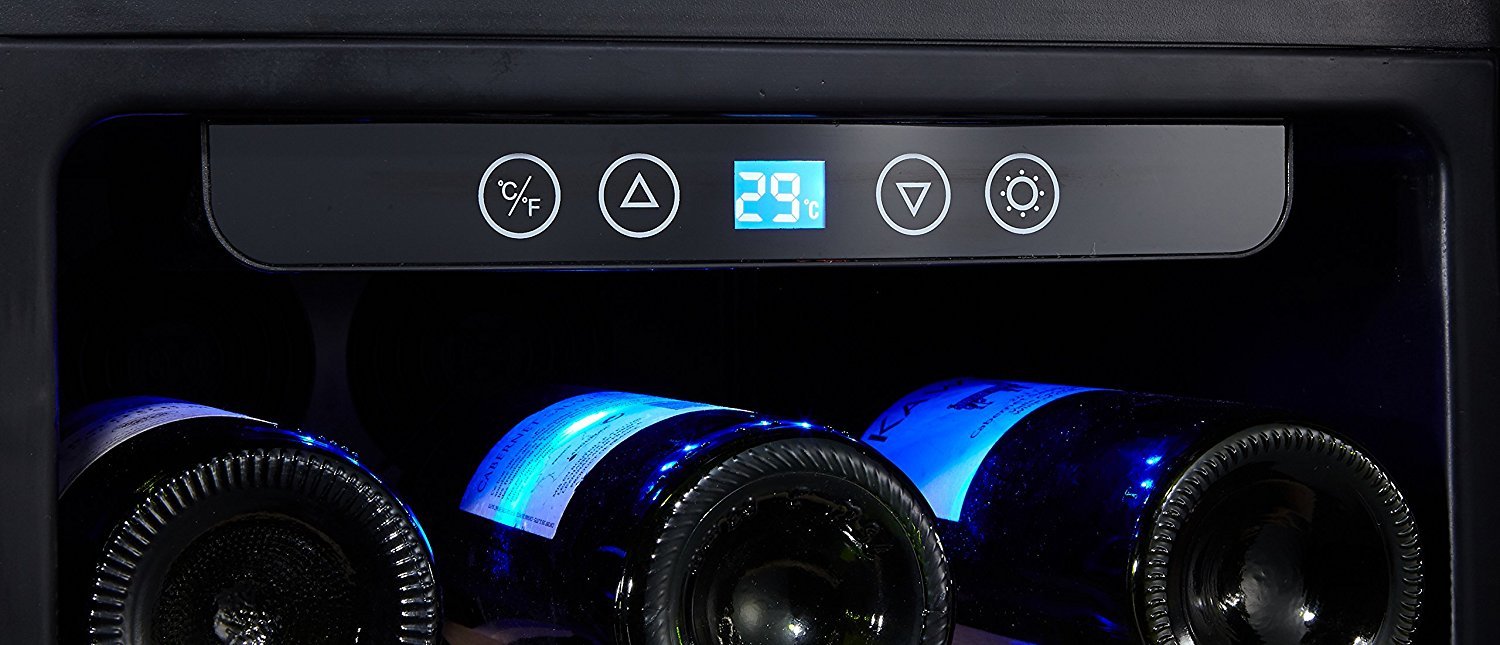 5. ​​Koldfront 18 Bottle Dual Zone Wine Cooler (TWR187ESS)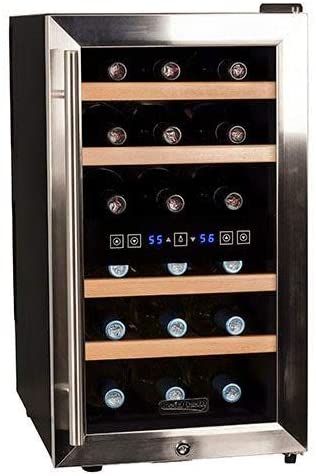 This dual zone wine cooler can fit 18 bottles of wine and is freestanding with a temperature range of 54°F to 66°F in the top zone, and 46°F to 66°F in the lower zone. The thermoelectric cooler is vibration-free,  and the glass door is tempered. The display is a touchscreen and LCD, while there is LED lighting on the inside. It has a lock for extra security.
The manufacturer made it to mainly house 750 ml/2.75″ Bordeaux bottles, but if you want to store larger bottles, you can also remove a wooden shelf. These precious shelves need extra careful handling, because they might slip out of the tracks, and they are not the easiest to slide in and out. The cooler has a one-year limited warranty.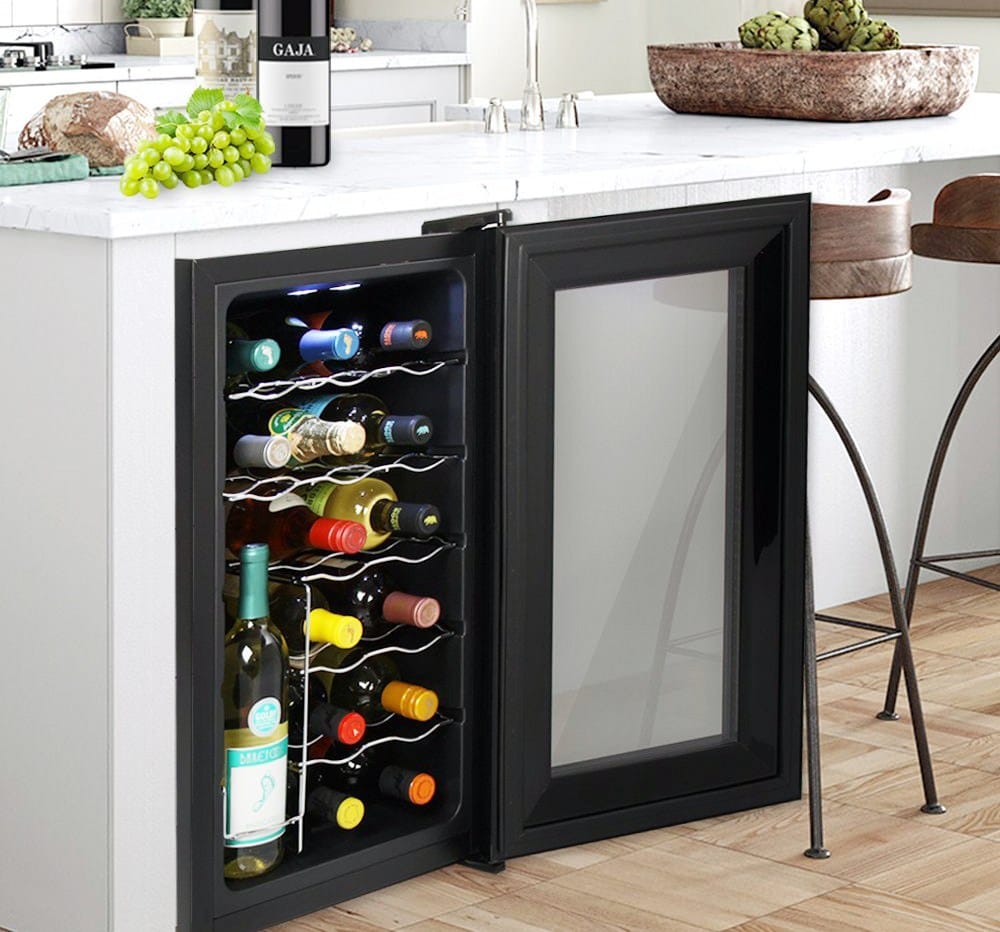 6. Kalamera 24 Bottle Dual Zone Wine Cooler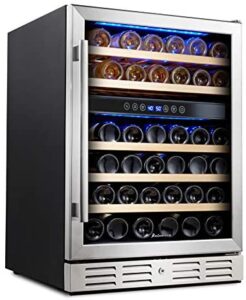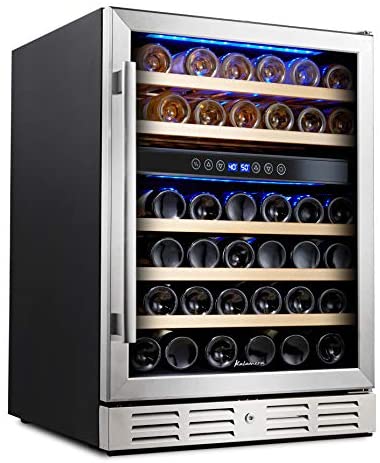 The dual-zone wine cooler by Kalamera is suitable as a freestanding unit, as well as a built-in cooler for your kitchen. It is made from black stainless steel and has a glass door. The vibration of the compressor is minimal, while the shelves have a beech finish.
Of course, there is soft LED lighting on the inside. This is another cooler with a memory function that restores the temperature in case of an outage.
Temperatures range between 40°F and 50°F in the upper, and 50°F to 66°F in the lower zone. It is also lockable. It comes with a one year warranty, and it might arrive with some damage, so be ready to activate it immediately.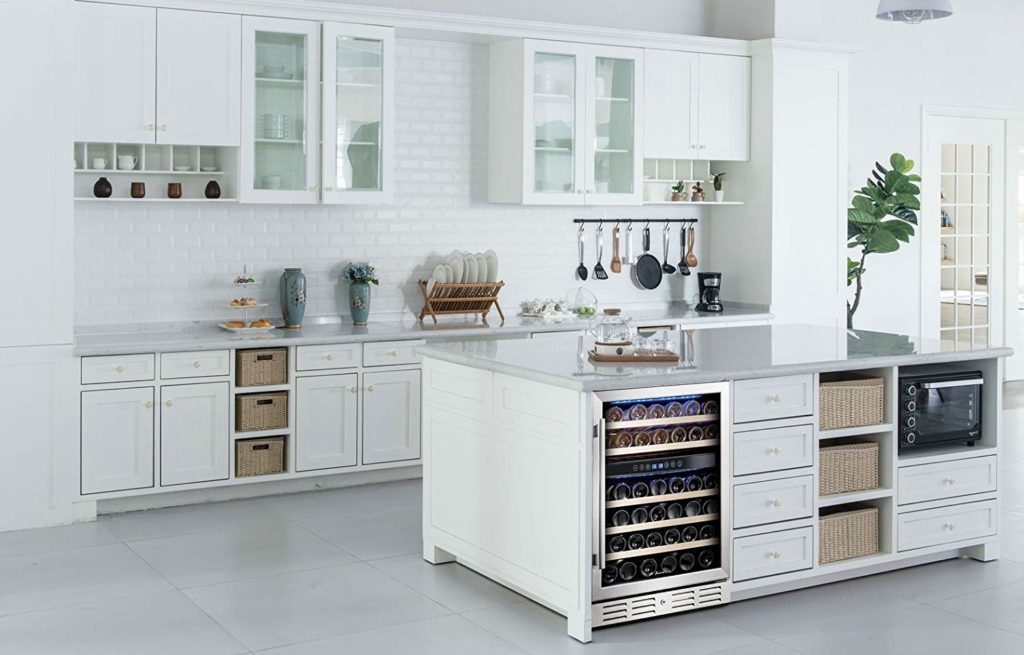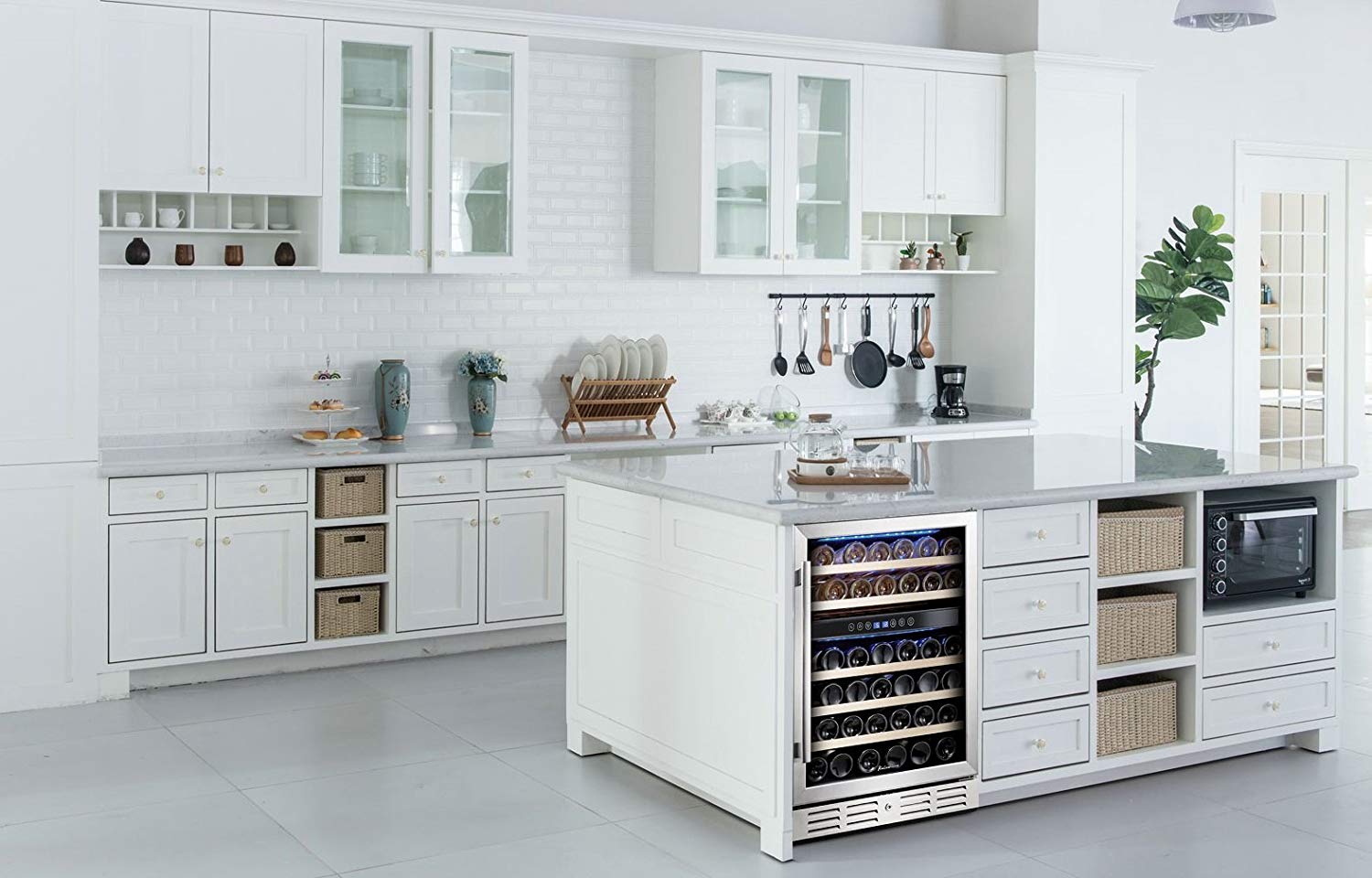 7. ​Whynter 20 Bottle Wine Cooler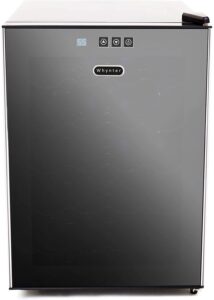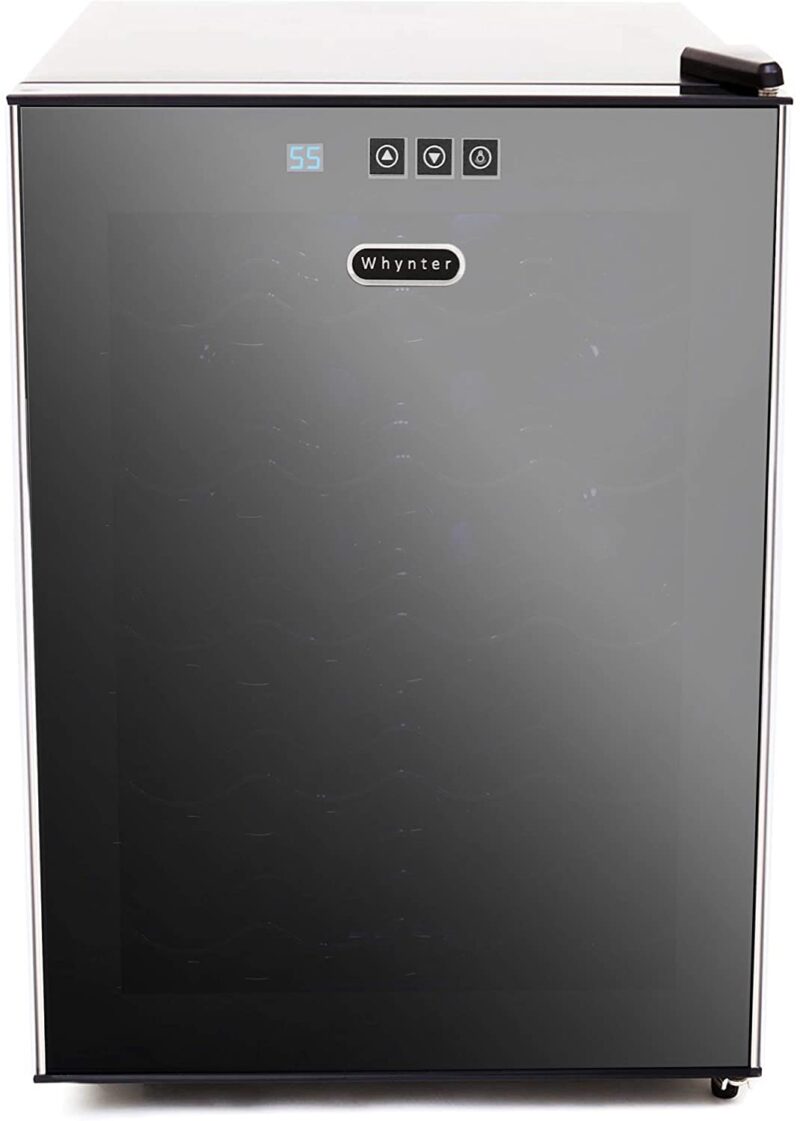 This freestanding black cabinet cooler has a black-tinted mirror glass on the door that protects the wine inside it from UV. It cools your favorite beverage through thermoelectric cooling of low noise and vibration. Controls are soft-touch buttons, and there is an LCD display.
Similarly to the others, the temperatures range from 46°F to 65°F, but some owners experienced differences on the display and the actual temperature inside the cooler. It comes with a year limited warranty from the manufacturer, with an option to extend it.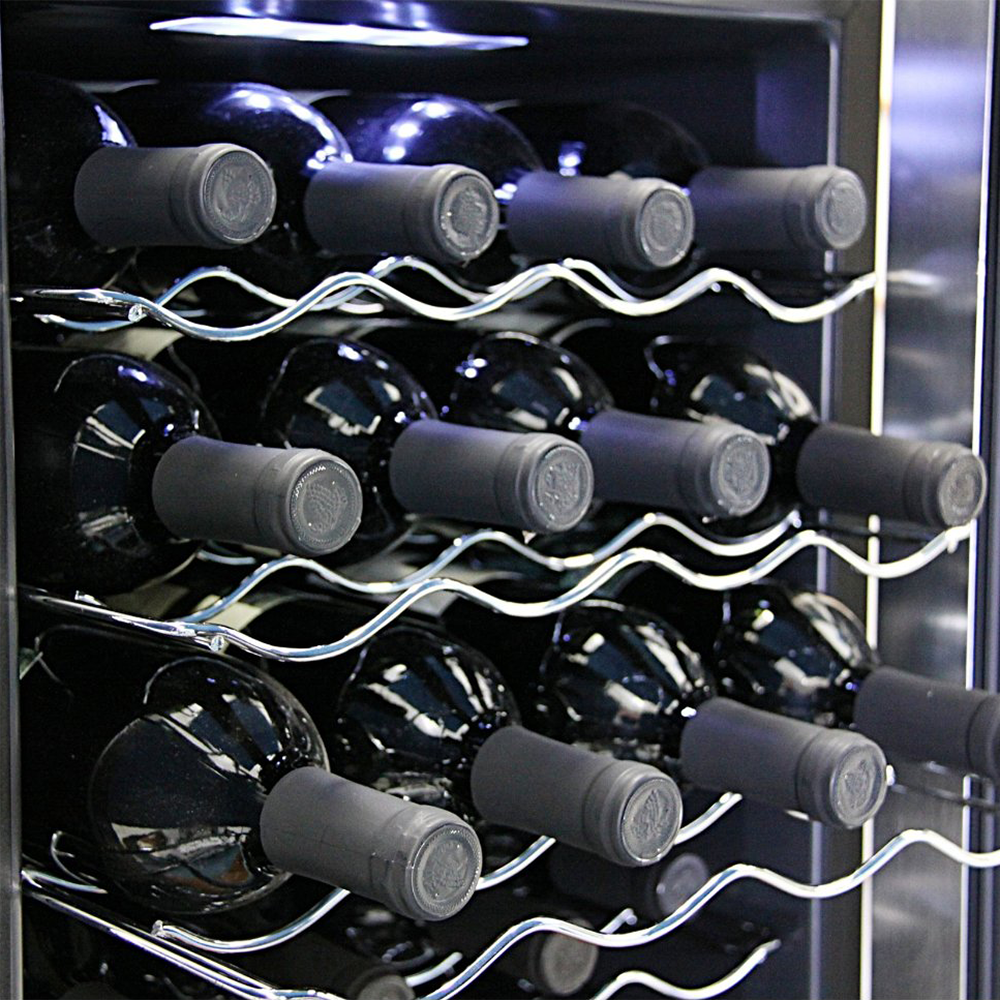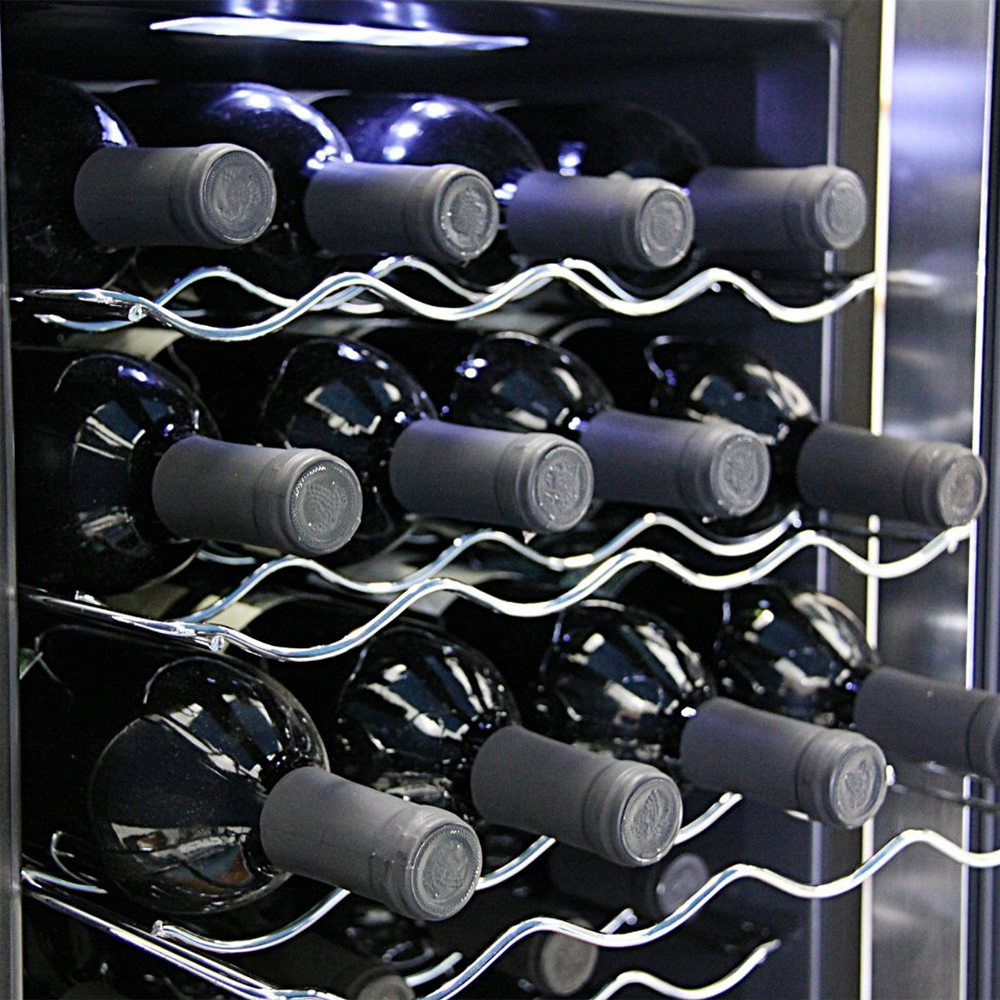 8. Kalamera 50 Bottle Wine Cooler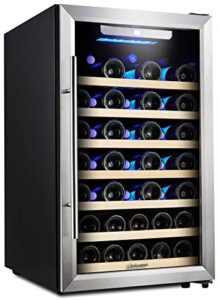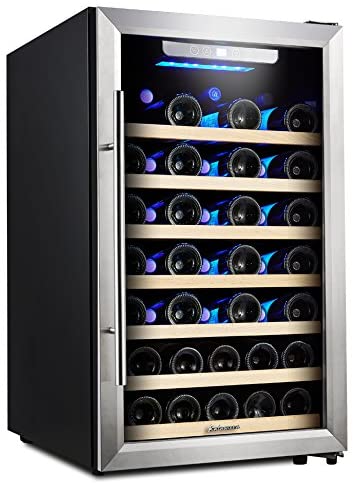 This huge 50 bottle wine cooler is freestanding and has a black finish stainless steel cabinet. The glass door is anti-UV, and it has a soft LED on the inside. The shelves have a beech finish and can be removed. Although it says it fits 50 bottles, it can be hard to reach this capacity if you use bottles larger than 750 ml.
This wine cooler operates at on temperatures between 40°F and 66°F, and it has a memory function. The compressor system is quiet and vibration-free, and you get a one-year limited warranty.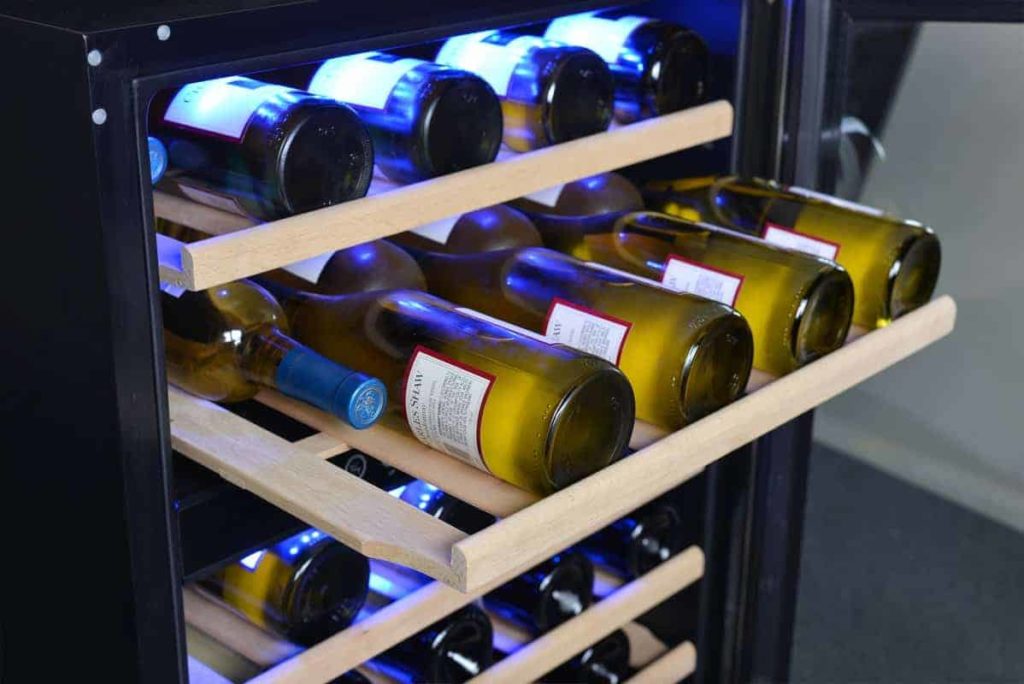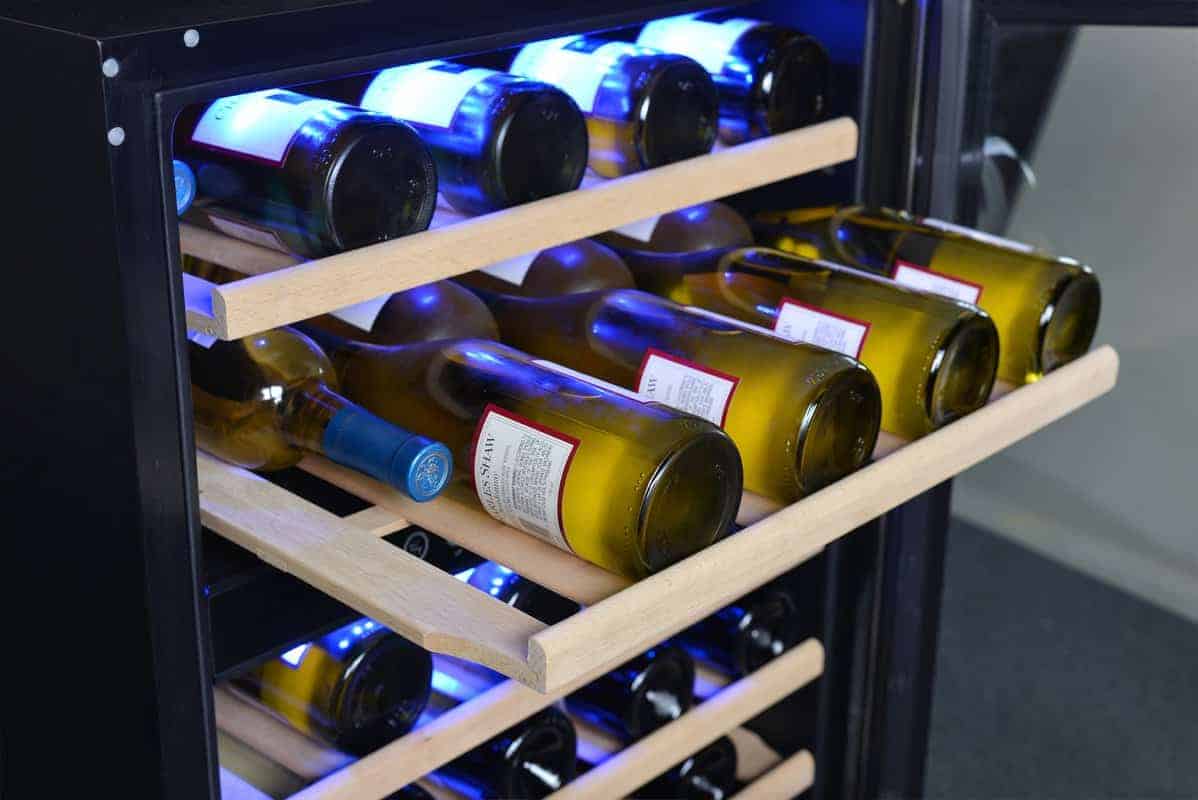 9. Wine Enthusiast 32 Bottle Dual Zone Wine Cooler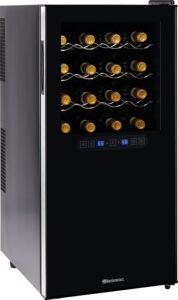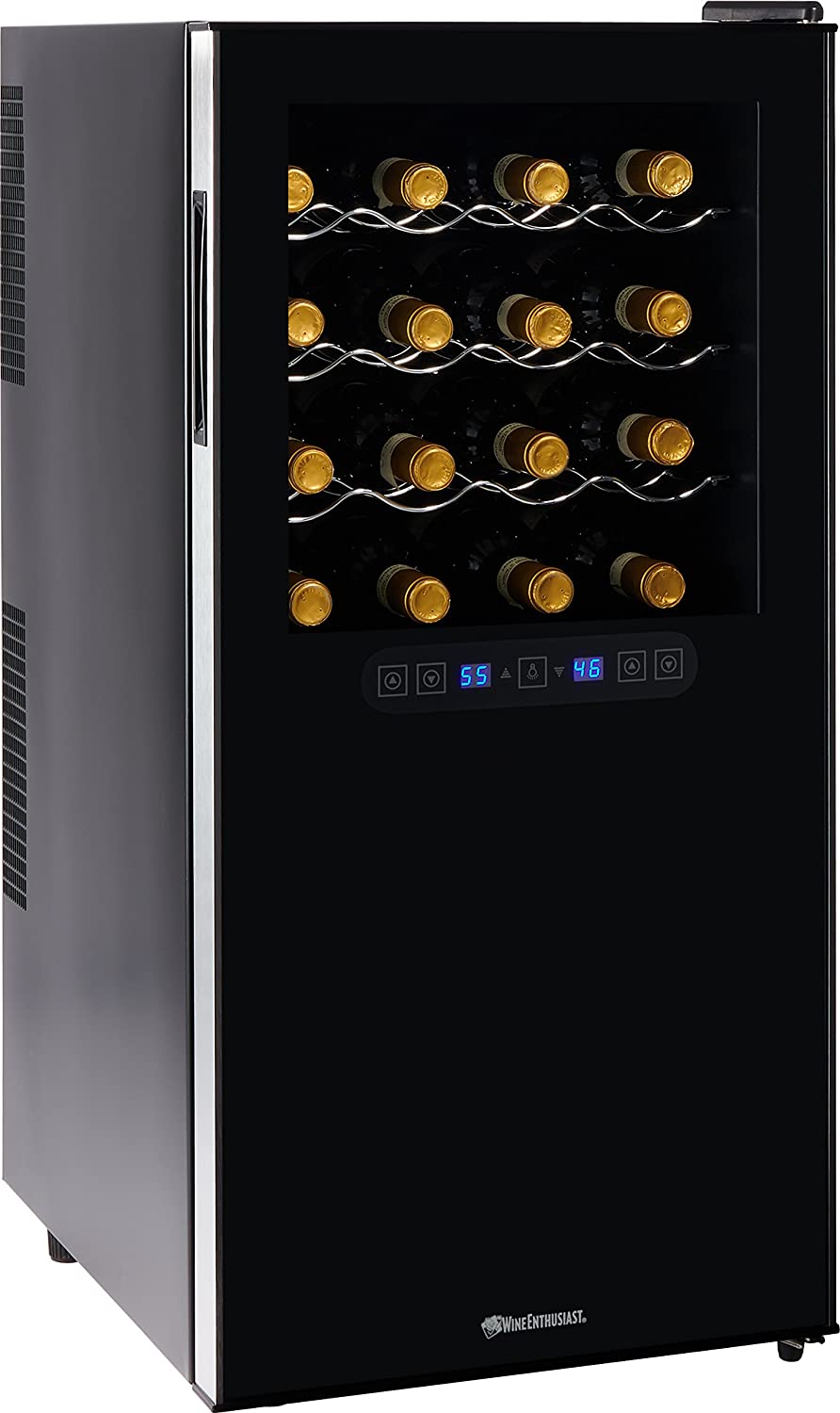 The 32 bottles dual zone wine cooler by Wine Enthusiast brand comes equipped with an energy-efficient and vibration-free thermoelectric CFC cooling system. It is made to fit 32 standard 750 ml Bordeaux bottles and cools them in a temperature range between 54°F and 66°F in the top zone and between 46°F and 66°F in the lower zone.
The shelves on the inside of the cooler are chrome, and they are removable so that you can fit some bigger, non-standard bottles inside of it as well.
The outside of the cabinet is made from stainless steel that has a black finish, while the door is from smoked glass reflective Thermopane. A one-year limited warranty from the manufacturer is included.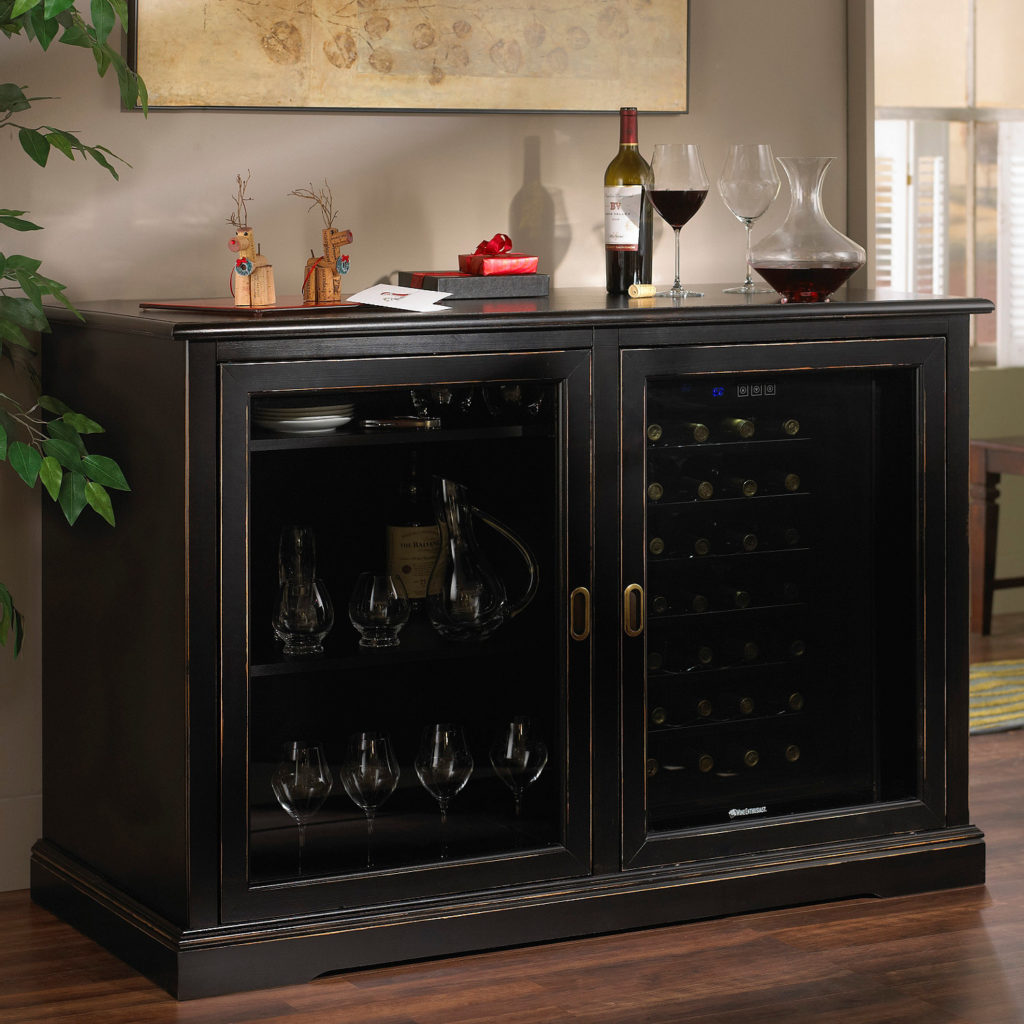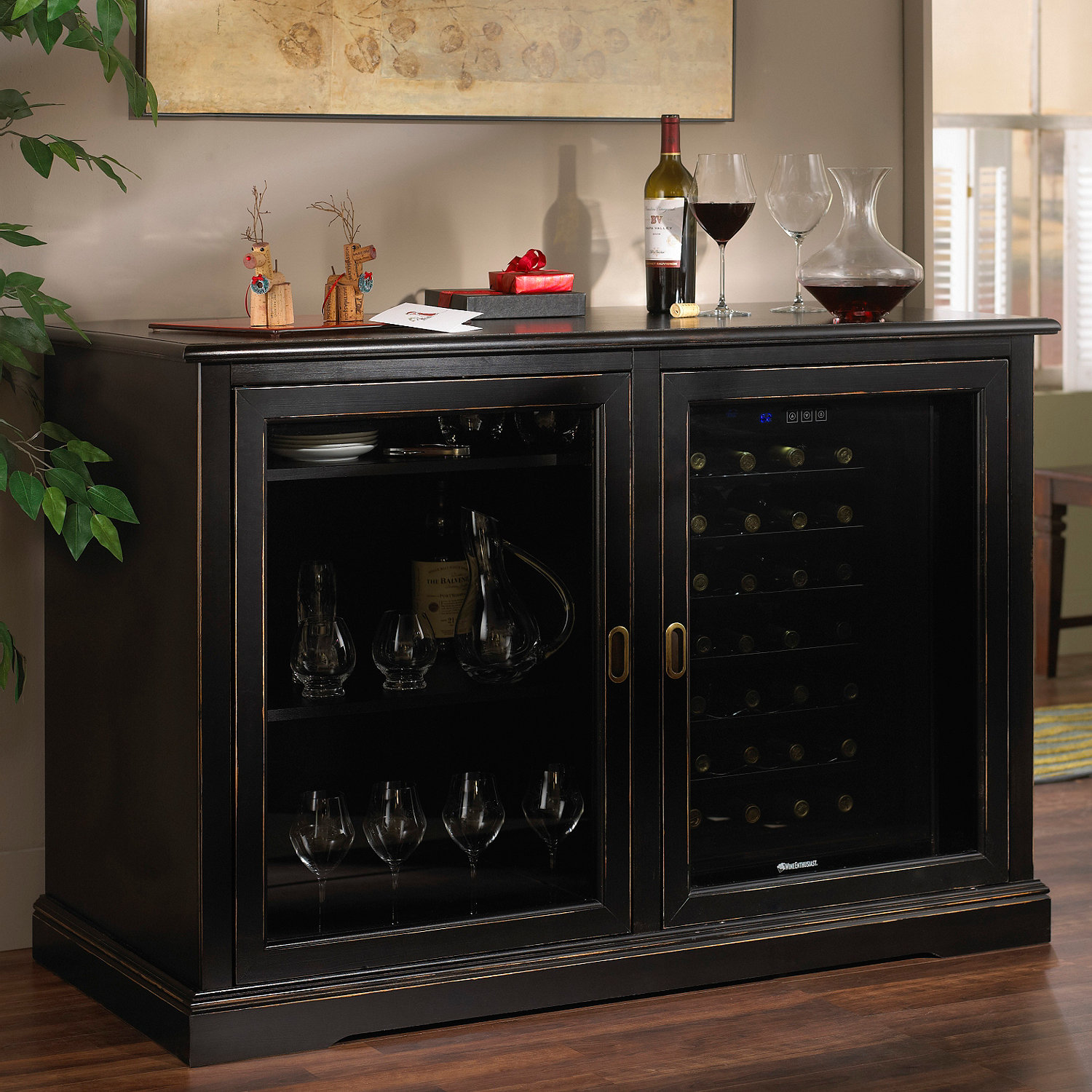 10. ​Allavino FlexCount VSWR56-2SSRN – 56 Bottle Dual Zone Wine Refrigerator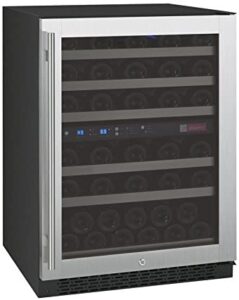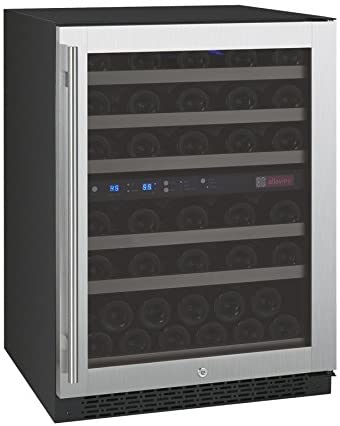 The Allavino Flex Count is the largest wine cooler on the list, as it can hold 56 bottles. It is a dual-zone wine cooler that offers flexible storage that includes housing Champagne and Pinot bottles, other than standard 750 ml wine bottles.
Although it is a dual-zone cooler with 41°F to 61°F temperatures in the upper and 45°F to 64°F in the lower zone, some owners experienced major fluctuations and the temperature difference between these two zones.
The cooler uses a 25% more energy-efficient cooling system that has reduced noise. It has a front vent, which means it is perfect for building it into your kitchen. It can also be a freestanding unit. You can choose between two handles, so select the one that goes with your kitchen or other surroundings the best.
There is of course a one-year limited warranty, and keep in mind that some reviews describe customer service issues while they were trying to make a claim under the warranty regarding a faulty design or damage. Buying an extended warranty past the one year that is included is highly advised.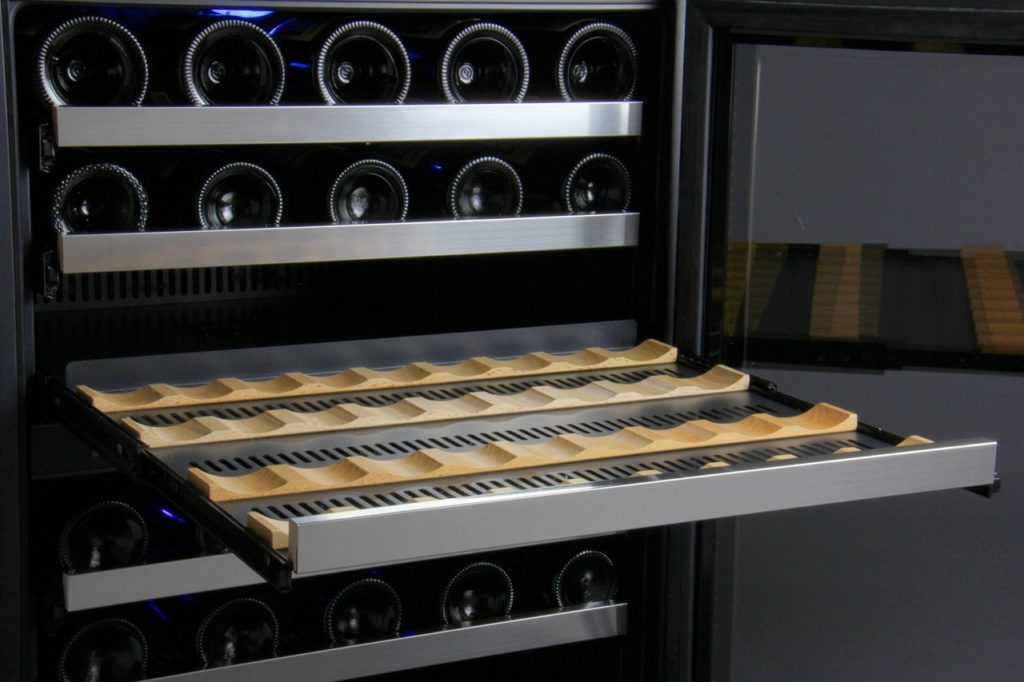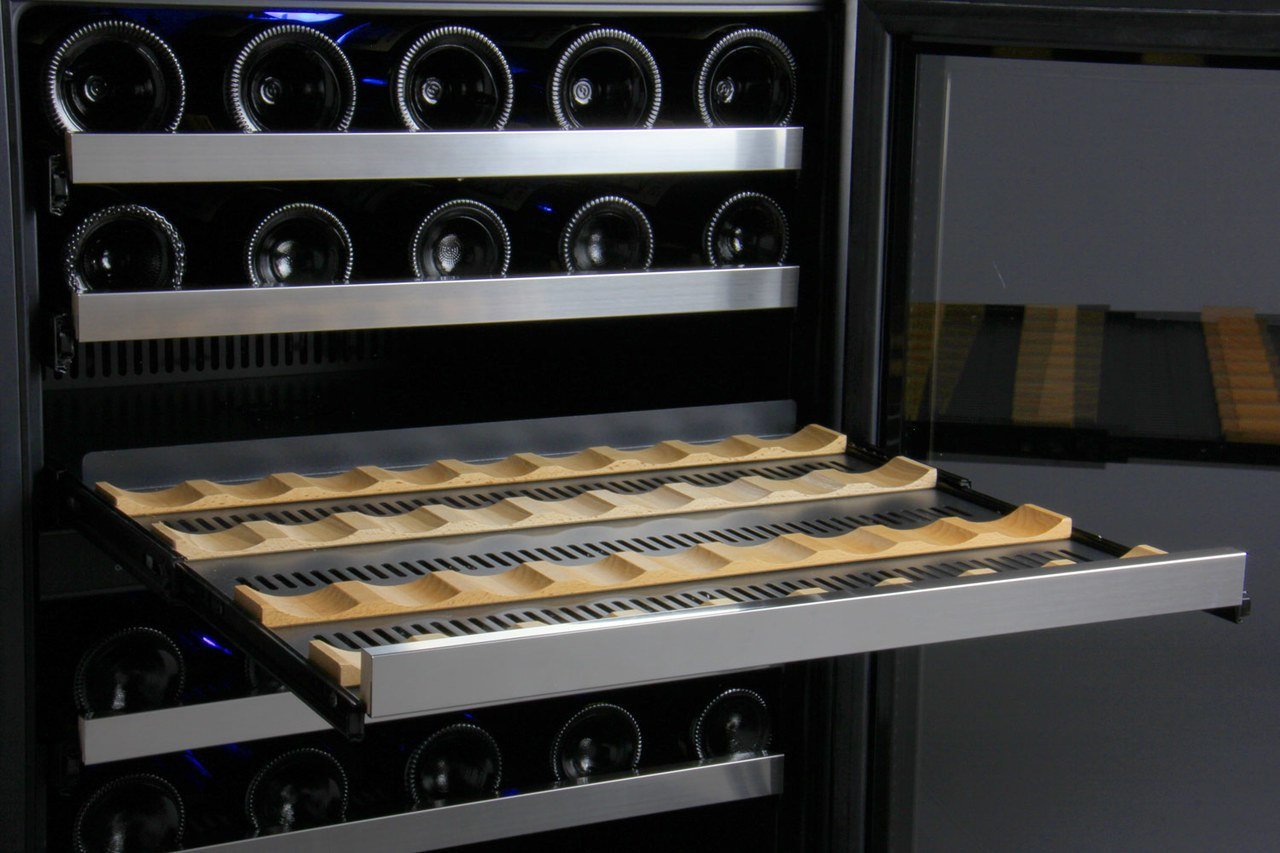 How to Choose the Best Wine Cooler in 2020?
Wine coolers are specifically designed for keeping wines tasty and crisp, and you do not need to be a sommelier to own one. Proper wine storage is crucial for ensuring that your wine ages perfectly and always stays fresh, so whether you are a long-term lover or have just recently began developing an enthusiasm for it, having a wine refrigerator in your home can be quite beneficial.
Today, there are so many wine coolers on the market, so choosing the right one might be difficult. There is a lot of things to take into consideration when choosing the best one, so here are some tips that can help you in your decision-making process.
Types of wine coolers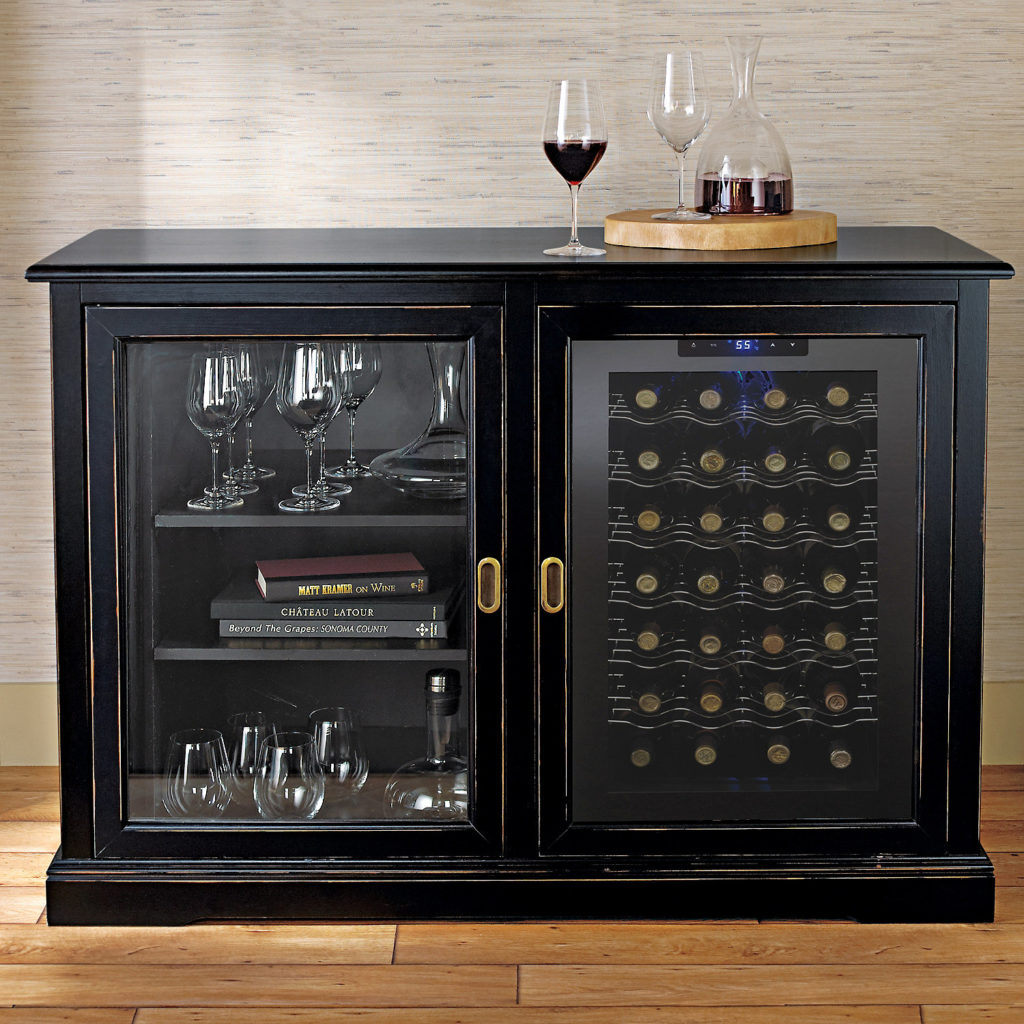 There are two types of wine coolers – single temperature and dual-zone ones. Although many wine lovers like to drink white wines chilled, and red wines closer to room temperature, experts suggest that both should be stored at the same level.
This makes single-temperature coolers a perfect choice, and they are also less expensive than dual-zone models. However, if you prefer to keep both types at different levels of cool, you can opt for the latter. Dual-zone fridges might be great for keeping wines ready to serve, but it ultimately comes down do your preference. If you want to read more about this, you can visit kingsbottle.com.
Factors to consider when buying
1. Size
The coolers come in a variety of sizes, so think about where you want to place it. Keep in mind that all of them will take up a certain amount of space, so ensure that you have enough room before buying. For the ability to place it exactly where you want, decide whether it is better to have a built-in or freestanding design.
2. Price
Your options will greatly depend on your budget. Larger coolers cost more, as do more technologically advanced ones, like the dual-zone cooler. Built-in models add extra expenses since you would need to set some money aside for their installation as well. The best thing you can do is set a limit on how much you are willing to spend, and start searching for a wine cooler that fits your price range.
3. Noise
Most coolers will make a noise similar to your refrigerator since they use similar technology. If you do not deal well with noise, you can opt for a thermoelectric model. However, if it is not the best choice for you, read reviews and check what others have said about it. Many people are noise-sensitive, so it is a great way to find out which coolers are the best or worst when it comes to this.
4. Temperature
Serving temperatures will depend on the wine type and your preference, so always check if the appliance offers the temperature range you are looking for since most of them allow you to set or adjust the temperatures yourself.
The Benefits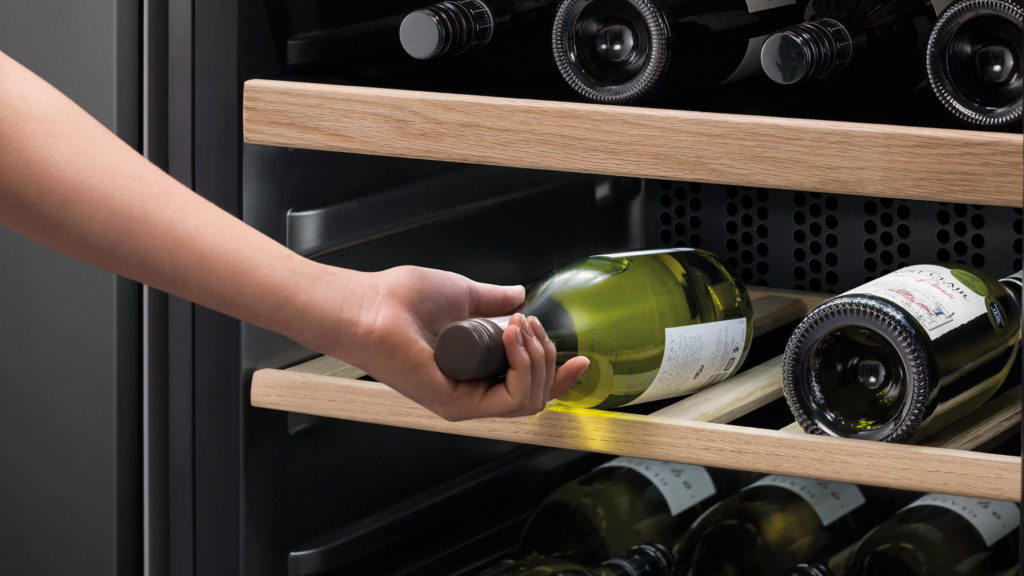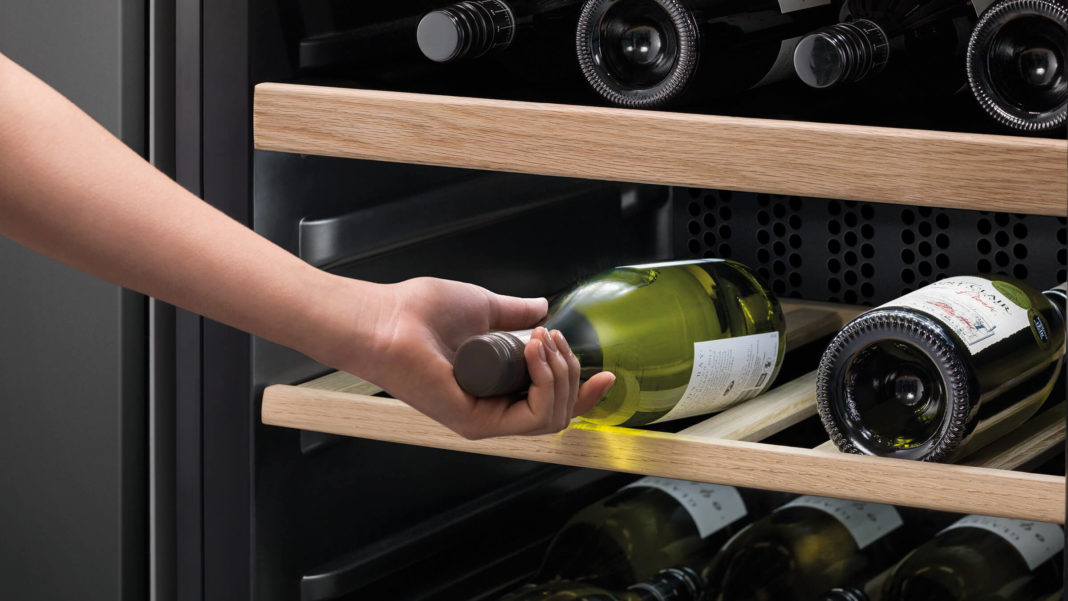 Besides the obvious advantage of keeping your wine cool, there are other benefits to owning a wine cooler. It serves as extra storage space, so bottles will not take up any extra space in your refrigerator. It keeps the flavor of your wine, ensuring it stays fresh for longer.
If you like having multiple bottles available, you can save money by buying a larger quantity at once, since many stores offer deals when buying wine in bulks. It is also good for storing nice oils or even beverages that couldn't fit into your fridge. Even if you are not a wine collector, wine coolers can be a worthy investment.
You will always have access to wine that is the right temperature and is perfectly fresh, ready for you to open and savor the taste. When buying, consider all the factors so you can narrow down your choices, and remember that the best wine refrigerator is the one that has all the features you are looking for and sells for a price you can afford to pay.
Videos:
Infographic:
References:
https://www.lemadeleine.com/best-wine-cooler-reviews-under-counter-freestanding