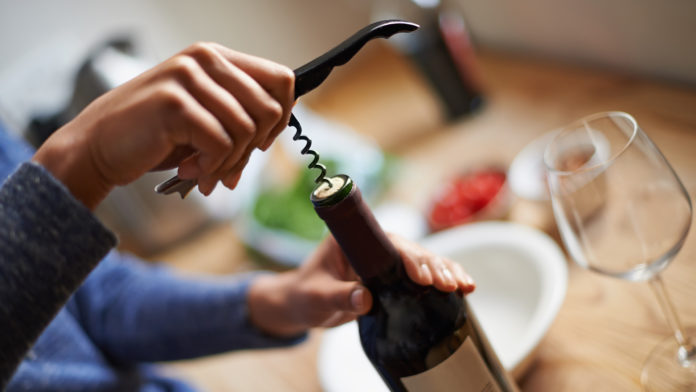 Best Choice
Good Choice
Don't Miss
Premium Pick
Barvivo Natural Ebony Wine Opener with Foil Cutter Knife & Cap Remover, Double Hinged...
Hicoup Wine Opener - Professional Corkscrews for Wine Bottles w/Foil Cutter and Cap...
Houdini Lever Corkscrew with Foil Cutter and Extra Spiral (Silver)
Oster Rechargeable and Cordless Wine Opener with Chiller
Best Choice
Barvivo Natural Ebony Wine Opener with Foil Cutter Knife & Cap Remover, Double Hinged...
Premium Pick
Oster Rechargeable and Cordless Wine Opener with Chiller
Do you love drinking wine? Well, if the answer to this question is affirmative then you belong to the vast majority of people who do and who are actually passionate wine lovers.
However, has it ever happened to you that you are trying to open a bottle of wine with a wine opener and that you simply cannot do it? You are not alone since it has happened to everyone. So, let's see hot wine openers should be used, and what types of those exist.
Also, check the best wine bottle openers for 2023.
1. Rabbit Style Wine Openers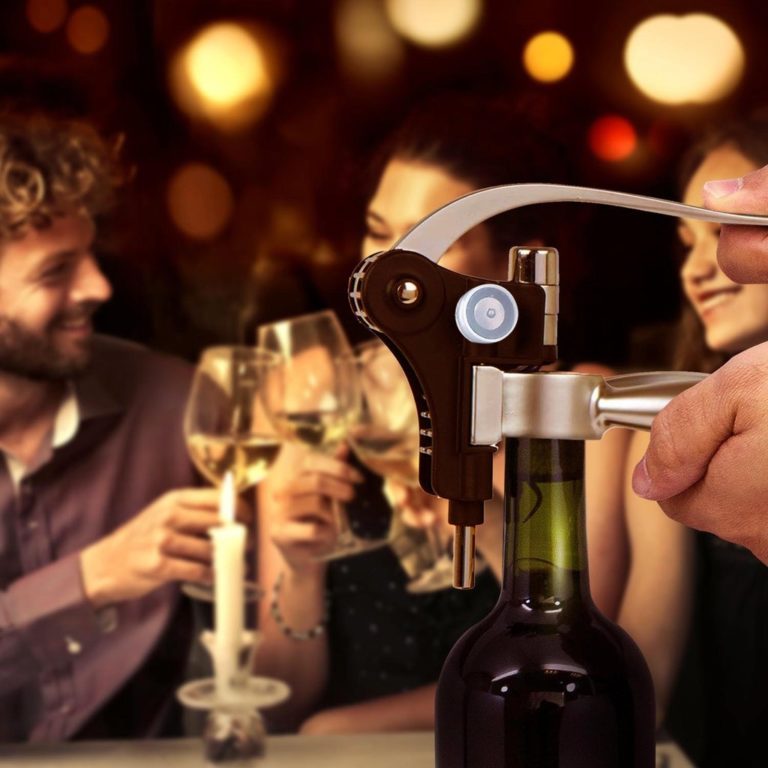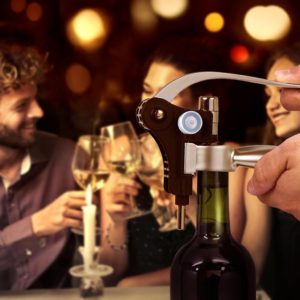 Many people consider that rabbit wine opener is the best wine openers since they are the simplest ones. Why?
First of all, they have a very straightforward design that makes opening a bottle of wine as easy as a piece of cake. The rabbit-style wine opener has a clamp and this clamp is put around the neck of the bottle.
There is also the lever, and this is the most important part since the lever is the thing that is used to control either the worm or a spiral. So, what is the procedure?
You should place the entire opener in the way that the clamp is put around the neck of the bottle. Then, the worm or a spiral should enter the cork.
After this, the lever should be used to enter the corn and by pulling it up, it pulls the cork out.
2. Wine Key or Waiter's Friend Style Wine Openers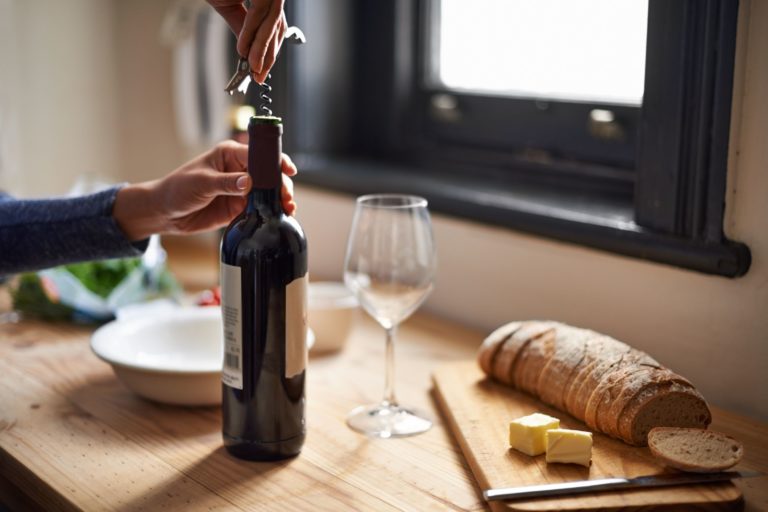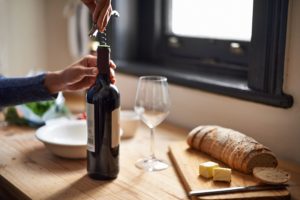 This one has been present for centuries and it is considered to be the simplest and easiest one as well. First of all, the design of this one is very simple and straightforward without any additional mechanisms.
The opener usually has a kind of a blade that is used for the removal of foil that covers the cork and bottleneck. Then, there is the worm that is placed into the worm by simple twisting in a circular way.
This may be just one bad thing about it since it is needed to use a bit of a force to pull the cork in and out. When this is done, there are two levers for pulling the cork out.
3. Butler's Thief, or Two-Pronged Wine Opener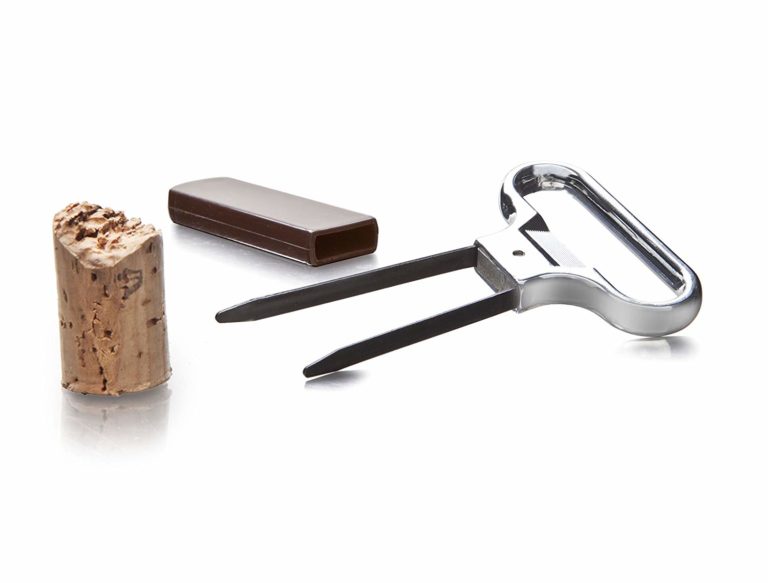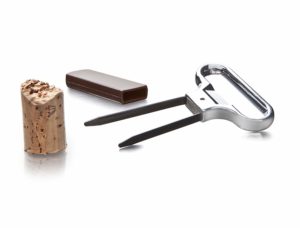 Do many people believe that this is the safest way to open a bottle of wine? Why? First of all, there is not any debris left in the wine when the cork is pulled out since there is not any part of the opener that goes into the opener and drills it. How does it function?
First of all, there is also a part here that is used for the removal of the foil that covers the top of the cork and the entire bottleneck. When this is done, the opener is applied.
First of all, the opener itself has two prongs that should be inserted but not into the corks, they are to be placed between the cork and the bottleneck. It goes smoothly and no additional effort is needed.
The important thing to be noted is that the second prong should be inserted before the first one goes all the way down. The opening goes smoothly by twisting the entire opener holding it by the handle and then opening.
There is also one tip: you can open ¾ of the cork and then you can remove the entire cork by your hand.
4. Traditional or Winged Corkscrew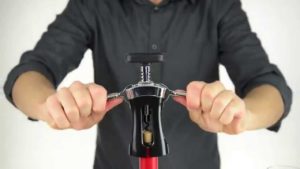 This one has been in use for the longest period of time. Its design may be considered a bit odd, but it is extremely functional. First of all, it has a worm that needs to be manually inserted into the cork by twisting moves, when this is done, the handles, which have been raised during the inserting, are pulled down and the cork is then taken out.
5. Travel Corkscrew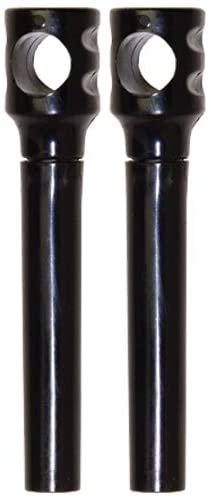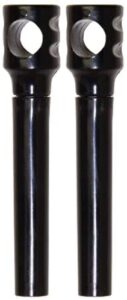 This one has the simplest design possible. The worm is placed into a holder, the hat is also used as a handle later on. Then the handle is used for twisting the worm into the cork. After this is done, the pulling up move is used for taking the cork out.
Take a look at some of these interesting products available in today's market:
Sale
Secura Electric Wine Opener, Automatic Electric Wine Bottle Corkscrew Opener with Foil...
Rechargeable Electric Wine Bottle Opener - Easily remove corks in seconds. Compatible with most wine bottle sizes. Open up to 30 bottles on a single charge.
Easy to Use - Simply place on top of your wine bottle, press a button, and tada, your wine is open and ready to serve.
Small Footprint Saves Space - Our electric wine bottle opener is small enough to store discreetly away when not in use. Keep the charging base next to your wine fridge, storage rack, credenza, etc.
Makes an Amazing Present - An elegant color makes our electric wine bottle opener an attractive present, or use it at home, when catering, at banquets, in restaurants or behind the bar.
Reliable product and service - 100-240V wide input voltage range covers The known voltages of most places in the world. We offer 12 months and lifetime friendly customer service. NOTE: Please charge your wine opener every three months when not in regular use, so as to extend the lifespan of the battery.
Sale
IPOW Wine Opener, Zinc Alloy Wine Bottle Opener, Wing Corkscrew Heavy Duty, Manual...
Sturdy Metal - Made of solid zinc alloy with high quality construction. You will truly feel this weighted wine opener is heavy in your hand.
No Cork Tear - Sharp pointed spiral goes into the cork quickly and efficiently. No need to worry about the cork remnants in the wine. Just enjoy the sip without hassle.
Easy To Screw - Featured with a big sleek turn handle for easy to screw. For people with arthritic hands and the elderly, IPOW wine opener will be a great choice.
Quick Pop - Just pull down the wings and your cork will come out! Sturdy wings with rubber provide ease and comfort for each grip. And the stable rivets ensure the cork is extracted out of the center.
Nice Gift - 2 in 1 multifunctional design can open wine or beer. With it, wine drinkers can easily open difficult bottles. A fine and elegant addition to anyone's kitchen utensils. No wine lover should miss it.
Sale
HYZ Heavy Duty Chrome Waiter Corkscrew Wine Opener with Foil Cutter, Professional 3Pack...
MULTITOOL WINE OPENER: Classical double hinged lever help you pull the cork from the wine bottle with no effort; The bottle opener opens bottle of the beer, soft drinks, soda water, coca cola. Foldable foil cutter can not only remove any foil style but can be used as a knife for other purposes like tab opener for cans, slicing the sealed bag etc. Everything you need to open a bottle of wine or beer is conveniently available to you in one tool.
BUILD TO LAST: Strengthened heavy duty stainless steel has even reached the commercial grade. Thick, well-mounted, and not bendable screw can hold up well bottle after bottle for years. Can handle an old, natural, fragile or synthetic cork very well. Specially designed for waiters, sommeliers, bartenders and every wine enthusiast and has already got many full time bartender's approve.
UNIQUE CHROME DESIGN: This upgraded old fashioned corkscrew become not only more durable but also more stylish. Chrome finish is highly reflective for a mirror-like look that make this wine opener more elegant than those similar waiter corkscrew. Ergonomically designed handle is for your comfort. Slim figure for easy storage, also perfect for picnics, road trips, and travel.
INCLUDES 3 BLACK OPENERS: Each one is in single white box and then 3 all in outer box with instructions. Set of 3 makes them very affordable, without sacrificing quality, for commercial restaurant use or to keep one at home, keep one in RV, and give one to your friend or relative. Well packaged also makes them a great gift item or party favor for any occasion for the wine lover.
BASED ON CUSTOMER: HYZ aim to provide quality at reasonable prices and we also offer friendly after-sale support to every customer. Though all HYZ products are under strict quality system, if you unluckily receive the defective items, please contact us at any time. Our customers support will reply to you in time. HYZ will be responsible for any quality issues. Please buy with confidence.