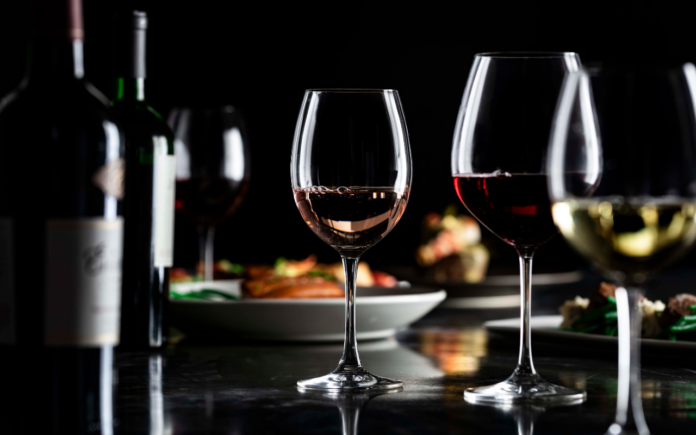 Best for White Wine
Best for Cabernet Wine
Best for Burgundy Wine
Best Champagne Glass
Bormioli Rocco 14.75 oz White Wine Glasses (Set Of 4): Crystal Clear Star Glass, Laser Cut...
Riedel Heart to Heart Cabernet Sauvignon
Zwiesel Glas Pure Tritan Crystal Stemware Glassware Collection, 6 Count (Pack of 1),...
Lenox Tuscany Classics Set, Champagne Flutes, Buy 4, Get 6, 6 Count (Pack of 1), Clear,8...
There are many different wine glasses, but how to choose the best wine glasses to own? To make things easier for you, we handpicked the perfect wine glasses which every wine lover should have.
Hence, no matter whether you prefer red wine, white wine, or champagne, you can find the best wine glasses on this list.
1. Paksh Italian White Wine Glasses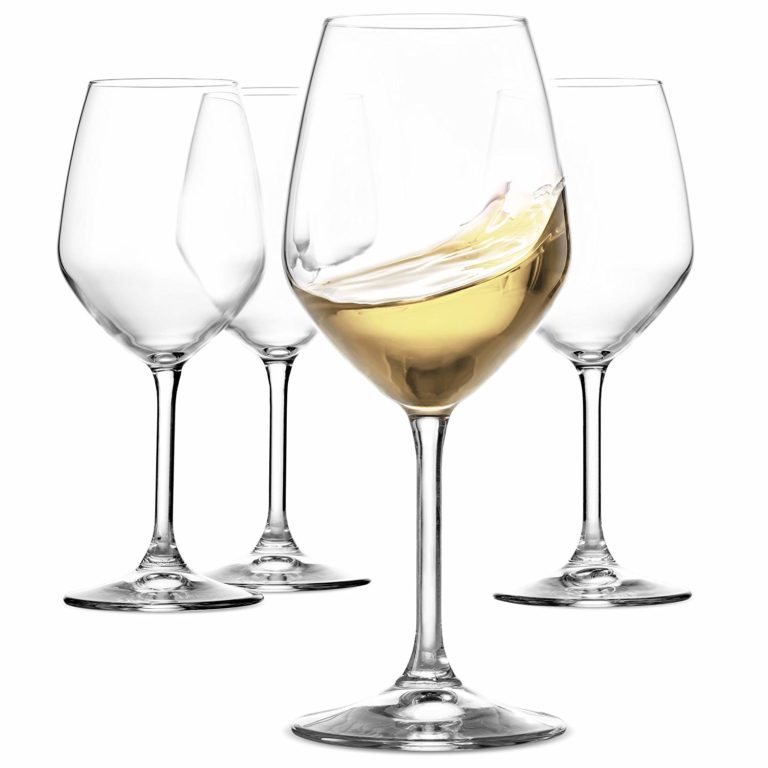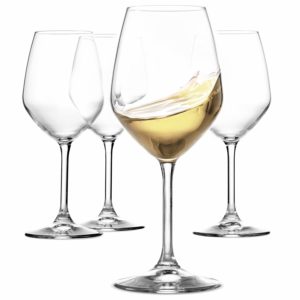 These are the perfect white wine glasses, which are specifically made to allow the wine to breathe and release aromas. They are made of a lead-free and crystal clear Star Glass and have a slender stem and thin rims.
Get these glasses and fear not from any glass breakage as every glass is reinforced with special treatment. The Paksh Italian glasses can be bought in a set of four 15-ounce glasses. Plus, you can wash them in the dishwasher as they are shattered resistant.
Customer Reports
Gatorman
These are great. I ALWAYS accidentally break wine glasses. My wife scolds me for being a brute and I promise to replace the glass… I never do. So after the 3rd or 4th glass I decided I would order a set. These said "restaurant" glasses, so I assumed they would be less delicate. They are. These glasses a crystal and are actually pretty solid at the stem (which is where they always break in my house). They are sharp looking and serve the purpose of transporting wine from bottle to wife. She is pleased, so I am pleased.
MissWright
Boyfriend is a wine (and wine glasses) snob! His expensive wine glasses have suffered casualties over the past few years. So I bought him a set of these to replace them. They are of beautiful quality! He loves them! I Will likely buy more from this brand — VERY pleased at the quality and design of these glasses. Additionally, I would never hesitate to order these online from this vendor — they were packed with splendid care — double bubble wrap, great fix in the box, extra protection. Arrived for Christmas in perfect shape.
2. Bormioli Rocco Restaurant Red Wine Glass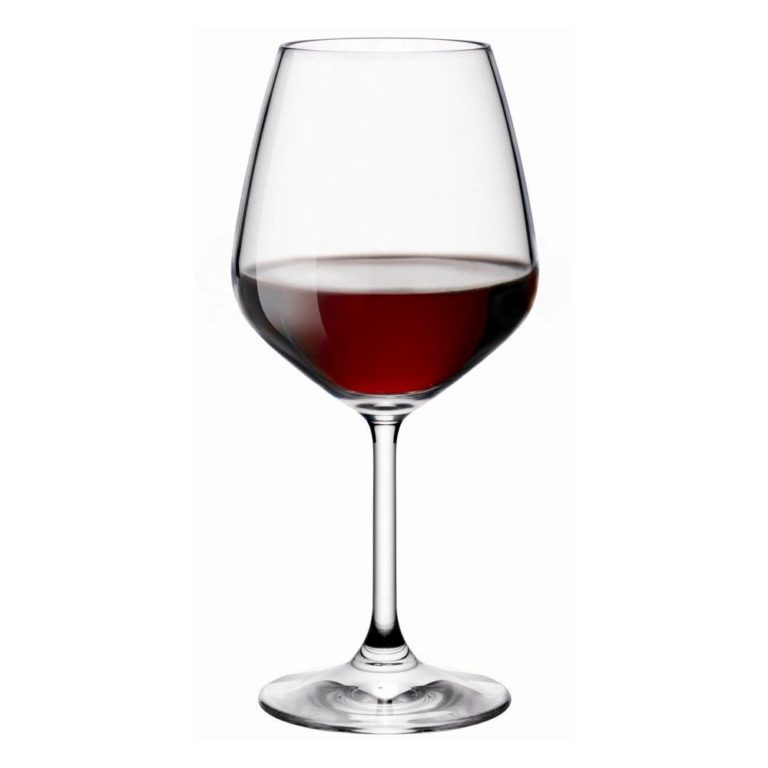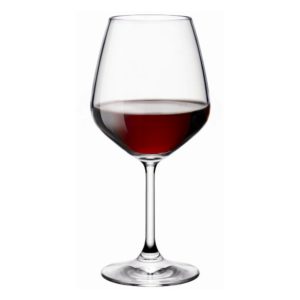 If you are a red wine drinker, this set of glasses is your number one pick. The Bormioli Rocco Restaurant glasses come from Italy and feature a wide 18-ounce bowl and an easy-to-hold stem. They are made from durable lead-free glass and are protected from breakage. There are four glasses in the set and they can be cleaned in the dishwasher.
Customer Reports
Anthony
If you want a really nice glass for under $5 these fit the bill. The shape and weight is great and my favorite feature in a glass was present. That is a very thin rim. I assumed that was what I would get from a laser-cut rim and I was not disappointed. The glass also gives a nice sustained ring from a flick of a finger. You could pay more and get more but this is a very nice glass at this price point and you won't cry if you break one.
Kailin Parenteau
I LOVE these wine glasses. I'm a sucker for 2 things in wine glasses: size and sound (stay with me on this one). I like a larger glass because I typically enjoy reds more than whites and I honestly just love the look of it. The sound bit is not really necessary, but there is such a pleasing note produced by 2 crystal glasses clinking together as opposed to glass ones, which to my ear is a little more of a crude clanking sound.
3. Riedel Wine Series Champagne Glass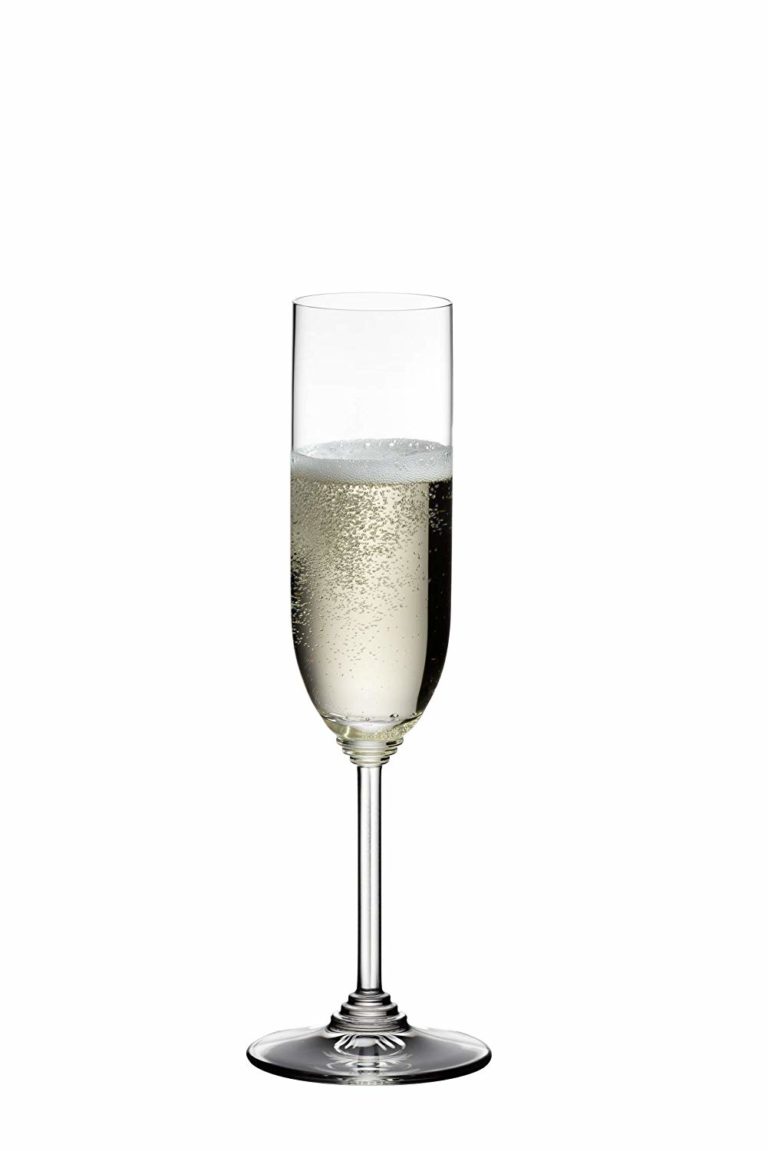 These champagne glasses are perfect for sparkling wines of all kinds. The 8.5-ounce champagne flutes are made from high-quality, lead-free glass. Moreover, they come with facet stems. You can get this set for a reasonable price and it's best if you wash them by hand.
Customer Reports
Stella
I can see why people are upset about them breaking but they're REALLY nice wine glasses for your pinot…thin glasses so gentle hands for washing and holding. The stems are thicker and ridged, I'd have preferred them smooth. Friends have bought sets for themselves after enjoying them at my house.
Petar
They are actually amazing wine glasses, and this value-priced set of their glasses strikes the perfect balance of high quality and reasonable prices. Because of course, I am going to break these, either during hand-washing them, or you know, the million ways we break wine glasses. I have to admit, wine tastes better in Riedel.
4. Mikasa Agena Crystal Wine Glass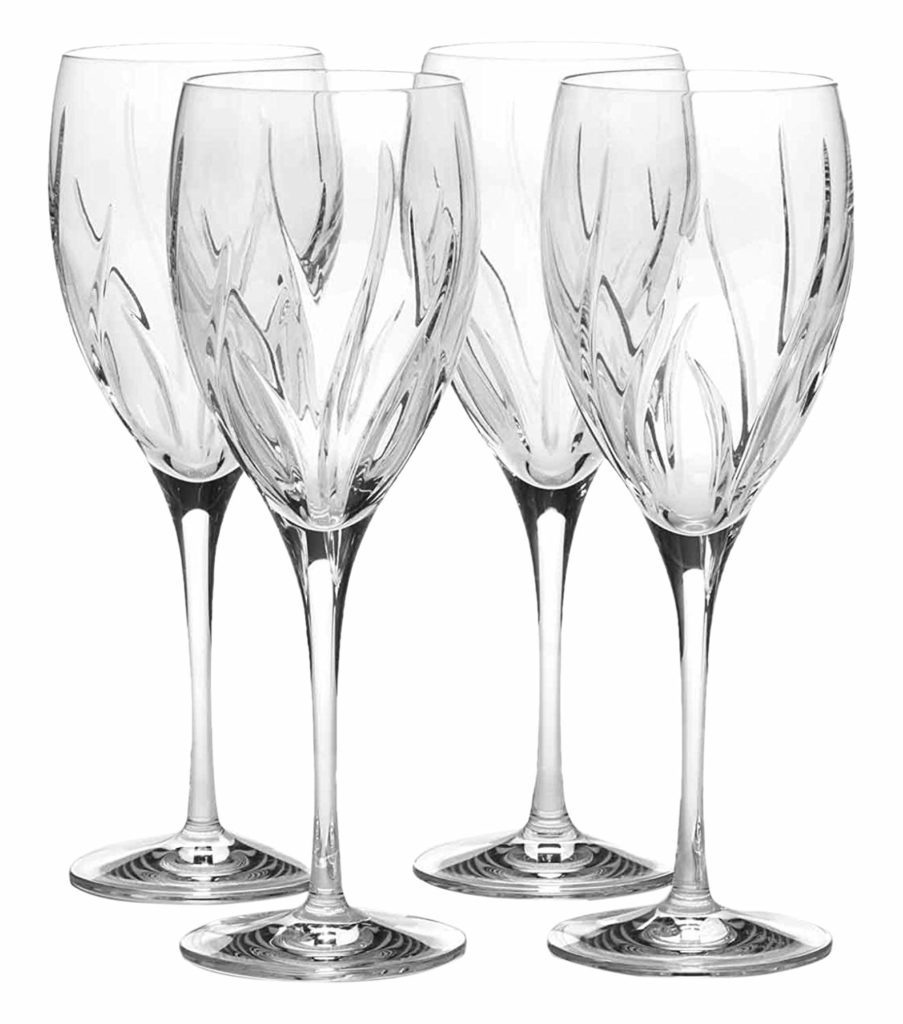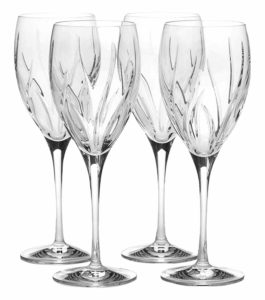 These crystal wine glasses are perfect for special occasions as they look classy and elegant. Their delicate design will fit in almost all dinnerware patterns, from casual to formal. The set contains four 9-ounce glasses and they are most suitable for white wine. However, this pattern also has other shapes for the other wine varieties.
Customer Reports
Rita Hall
Mikasa is known for quality. These glasses measure up to the brand's reputation. Love them. They compliment my Mikasa dishes.
Rhonda
These are beautiful, big, fun glasses! Love them!
5. Libbey 3056S4 4 Piece Basics Red Wine Glass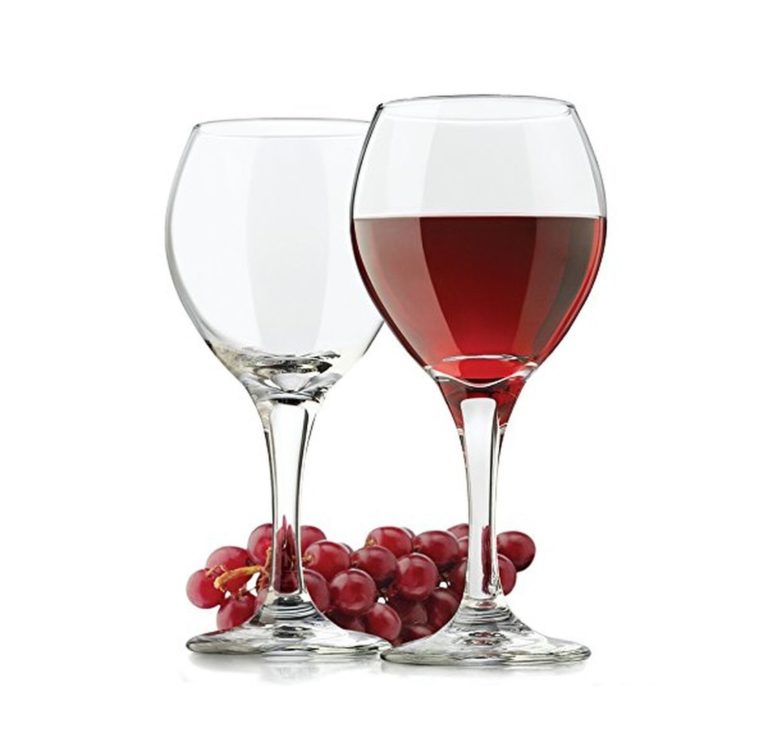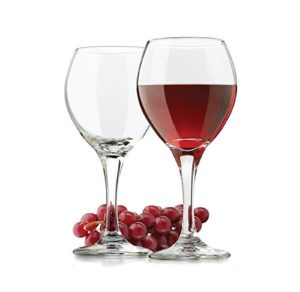 If you are looking for a budget option, these wine glasses are your top pick. They are 10-ounce red wine glasses, which might seem small but are extremely durable. Plus, they are dishwasher-safe, which makes them a perfect option to get.
Customer Reports
Peggy Cornell
We drink wine with dinner each day. These glasses hold about 4 or 5 ounces when filled to look like the picture. This is perfect for us. They then go to the dishwasher and cleanup is done. After years of using the larger glasses and handwashing them, it is enjoyable to have these for everyday use! My husband has been happily using them for a week and is very satisfied.
Trish
We needed small wine glasses to fit in a holder on our boat. It is hard to find the shorter ones, but these are perfect. They are heavier glass and feel sturdy. They are nice to hold. If you want smaller wine glasses, these are great!
6. Govino Wine Glass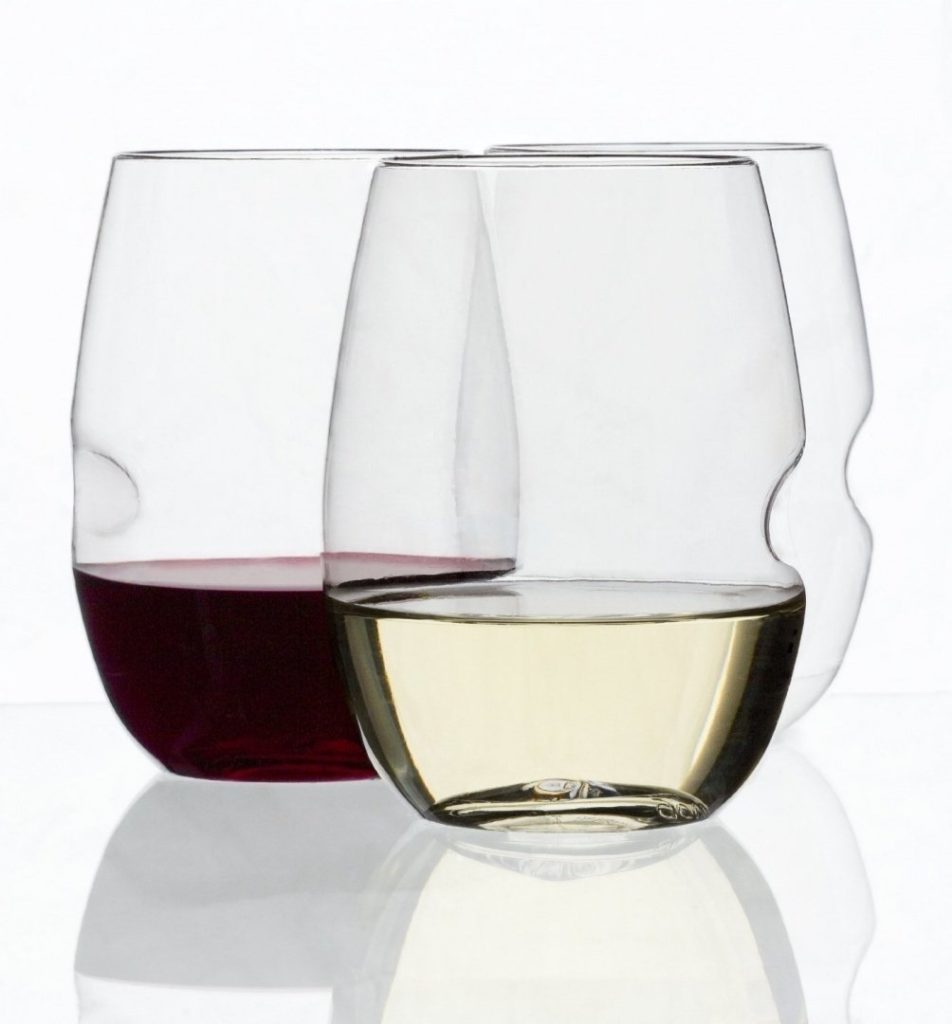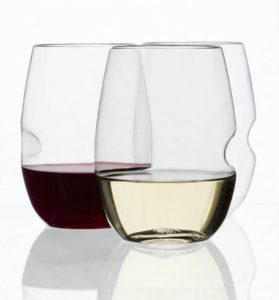 If you prefer to consume your wine outdoors, you definitely need to get these shatterproof, stemless plastic wine glasses. They come from the USA and feature a distinctive design. Plus, they are 100% recyclable and can be only washed by hand. However, they are extremely easy to clean and maintain.
Customer Reports
Carol P.
Was tired of breaking wine glasses while RV camping. However, I like drinking wine from a nice glass. While they are not as good as nice wine glasses, I like these better than cheap (real glass) wine glasses. I almost want a set for home use. I can see how some people say they feel like disposable plastic cups. But when you're drinking from them, you can't tell. And that's what matters. If you're drinking wine outside, you need these.
Warbird
I have been using these for years and find them amazingly close to fine glassware. After breaking several expensive glass models while hand cleaning, I decided to give these a try – GREAT. They are very easy to hold and feel good in for hand. I continue to use glass models for dining or more formal gatherings but, I use these exclusively for casual entertaining or around the pool where glass presents a potential safety issue.
7. Royal Stemless Wine Glass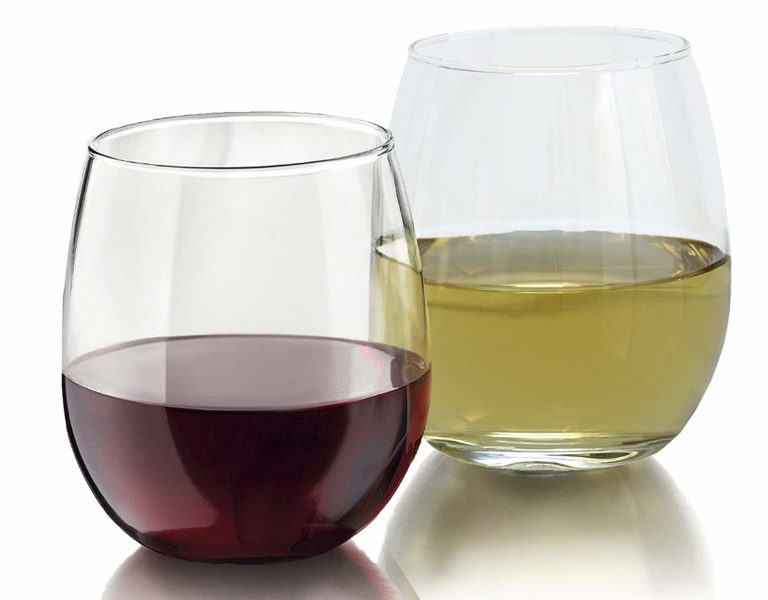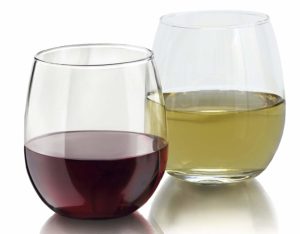 A stemless wine glass might not be your number one choice, but they are easy to handle, look very attractive and will fit in your dishwasher without breaking. These 15-ounce glasses are wide, which makes them a great choice for both white and red wines.
Likewise, they are made of shatter-resistant glass, which makes them durable and suitable for everyday use.
Customer Reports
Maris S.
These were exactly what I was looking for! I was concerned the glass might be thin and these would be easily breakable, but it has been exactly the opposite! Love the stemless look and think these will last quite some time!
Kansas64
Love the look and the fact that the glasses are made of durable glass. They are a little harder to hold for smaller hands, but I would buy them again if need be.
Final Words
Each one of these wine glasses is a great option and which one you'll get depends on your personal preference and the occasion why you need them.
Nevertheless, whichever wine glass set you to decide to purchase, you won't regret it. Pick the set you like and enjoy a memorable wine-drinking experience.
Take a look at these models:
MyGift Modern Copper Accent Stemless Wine Glass Set, Red Wine Glasses Set of 4
Set of 4 stemless wine glasses embellished with metallic copper-tone plating
Each glass can hold up to 18 oz of wine to the rim **Hand wash only; Not dishwasher safe**
Lustrous copper creates a fascinating play of light with both red and white wines
Stemless design allows heat from hands to raise temperature of over-chilled white wines or warms red wines to appropriate temperature
Approximate Dimensions: 5.1 H × 3.5 Diameter; Rim - 2.7 Diameter (in inches)
Amazon Basics All-Purpose Wine Glasses, 19-Ounce, Set of 4, Clear
4-pack of all-purpose wine glasses for everyday use or entertaining
Lead-free; made of soda ash glass for optimal wine presentation and enjoyment
Each glass holds 19 fluid ounces; elegant profile with gently curved bowl
Made in the USA; dishwasher-safe for easy cleaning
Glass may break with extreme temperature difference of 194F or greater (such as pouring hot water into a frozen glass)
Sale
JBHO Hand Blown Italian Style Crystal Burgundy Wine Glasses - Lead-Free Premium Crystal...
Made From Lead Free Premium Crystal Glass: Italian style, lead free, quality of nice restaurant, absolutely luxurious and luminous to your bar top and dining table, perfect gift for farther's day, Independence Day, Labor Day, Christmas or any special occasion.
100% Hand Blown :These wine glasses are hand-blown using 23 procedures by experienced craft masters who boast more than 10 years experience in this field. Craftsmanship spirit makes JBHome glass unique and elegant.
Classy and Reusable Packaging: More Environmentally friendly and High grade, whitch even allows you to take your glasses OUTDOORS.
Ultra Clear and Thin: Crystal Glass is perfectly clear and the ultra thin rim with cold cutting enhancing the perceived quality and flavor of any red/white wine. These red/white wine glasses are not too thick yet strong enough to stand daily washing.
Completely new quality control team and replacement guarantee: The Second QC team has been added, which will be conducted for each glass. We got a lot of customer voice from the review, and realized the broken problem, so we update our policy:1-year satisfaction guarantee. If they are damaged in any way upon arrival, we will send you a replacement set free of charge. We learn and improve. For any questions and Suggestions, please contact us, We need your advice.
Zwiesel Glas Pure Tritan Crystal Stemware Glassware Collection, 6 Count (Pack of 1),...
6 each Pure collection stemware; for use with soft body red wines and full body white wines; 23.4-ounce capacity; 9.2-inch tall, 4-1/2-inch wide.
Made of Tritan crystal glass; composed of titanium oxide and zirconium oxide; Tritan is a world wide patented crystal glass material
Pure collection: high fashion and designed with sharp, crisp lines for a geometric look; moderate stem height and excellent balance
Completely dishwasher safe; do not force bowl tightly over dishwasher rack prongs; do not twist stem and bowl while holding one or the other tightly
Made in Germany; suggested wine varietals: Pinot Noir, Burgundy, Sangiovese, Chianti, Lambrusco, Beujealouis, Brunello, Chardonnay, Viognier
Square Wine Glasses Set of 4 - Crystal Wine Glasses 14oz in Gift Packaging - Large Red...
✔ BEAUTIFUL GLASSES TO FALL IN LOVE WITH – Pair the sensory delight of a fine wine with the exquisite art form of these breathtaking glasses by Elixir Glassware. Contemporary, exceptionally clear cylindrical body and slender stem gracefully showcases sparkling, red and white wines.
✔ THE PERFECT GIFT FOR ANY OCCASION – Sophisticated, stunning and luxurious. A unique gift idea that is guaranteed to impress - wife, husband, mom, dad will love them. Don't forget best friends! Celebrate life's most memorable moments with a gift that speaks for itself – weddings, anniversaries, Mothers day, Fathers day, housewarming, or an engagement party.
✔ 100% LEAD FREE CRYSTAL – Unlike crystal wine glasses which contain at least 20% lead, Elixir glassware is made from lead free ultra-clarity crystal. All the wonderful sparkle and flair of fine crystal glass stemware, tempered for durability and carefully crafted to perfectly savor Pinot Noir, Bordeaux, Cabernet Sauvignon, or Chardonnay.
✔ HANDMADE CRAFTSMANSHIP – Each glass is masterfully shaped and hand blown by artisans using traditional methods. The wide rim is carefully cut and polished to direct the wine to the center of the tongue, creating a harmony of fruit, acidity and tannin flavors. The result is a unique work of art – a delightful experience best shared with fine wine and good company
✔ SECURELY PACKAGED & SATISFACTION GUARANTEED – Buy with complete confidence and rest easy knowing that your gift will arrive promptly in perfect condition in the care of our secure, thick protective giftbox packaging. Enjoy our no compromise, Elixir 1 Year Satisfaction Guarantee. Beautiful glasses - beautiful service.