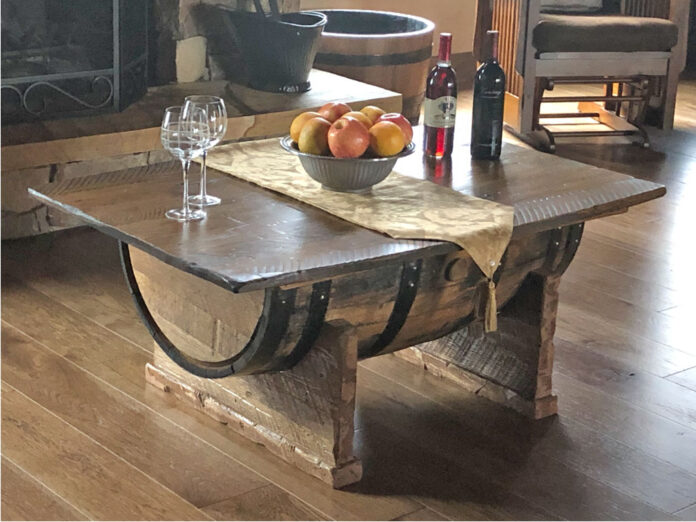 You must have bought different furniture pieces made from wood palate but have you ever tried buying amazing and unique furniture with the whiskey/wine barrel? If no; then must try this. It's a life-changing and extremely amazing experience for someone who is new to this. You can buy or DIY the most amazing pieces with a whiskey barrel to make recycled barrel furniture. We have so many ideas for you to make or buy rustic yet unique furniture for your home. Most people think that barrels are just used for storing and fermenting wine or whiskey but there are plenty of useful ideas to transform your barrel into something productive.
1. Vertical whiskey stand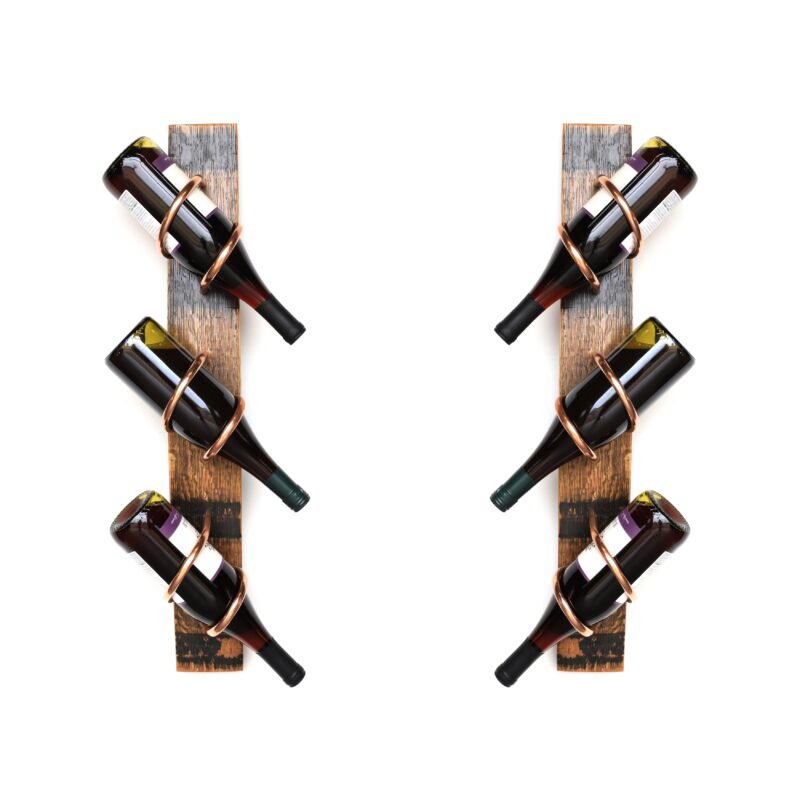 A recycled whiskey barrel can be used to make a whiskey rack to hold up to 7 or more bottles at a time. By keeping the whiskey or wine bottles in this stand you can enhance the beauty of your kitchen and can save a lot of space to put other things. By keeping the bottles arranged in the rack you can save yourself from a lot more mess. These stands can help you display your collection to your guests to show your passion and love for whiskey.
2. Whiskey barrel Rocking chair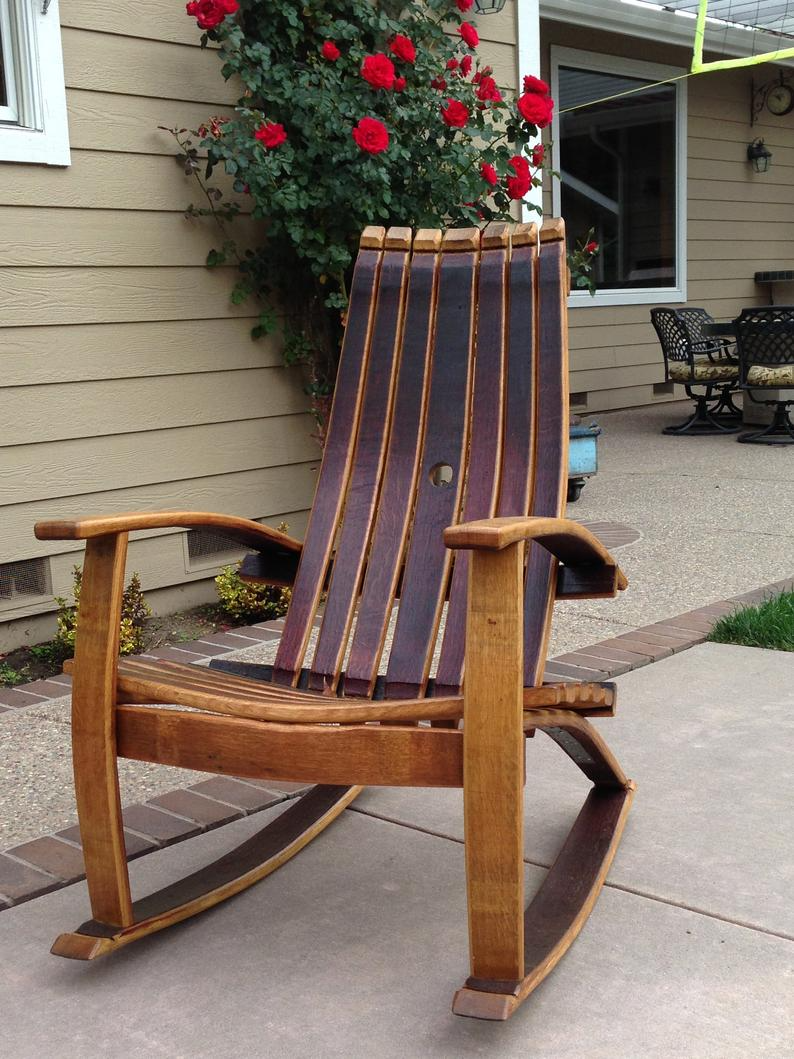 A handmade wine barrel rocking chair can add beauty to your space. Rocking chairs give you the most comfortable and relaxed feeling. This innovation came into being a long time ago by making the combination of lounge chair and rocking frame to get comfort. As a rocking chair gives the feeling of relaxation and comfort, it should be an integral part of nurseries to give comfort to both mother and child. Due to this baby get the feeling of being in the womb and takes the feed immediately and then sleeps.
3. Cool whiskey barrel chair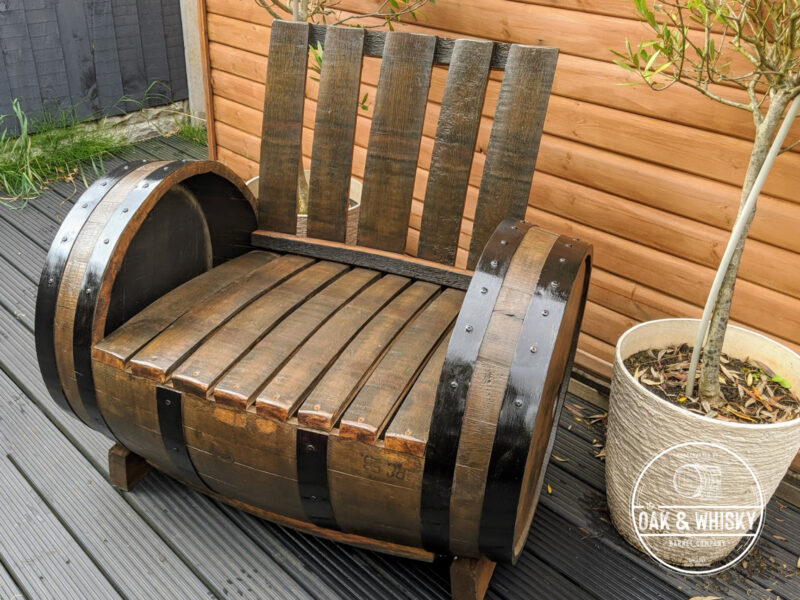 What could be more productive than making furniture from the items no more in use? By making chairs out of a whiskey barrel is such a great idea and is extremely comfortable due to its welcoming shape. People get more attracted towards curved back and wraparound arms making it a unique chair to sit on and get comfortable. These chairs look as classy as any other chair made up of fine wood. You can keep these chairs in your home to make it look unique yet elegant.
4. Whiskey barrel rack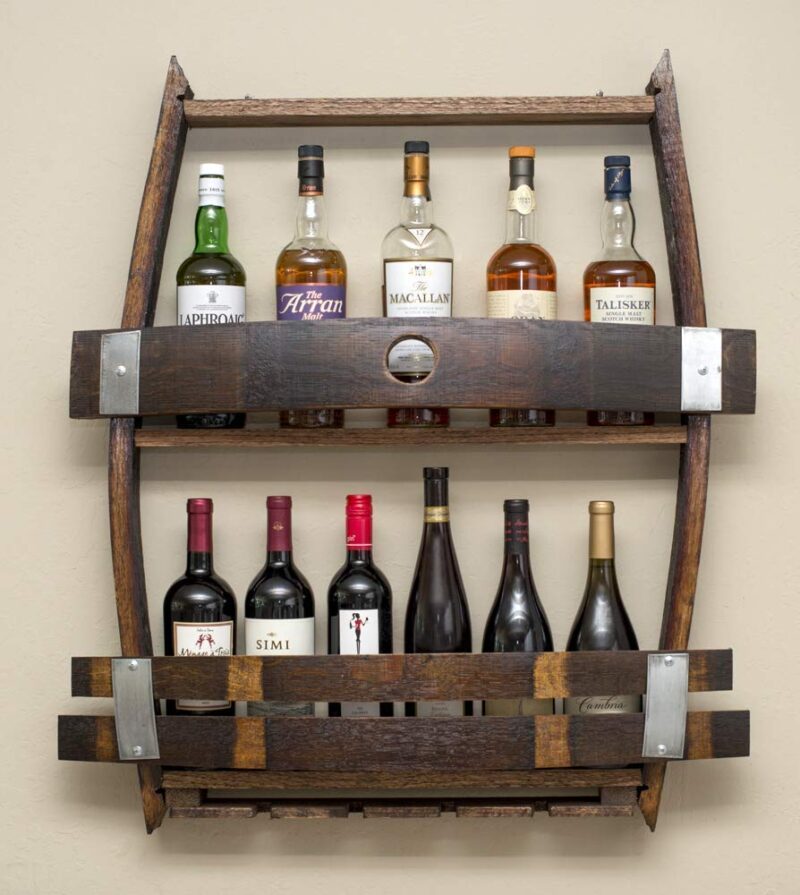 Recycled wine barrelled furniture makes the best rack to display your products. Except for using the barrel for fermenting, or storing whiskey, we can also deconstruct the barrel into something extremely productive and new. A whisky barrel rack can be anchored in the wall to keep your stuff on it.
5. Whisky barrel trash can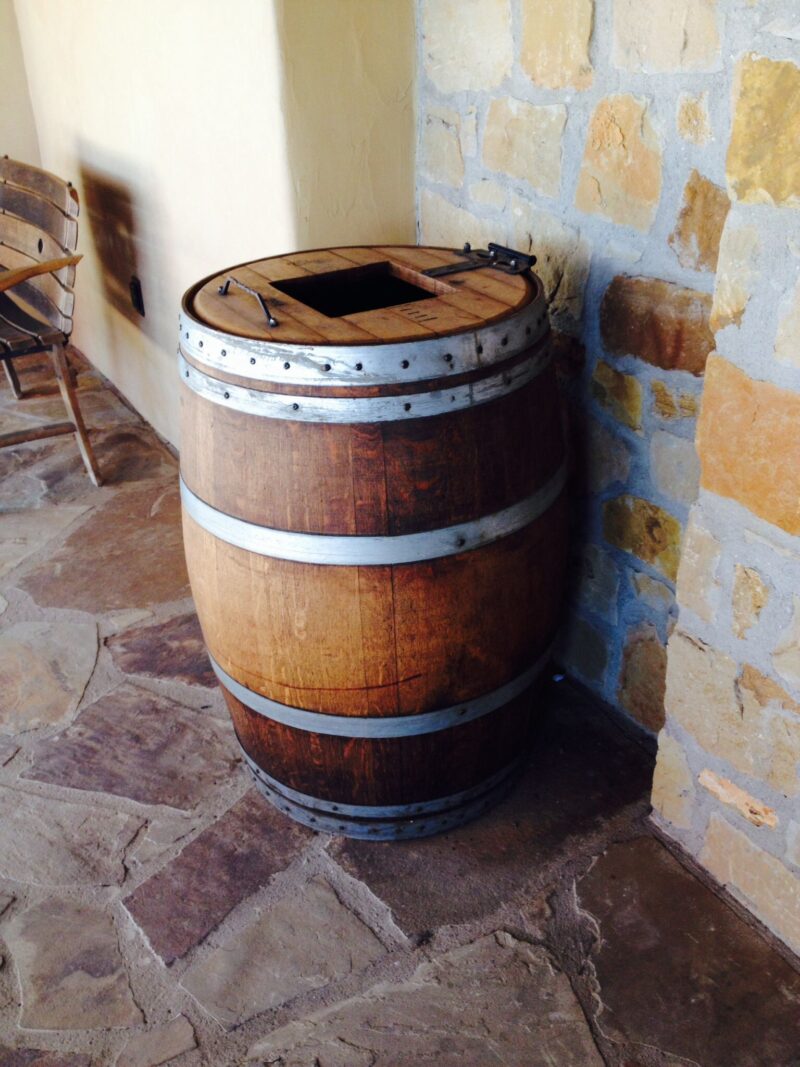 Trash can never look so good in anything else except whiskey barrel trash can. Made up of recycled material to fully meet the requirements of a bin, keeping the surrounding area clean and more hygienic, unlike any other trash can this barrel also adds beauty to your place. The latest and trendy alternative to local plastic dust bins and can be more nature friendly.
6. Barrel candle stand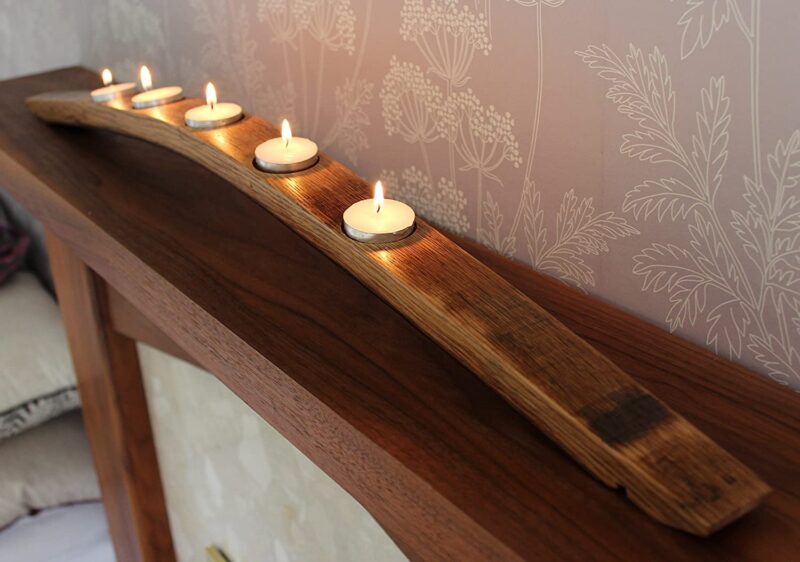 Have you ever wondered how you can add beauty to your dining table without investing so much? ''a candle stand made up of wine barrel'' authentic wine barrel stave with bands, give a perfect look to your eating place when guests are around. It provides a safe and secure candle base to avoid any mishap. Never place your candle without a stand it is like inviting a disaster to come. Placing a candle on the table without a candle stand can cause the candle to fall and spread fire over table cloth and other things.
7. Whiskey barrel Outdoor table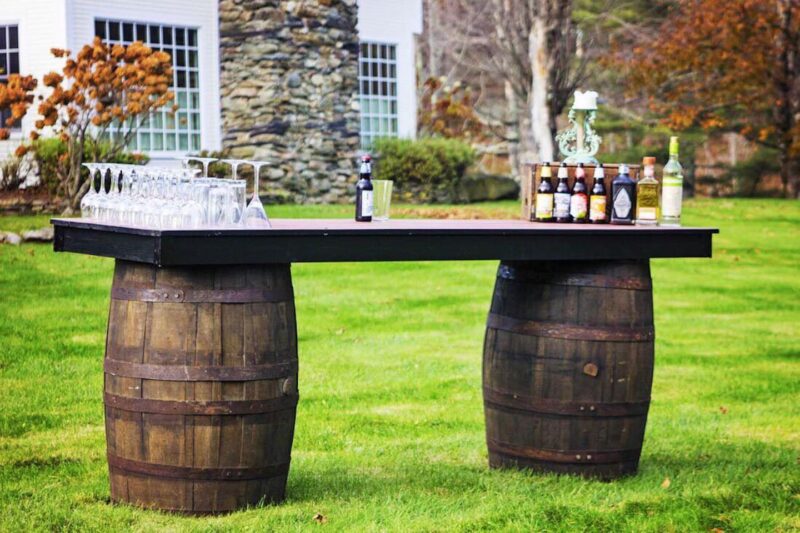 You can enjoy your purchase for years for sure; recycled whiskey barrel furniture is no doubt unique in itself and money-saving as well. To give your garden a beautiful look, a whiskey barrel outdoor table is a good addition. Whiskey barrel tables can also be kept inside the home but always keep one point in mind that do not let your barrel table dry for a longer period. If you will let your table dry for a considerable amount of time your table will shrink and metal bands will become Loose. You can also make a perfect small coffee table for two using a whiskey barrel.
8. Beautiful serving tray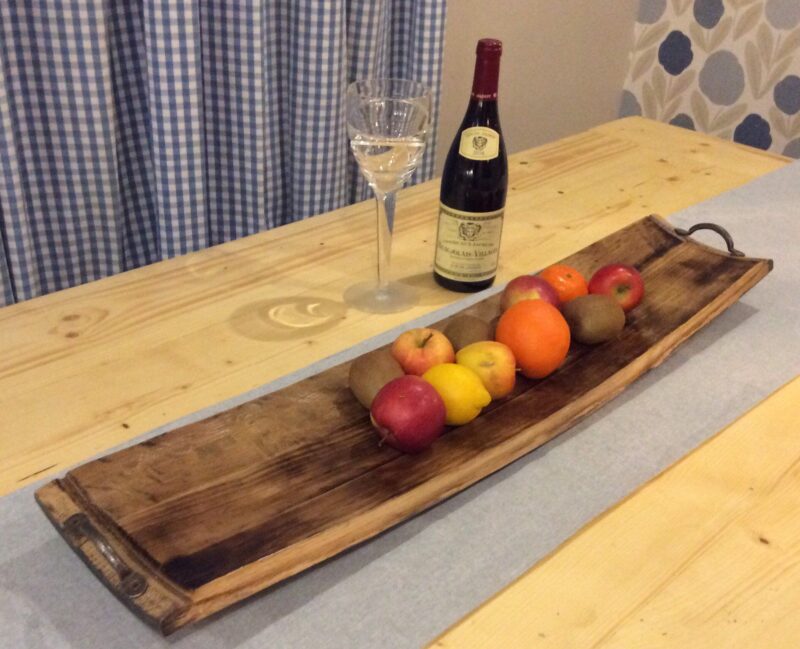 What could be more fantastic than making a beautiful serving tray with a recycled whiskey barrel? The more you use recycled material to make the new thing the more you invest in saving the mother earth from waste accumulation and tree cutting. A unique and fine tray to serve guests gives a very positive message to stay on the productive side of using the old products to make new. A tray made from wood can be used for many years as compared to trays made from plastic because they are breakable but wooden trays are not.
9. Firewood bucket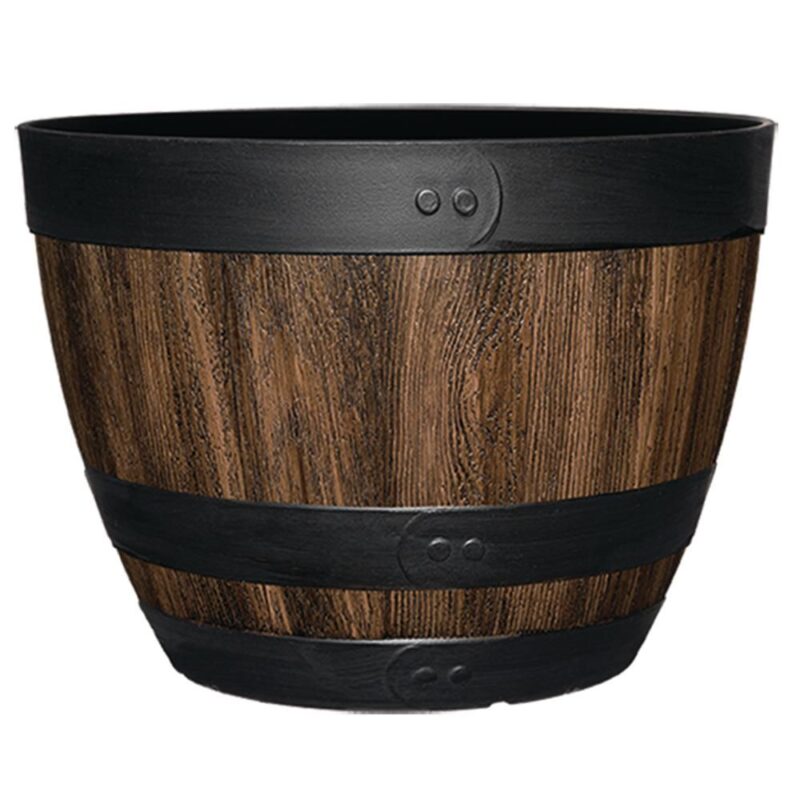 A perfect wooden piece made by using an old whiskey barrel to store the firewood. We need something to store the woods to use later and it is not necessary to buy some other fancy bucket for this purpose when we can make or buy a bucket made up of recycled wood.  This unique and fantastic firewood bucket will add beauty to your space. Due to good quality, they usually last for a longer period. It is not only perfect for personal use but also to gift on Christmas of thanksgiving.
10. Wooden floor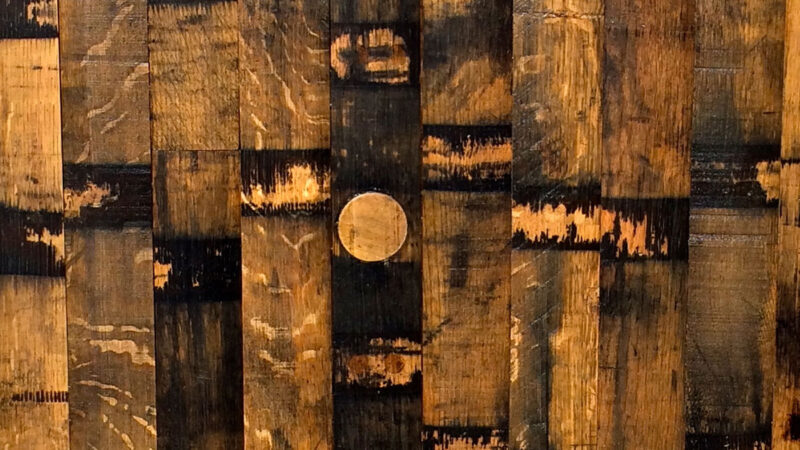 Who does not love the floors made up of wood? Wooden floors add beauty as well as elegance to your home. They make your home look way more pricy than it is. With adding value to your home they are also low maintenance and are easy to clean. Wooden floors if kept with great care can last up to many years and are cost-effective. By using the old whisky barrel you can save a lot more price in buying a new wood for wooden flooring.