Best Choice
Good Choice
Don't Miss
Premium Pick
Professional Waiters Corkscrew by Barvivo - This Bottle Opener for Beer and Wine Bottles...
HiCoup – All-in-one Waiters Corkscrew, Bottle Opener and Foil Cutter, the Favoured...
Houdini Lever Corkscrew with Foil Cutter and Extra Spiral (Silver)
Oster Rechargeable and Cordless Wine Opener with Chiller
Wine openers have been in usage for centuries and they have always had one purpose: to open a bottle of wine more easily. During the course of history, the number of the types of those and materials they have been made from has changed and constantly developed and increased.
When the modern era arrived and when modern technologies became an integral part of our lives it was only a matter of time when this would have an impact on the design of wine openers. Nowadays, there are numerous types and kinds of electric wine openers along with the regular ones and many people ask themselves which ones should be bought and which ones are the best. 
1. Electric Wine Openers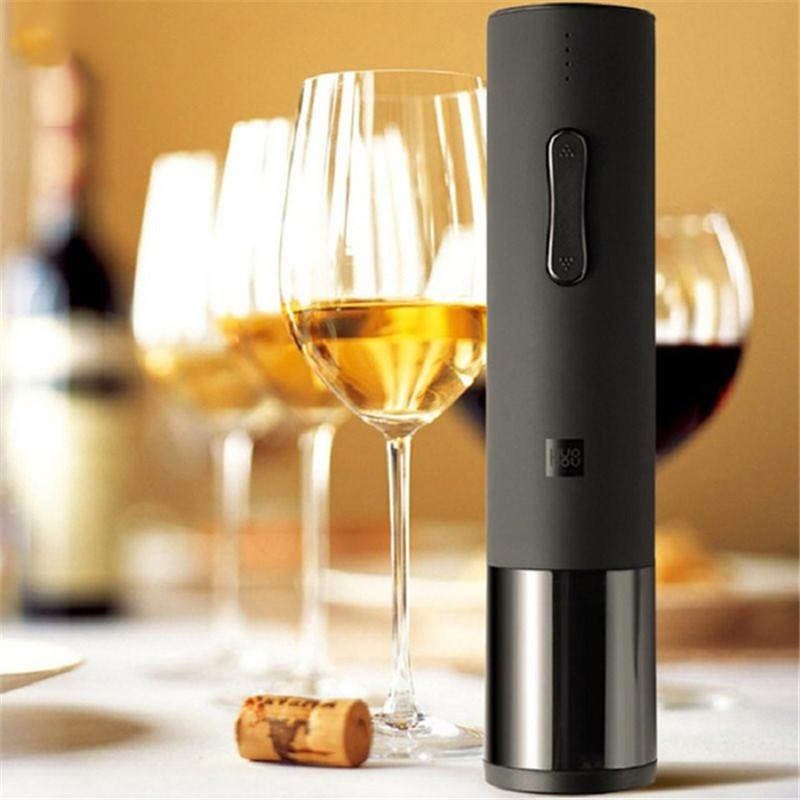 When these are in question, many people point out one thing which is the most important for them and that is the fact that these extremely easy to use without any harm. There is not any need to put it in the right direction or to have the right type of leverage of pulling out the cork.
The only thing needed here is to just place the device above the cork, keep it in level and the device itself would do the job for you in a couple of seconds.
Many people have also noticed that these are also great since they do not make the corks crumble and thus leave parts of them in wine which happens when the regular wine openers are in a case.
Here, there is not any chance that you would break a cork and that a part of it will finish in wine. On the other hand, as all devices running on electricity, you simply cannot use these without access to electric power.
So if you go on a picnic, you cannot bring those. On top of all this, some of these need some supplemental elements without which they do not function properly, so you would need to buy these as well. 
Secura Electric Wine Opener, Automatic Electric Wine Bottle Corkscrew Opener with Foil...
Rechargeable Electric Wine Bottle Opener - Easily remove corks in seconds. Compatible with most wine bottle sizes. Open up to 30 bottles on a single charge.
Easy to Use - Simply place on top of your wine bottle, press a button, and tada, your wine is open and ready to serve.
Small Footprint Saves Space - Our electric wine bottle opener is small enough to store discreetly away when not in use. Keep the charging base next to your wine fridge, storage rack, credenza, etc.
Makes an Amazing Present - An elegant color makes our electric wine bottle opener an attractive present, or use it at home, when catering, at banquets, in restaurants or behind the bar.
Reliable product and service - 100-240V wide input voltage range covers The known voltages of most places in the world. We offer 12 months and lifetime friendly customer service. NOTE: Please charge your wine opener every three months when not in regular use, so as to extend the lifespan of the battery.
Sale
Rabbit Automatic Electric Corkscrew Wine Bottle Opener, One Size, Silver
The first of its kind, this innovative wine tool removes the cork from the bottle on contact, then automatically ejects it from the corkscrew
Works on all cork types, including synthetic and plastic corks
Simply place on top of your wine bottle, then let the electric corkscrew do the rest - no buttons necessary!
Opens up to 30 wine bottles on a single charge, micro USB wall charging unit included
Features a built-in foil cutter for added convenience
Wine Ziz Amazingly Simple Wine Opener with Foil Cutter Gift Set for Wine Lovers | Wine...
⭐⭐⭐⭐⭐Top rated by BGR - TechnoBuffalo ★ The new air pump wine opener is a simple, easy and fast way to open up a bottle of wine without the hassle of pulling and twisting, simply slid the needle in, pump a few times, and the cork is out. It eliminates cork damage.
★ The most efficient and convenient way to open a wine bottle. No pulling, twisting, or broken cork pieces. Compatible with all types and sizes of wine bottles. There are no fumes, and no gas is needed for the Air Pressure pump to work correctly.
★ The wine opener comes with a durable blade foil cutter, The Wine Ziz foil cutter removes the foil top from your wine bottle effortlessly, with a quick turn of the wrist and done, leaving your glass bottle looking great, with smooth edges and ready for cork removal. (Cork not included)
★ Great for bar, cafe, restaurant, or home use. The smooth finish makes it very easy to clean. Excellent gift idea for wine lovers, Wine Ziz is also giving you a no-questions-asked Moneyback guarantee if you are not satisfied with your purchase. Click Add to Cart and Buy Now!
★ The new Wine Ziz air pump wine opener comes in just the right size to fit in your bag or travel bag. It is also lightweight, which makes it easily portable.
2. Regular Wine Openers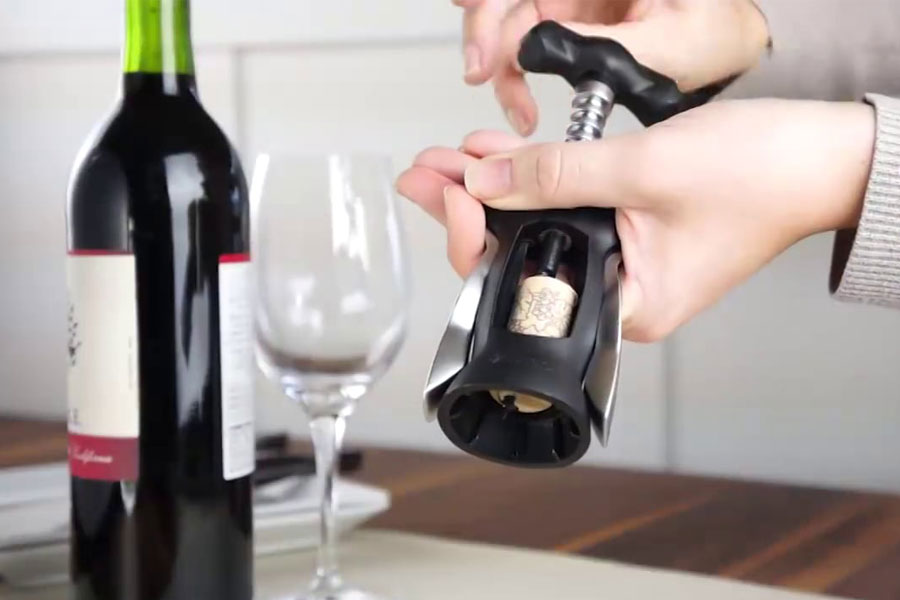 When these ones are in question, many people simply point out the fact that they are traditional and that when people use them they enjoy the mere process of it.
Furthermore, there are so many types of these that you would simply find the one which fits your needs the best. The best thing of all here is the fact that their mechanisms are much more stable than the ones used in the electric wine openers and that these wine openers do not need electric power to be used.
You can take and use them whenever and wherever you want. On the other hand, some people have pointed out that greater physical power is needed when these ones are in question and there is also a great possibility that the cork would break and finish into a bottle or that some parts of it would crumble and again finish into a bottle. It should be also mentioned that these are usually cheaper than the previous ones. 
Sale
Professional Waiter's Corkscrew by HiCoup - Rosewood Handle All-in-one Corkscrew, Bottle...
Perfect for wine aficionados, this wine opener is a sommelier-inspired, high-quality 3-in-1 waiters key. The easy-to-use wine bottle opener tastefully combines the features of a wine corkscrew, a bottle opener and a foil cutter all together in a durable 420 stainless steel body with a comfort-grip wooden handle
The precision-cut notch beside the screw firmly grabs the cork and reduces the drag as it cuts through the cork, making it crumble-free and offering a substantive mechanical advantage over other types of wine bottle opener screws
Complete with a comfortable wooden grip, these wine openers inspire authenticity in any wine enthusiast and offer the pleasurable and gratifying, solid heft of a fine tool and feel good in the hand
Our long, circular serrated foil cutter gets rid of foils of all kinds so that you'll never need to purchase another wine opening tool again. Crafted with the wine connoisseur in mind, our wine bottle opener makes a great gift
Carefully crafted to reduce the slippage, the wine opener minimizes ripping of the foil or plastic from the bottle and is able to simply and smoothly remove any natural or synthetic cork in only 5 turns with no breakage
Wine Bottle Opener Corkscrew Set-[2020 Upgraded] Holleringlan Wine Opener Kit With Foil...
🥂【High-quality & Ease Of Use】 Each element of our set is made of high-quality materials due to its simple and attractive design made of durable stainless steel, it provides an excellent combination of beauty and practicality. The ergonomic design manual lever opener is the perfect partner for elegant dinners. Adapt a lever principle that removes the cork in a few seconds with a simple action.
🥂【Durable Material Of The Gift】: Made of heavy-duty zinc alloy with bronze-plated grips , metal gears& a Teflon-coated spiral. Luxurious and durablity ,we can use them as a handy tool enough longer.
🥂【Safe And Easy To Use】: Easy operation and dependable cork removal Cork comes out of the wine bottle in one piece with minimal effort! The foil cutter works great and makes it easier to use the wine openers Clear instructions are in the box.
🥂【Easy To Operate】: It's classic straight-up performance mechanism ensures a quick opening of your favorite wines- Simply attach the wine opener to the bottle with one hand, and then pull the lever upwards and downwards - it's off with the cork in seconds.
🥂【2 Year Warranty For You】 - If you have any problem with your Wine Opener, please contact us for a replacement or full refund.We will help you out within 24 Hours.
Wing Corkscrew Wine Bottle Opener Godmorn Rose Gold Beer Bottle Opener with Wine Pourer,...
❤【HEAVY DUTY STAINLESS STEEL】-- Our wine bottle opener is made of stainless steel with heavy duty and weighed 212g/7.5oz. You can feel the premium quality when you hold it in hand. Unlike cheaply made wine opener, all parts are thickened which makes it durable.
❤【UNIQUE COLOR】-- Shiny rose gold wine opener looks stylish and fit for all occasions like home, bars, meetings, party or wedding. Comparing with common silver color, elegant rose gold makes you unusual and noble. Our wine opener come a wine pourer, which can avoid wine dripping when pouring and staining the carpet or tablecloth.
❤【MULTIFUNCTION】-- Godmorn wing corkscrew combines wine bottle opener and beer bottle opener, which can meet your different needs. The ring on the top can remove beer cap and makes it easy to hang up to storage.
❤【 ERGONOMIC HANDLE】-- Ergonomic handle make it comfortable and easy easy to grip. Ultra-sharp Screws can keeps corks from breaking.
❤【100% SATISFACTION SERVICE】-- If there is any problem with our product, please feel free to contact us and we will refund or send you a replacement, we will not let you bear any loss.