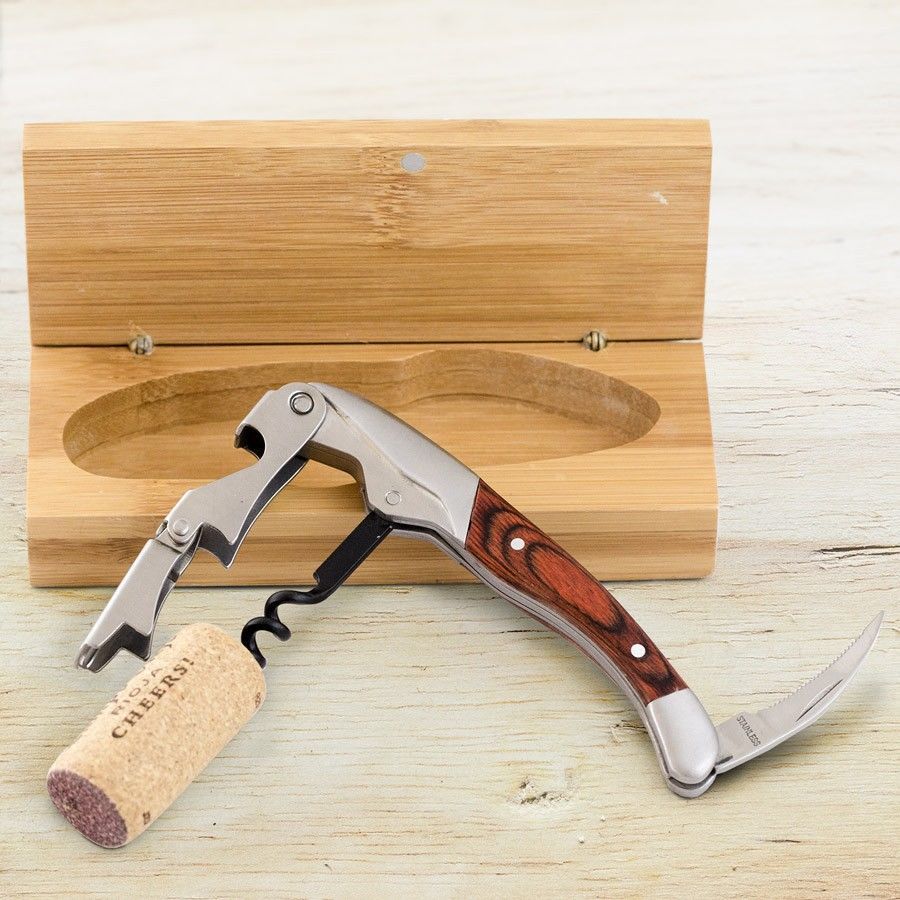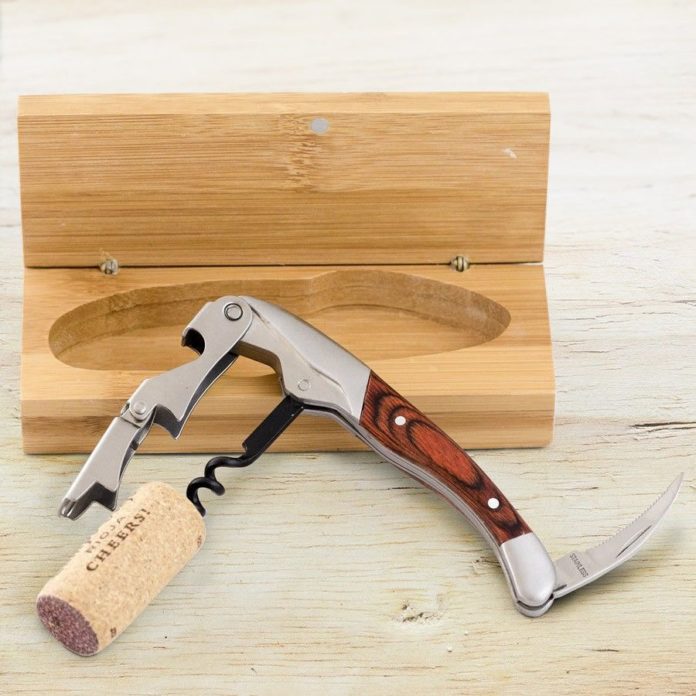 Pulltap's Double-Hinged Waiters Corkscrew, Black and Stainless Steel
Foho Best Wing Bottle Opener Luxury Corkscrew with Stopper Set for Wine Enthusiast...
Rabbit Wine Opener with Best Wine Accessories - Rabbit Vertical Corkscrew, Foil Cutter,...
Legacy Corkscrew with Black Marble Handle - Antique Bronze
Rabbit Wine Opener with Best Wine Accessories - Rabbit Vertical Corkscrew, Foil Cutter,...
Legacy Corkscrew with Black Marble Handle - Antique Bronze
Although the little corks keep the wine perfectly safe, they can be tricky to pull out. Therefore, you will need a good corkscrew, a silly-looking little contraption that every household should have. Still, people do not think much of them, but they really should.
With a solid high-quality wine opener, you have the key to keeping yourself and your wine happy. With that in mind, the following is a list of the best wine openers that are more or less on the expensive side. These are top quality products, and the most pricey of them are reserved exclusively for avid wine collectors and experts. Enjoy!
1. Pulltap's Double-Hinged Waiter's Corkscrew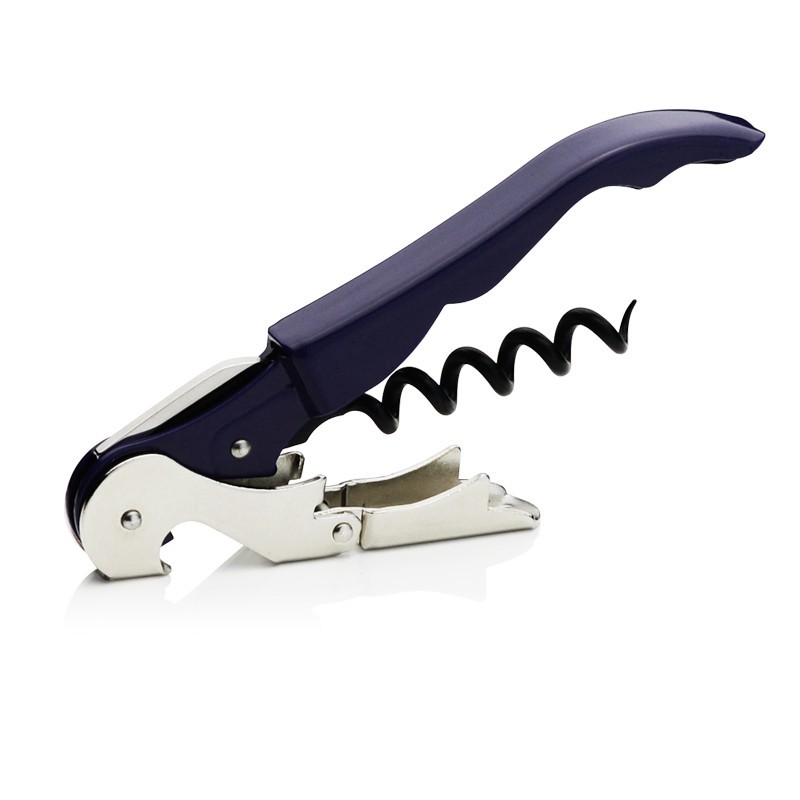 Most casual wine drinkers do not need a fancy corkscrew. Therefore, here is arguably the best straight-forward and reliable one. This versatile product is also a foil cutter and a bottle cap opener in one, and although it is not as fun or interesting as some of the ones we will go over later, it gets the main job done rather well.
Customer Reports
PA Pete
This corkscrew is superb. I could kick myself for not getting one years ago. I'm always trying new gadgets to find the one that works the best. As far as opening a wine bottle, I'm done. No need to look for anything else.
Kashta Coulter
Helps get the party liquors to the mouth of you and your guest or customer, faster. It is a sword when I'm in the trenches of battle and my bar is inundated with walls of the thirsty, the good time seekers, the party starters and the everyday drinkers. And with this, always ready at my him, somehow, every time, I come out on the other side.
2. Foho Wing Corkscrew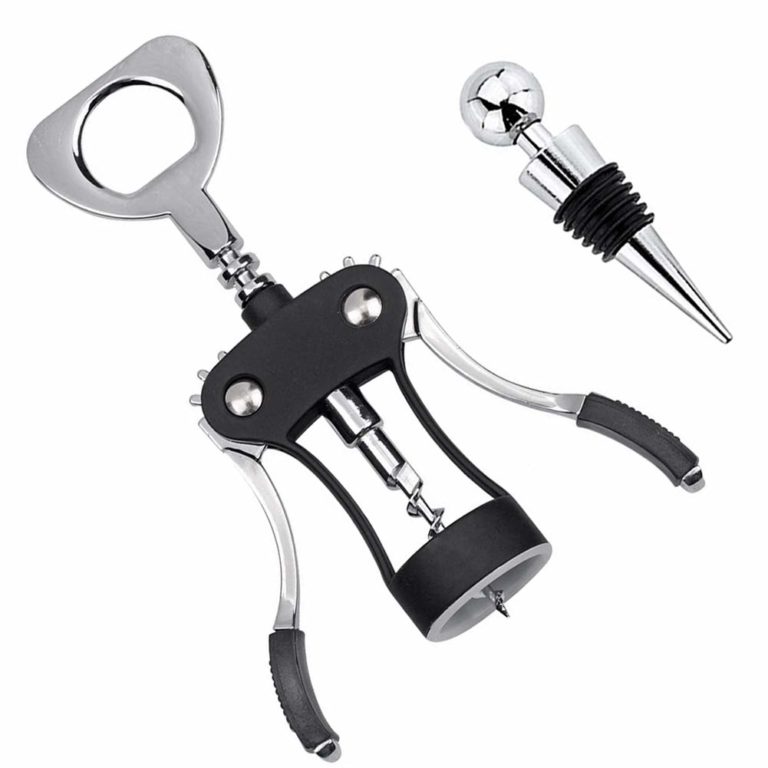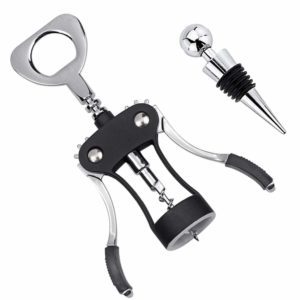 If you do not like the traditional corkscrew most waiters use, the winged style would perhaps be your preferred type. This is another affordable model, which is easy to use and of top quality. Since is it a little bit larger in size, it is harder to lose it while still being easy to store.
Customer Reports
Randy S.
Great bottle and wine opener. Does the job. Cheap, easy to use and good quality. Definitely, a bonus that it comes with a cap for your wine so it doesn't go bad. My old one broke and this was a great new one to buy. Would definitely recommend getting this if you dont have one at home.
Lisa
I was a little wary of the quality as it is so affordable. Same great quality and durability as more expensive ones. Great to finally not have to PULL the cork out like we had to do with our old simple one.
3. Oster Cordless Electric Wine Bottle Opener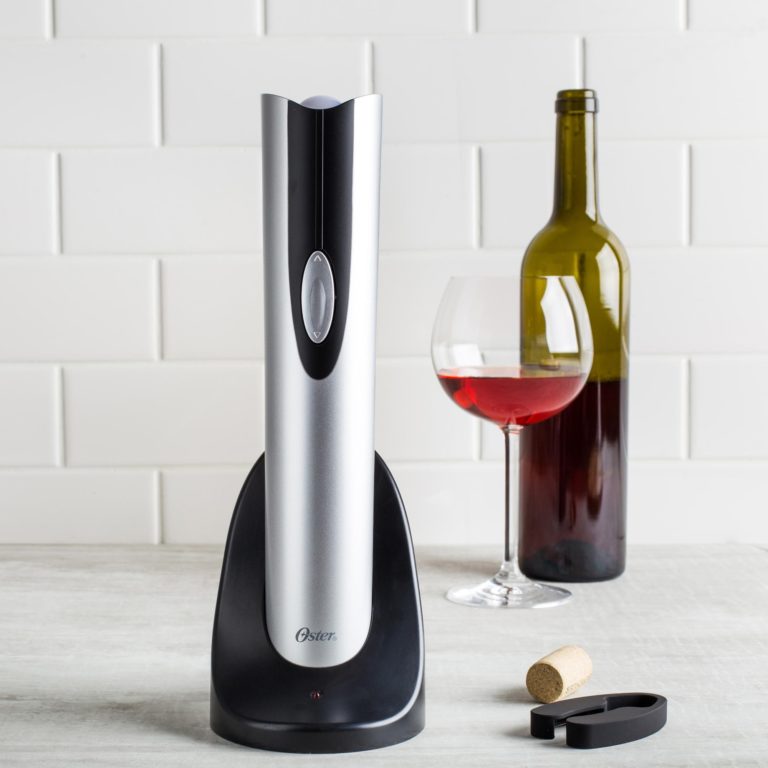 We are moving on to another different style, this one is an electric wine bottle opener. With this one, you will not have to use any sort of effort as it does the work for you. Also, thanks to the sleek design, it is both fun and very easy to use. Simply push the button, and the fast mechanism will give you a removed cork in seconds.
Customer Reports
StSky
Lo and behold, on the first bottle, zoom, it took the cork right out without any drama. Same on the second. And so forth until now, we're 3 years later and it's still working fine for them several times a week. The chiller was a nice touch but I don't think anybody ever used it.
Keith Coleman Jr.
I got this as a gift for my fiancé for Christmas and she was pleasantly surprised! I have had multiple electric wine openers up to this point that has all had their flaws. But mostly we have needed to purchase a new one every year. While it has not been a year of me owning this one I am feeling pretty good about the purchase thus far and do think it is quality made.
4. OXO Steel Winged Corkscrew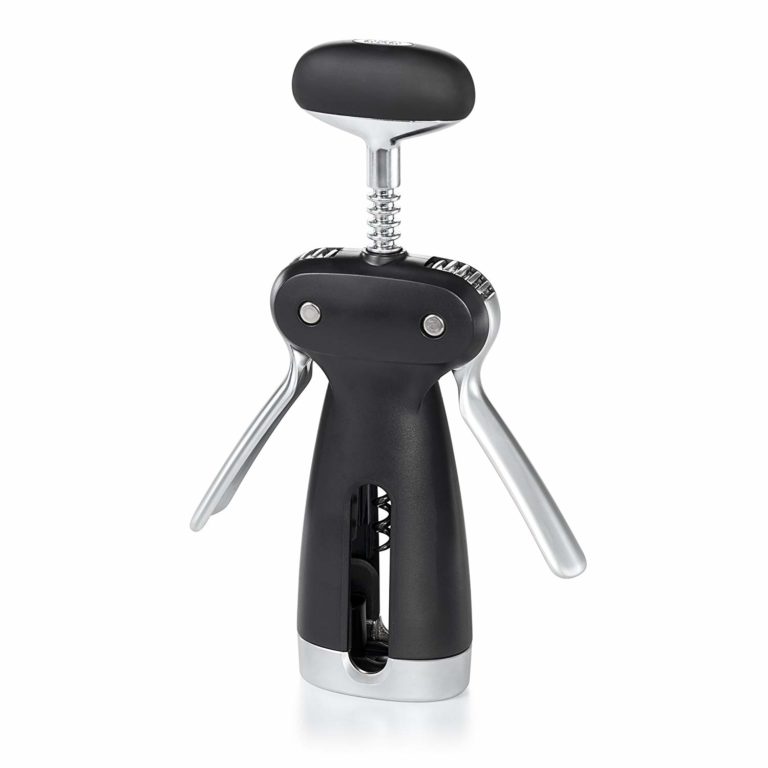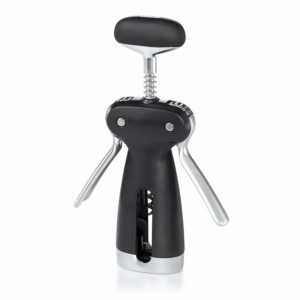 This is a more expensive winged option that has several upgrades. The soft knob means it is easier to turn, while the stopper prevents the screw from breaking the cork, which can be awful for your bottle. The design is also somewhat sleeker than traditional winged openers.
Customer Reports
Walter B
Arthritis bothers my hands something awful. The OXO corkscrew has an oversized handle on the screw that makes spearing the cork simple and easy. The foil trimmer is an added benefit. I didn't think I'd care about that feature because I always peeled the foil off bottles. Turns out this a very useful feature.
Amanda
So easy to use, the base is a foil cutter with nice smooth blades, the screw itself is so easy to use too. You don't have to struggle with getting the cork out either.
5. The Original Rabbit Corkscrew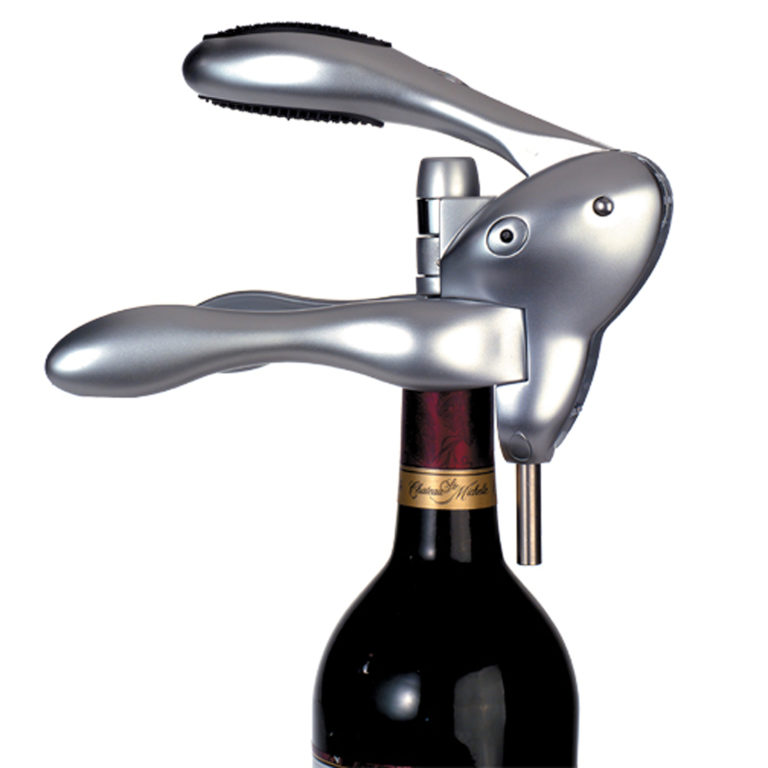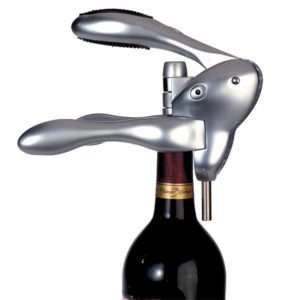 The Rabbit is among the most famous corkscrews available, and it is guaranteed to remove the cork within three seconds, no matter the size of the bottle. No surprises about its fame should exist really. Many stylish colors are available too.
Customer Reports
LK
I bought this for my mom and dad as an upgrade to the older wine opener they had. One great quality about Rabbit is how easily they open wine bottles with little effort. The opener glides smoothly and is quality made. This was the case with this opener, and it worked really well, especially for my mom who suffers from rheumatoid arthritis. I would definitely recommend this opener and I am pretty loyal to the Rabbit brand when it comes to wine openers.
VV0620
Best wine bottle opener, hands down. I've bought 3 electric openers in the past & after each one died sooner and sooner after the purchase, I gave up altogether. I received one of these as a gift years ago & was flabbergasted at how easy it is to use! Eventually, it broke, but I wouldn't replace it with anything else! Definitely worth the price tag!
6. Rabbit Vertical Corkscrew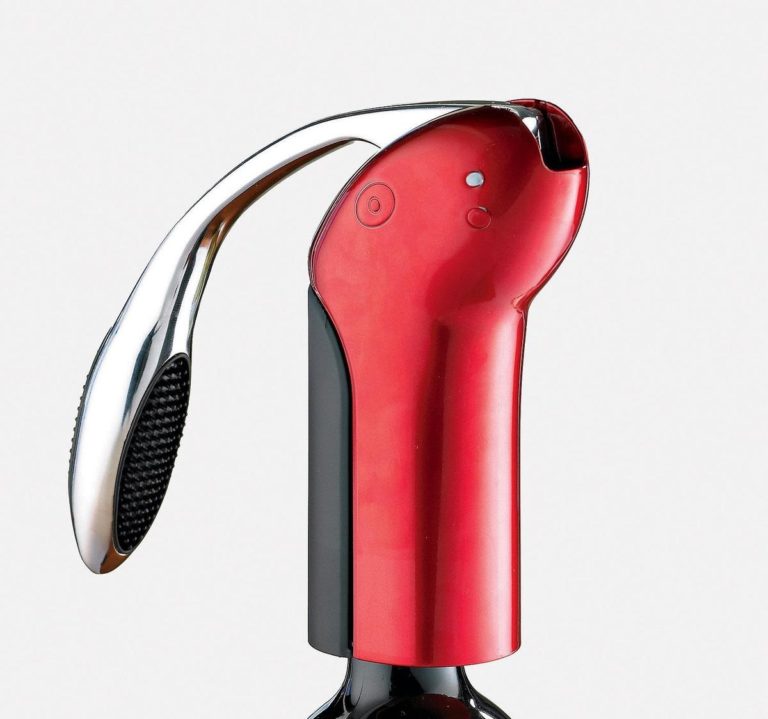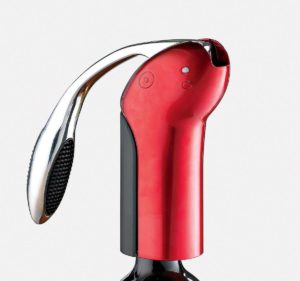 This type of the iconic Rabbit opener can uncork a bottle in a single pull in three seconds as well, while the vertical shape makes it easy to display and store and display. For such a product, the price is fair. It lasts for more than five years. 
Customer Reports
Doctor Ken
The vertical rabbit is the best opener ever. The design is far more ergonometric than the classic horizontal style so widely copied–requiring less effort and simpler motion. It will outlast cheaper openers, but be sure to change the worm if you notice the effort increasing. I had one break after several years of faithful, regular service and Metrokane replaced it without hesitation. Great product!
RQ
I received the Rabbit Wine Opener just before attending a weekend festival where we opened and served 8 cases of wine. The Rabbit was a lot easier and quicker than other openers we had on hand. By the second day we were only using the Rabbit as the others had been shuffled back in the box.
7. Le Creuset Activ-Ball Metal Corkscrew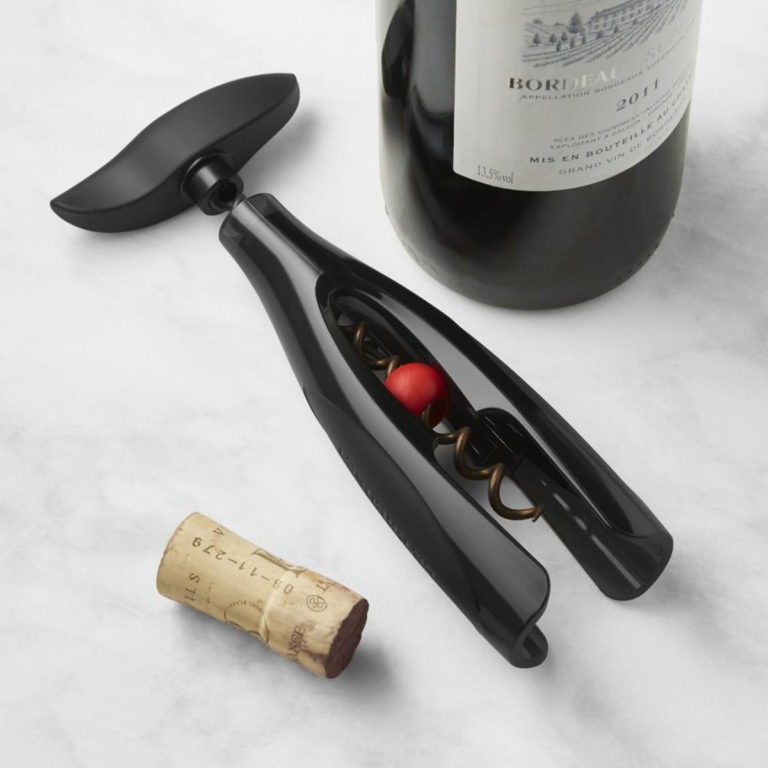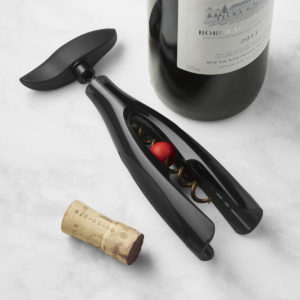 This corkscrew is very stylish and comfortable to use. The handle is soft and grips well, while the internal flex system allows you to use it on any bottle. Also, there is an active-ball technology for smooth cork removal. 
Customer Reports
Dee
Saw this demonstrated on America's test kitchen where it was highest rated of all corkscrews. It is as they described.
Blake
This metal corkscrew is worth the price. It is so easy and always gets the cork out first time every time. It feels heavy, well built, and like it will last forever.
8. Alessi Anna G. Corkscrew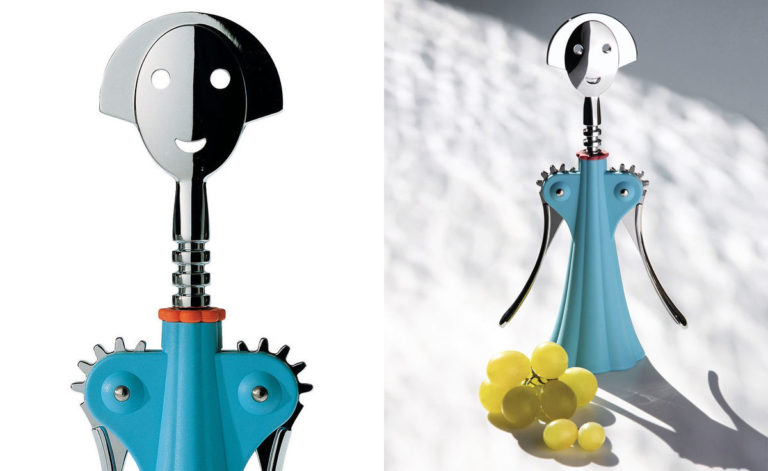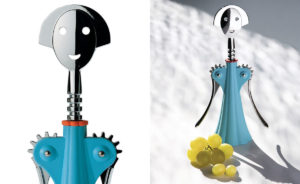 With the last three, we are moving into the pricey territory. Italian designer Alessandro Mendini made this special design in 1994. The winged corkscrew was made to look like a woman, and it is an all-time cult classic. The Alessandro M. is the male version, equally popular.
Customer Reports
Mary.yu
Beautiful! It is a lovely gift. We all like it . Look like a COOL Lady. With Beautiful Dress. Cool.
Julia F. Westfall
Just right! I was very happy with my purchase and have ordered them several times. Thanks so much. I will order again.
9. Legacy Corkscrew with Black Marble Stand & Handle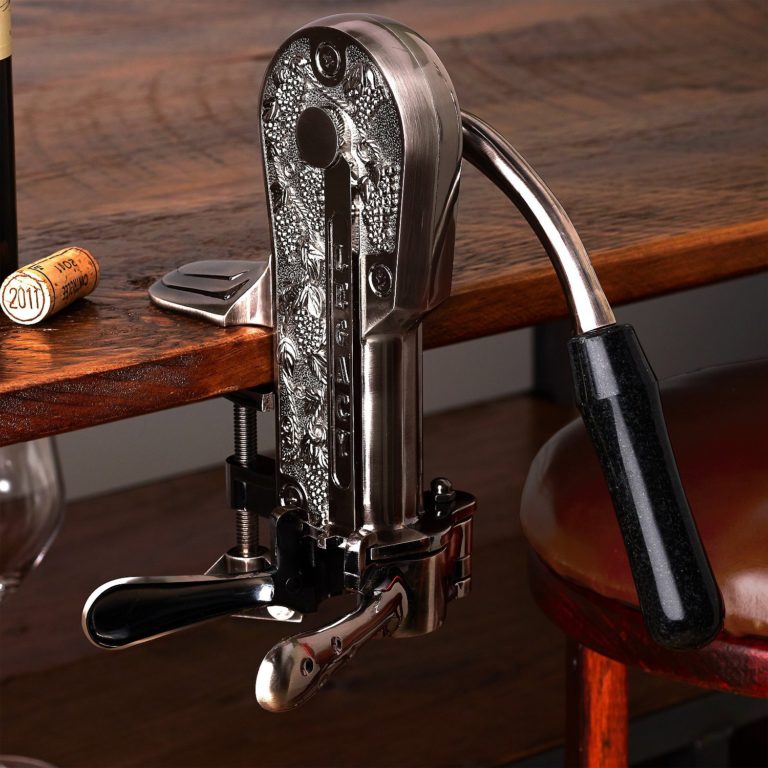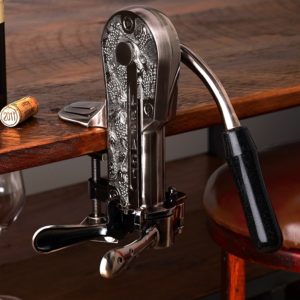 The true wine connoisseurs and collectors will appreciate this elegant Legacy Corkscrew that comes with a beautiful marble stand. This is a replica of an antique corkscrew that removes corks with a single pull of the handle. If you lack counter space, it also easily mounts to the tabletop.
Customer Reports
Sally S.
We had one for 20 years. Loved it so much. However, it was time to get a new one and it's just as wonderful as the last one. Highly recommend it. One other thing we had to use Stan because our counter has a round edge. So we have the stand.
Janine M.
This is a great conversation piece and lends a great ceremony to the opening of nice wine. Works really well – sturdy and well made.
10. Code38 Elite Series – Pro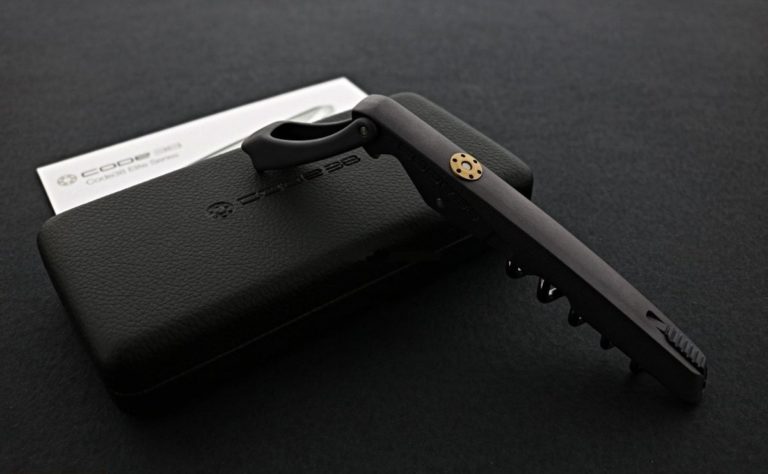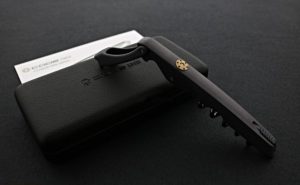 The last entry on the list is a true collector's piece. The stainless steel model is indestructible and comes with a lifetime guarantee. The build is sleek and durable, but it weighs like a feather. True sommeliers and all wine experts should have one. 
Customer Reports
Friendly Redwood
The restaurant I work at gives us wine keys however mine broke nearly immediately, I bought this and have since opened hundreds of bottles and it feels and works like new still! All the servers I work with a compliment it every time I let them borrow it! Truly an amazing and high-quality wine key.
SeekDestruction
I normally wouldn't write a review for such a simple product, but I have to say this is an excellent corkscrew! I've owned many over the years and never had a good one I guess…this thing is great! I was watching a wine show on TV and noticed they appeared to be using a fairly nice looking opener so I went to their website and saw the type of opener they used on the show.
Also, don't miss these models available on the market right now:
OXO Steel Vertical Lever Corkscrew with Removable Foil Cutter
Lever removes cork in seconds with two easy motions
Works with natural and synthetic corks
Die-cast zinc handle with soft, non-slip grip provides leverage for comfortable use
Removable foil cutter stores on the Corkscrew for quick access and convenient storage
Releases cork automatically with a simple pump of the lever
Sale
Secura Electric Wine Opener, Automatic Bottle Corkscrew Opener with Foil Cutter,...
Rechargeable Electric Wine Bottle Opener - Easily remove corks in seconds. Compatible with most wine bottle sizes. Open up to 30 bottles on a single charge.
Easy to Use - Simply place on top of your wine bottle, press a button, and tada, your wine is open and ready to serve.
Small Footprint Saves Space - Our electric wine bottle opener is small enough to store discreetly away when not in use. Keep the charging base next to your wine fridge, storage rack, credenza, etc.
Makes an Amazing Present - An elegant color makes our electric wine bottle opener an attractive present, or use it at home, when catering, at banquets, in restaurants or behind the bar.
Reliable product and service - 100-240V wide input voltage range covers The known voltages of most places in the world. We offer 12 months and lifetime friendly customer service. NOTE: Please charge your wine opener every three months when not in regular use, so as to extend the lifespan of the battery.
Cork Pops Matte Black Legacy Wine Bottle Opener With 4-Blade Foil Cutter
- Cork Pops Legacy Wine Bottle Opener is the fastest, easiest way to open a bottle of wine; Just insert needle into wine cork and push button - button will pop up with classic, satisfying sound
- Comes with easily replaceable cartridge that will open approximately 60 bottles of wine; features four foil cutters on base stand for easy removal
- Cartridge contains low-pressure inert propellant that does not affect the flavor or bouquet of any wine and has no effect on the atmosphere or ozone layer
- Needle guard protects user; Measures approximately 2.25 x 6.75 inches with soft to the touch matte black finish
- Individually fitted in protective packaging
Le Creuset Pocket Model Wine Opener
Self-Pulling travel corkscrew with rotating handle that turns with just one finger
Based on the legendary design of Herbert Allen's original table model
Smooth, sculpted shape and soft-touch panels for a comfortable, secure grip
Folds for pocket-sized storage or transport
handsome frosted-black finish
Prestige Waiters Corkscrew By Coutale Sommelier - Stainless Steel - Handmade and...
FRENCH PATENTED SPRING-LOADED DOUBLE LEVER – The Coutale Sommelier range of corkscrews are the ONLY range of patented spring-loaded double lever corkscrews on the market. Patented by Philip Bernède, French winemaker and owner of Clos La Coutale winery in Cahors, France, The Prestige by Coutale Sommelier is Coutale Sommelier's most premium model; The only French-designed and Patented corkscrew is the Coutale Sommelier brand.
FRAME AND HANDLE IN SOLID STAINLESS STEEL – The Prestige Stainless Steel by Coutale Sommelier is built with a Solid Stainless Steel frame and matching Stainless handle. The end product? A corkscrew that is as aesthetically gorgeous as it is useful. Made of practical lines, The Prestige Stainless Steel by Coutale Sommelier is as comfortable opening 100's of bottles a night as it is on display at home.
STAINLESS STEEL GROOVED WORM – The Prestige line of corkscrews by Coutale Sommelier features a stainless steel grooved worm. Not only is the worm gorgeous – crafted from a single piece of stainless steel – but furthermore it is practical. The groove in the worm creates friction between the cork and the worm, allowing for greater tension and a smoother cork pull.
STAINLESS STEEL SERRATED KNIFE – The Prestige line of corkscrews comes equipped with a Stainless Steel Serrated Knife. Unlike the dull standard-issue knives on most corkscrews our Stainless Steel Serrated knife cleanly cuts the foil, allowing for an even cut across the foil and a clean removal. No more torn foils with the Prestige by Coutale Sommelier.
COUTALE SOMMELIER PINE WOOD CRATE – Reminiscent of wooden wine crates the Prestige Stainless Steel comes packaged in a crate equal in sophistication. French-designed and made in California of sustainable pine wood the Coutale Sommelier Crate is finished with a hot stamp that bears its trademark name – an homage to both the California and French wine countries.