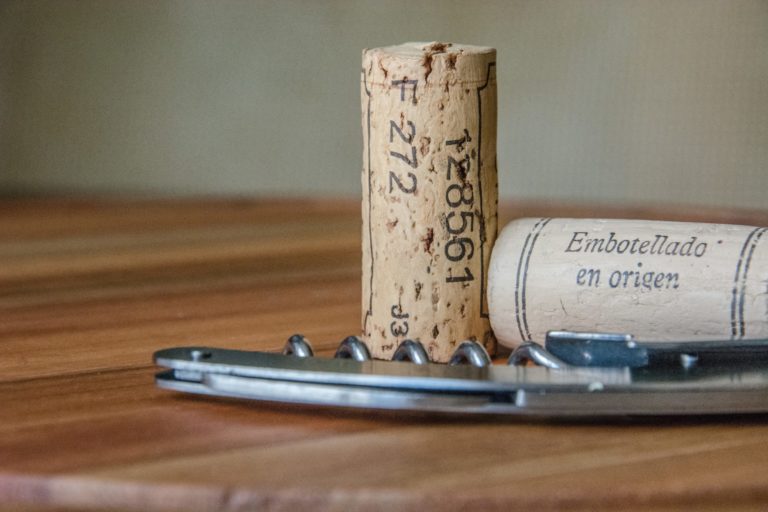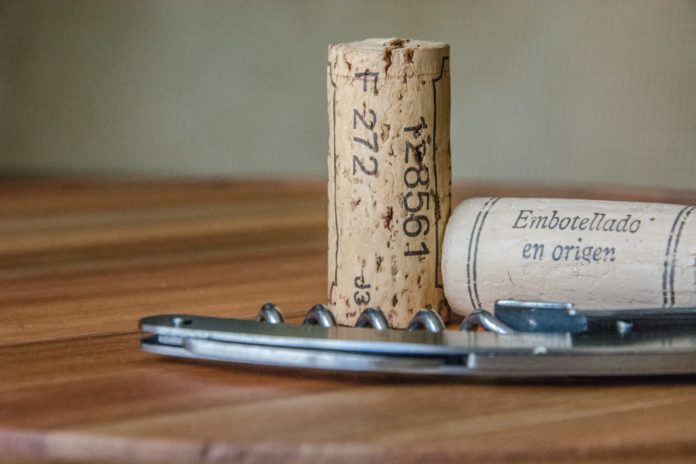 Best Choice
Good Choice
Don't Miss
Also Consider
Oster Rechargeable and Cordless Wine Opener with Chiller
Hicoup Wine Opener - Professional Corkscrews for Wine Bottles w/Foil Cutter and Cap...
Secura Electric Wine Opener, Automatic Electric Wine Bottle Corkscrew Opener with Foil...
HiCoup Wine Opener - Wing Corkscrew Beer and Wine Bottle Opener w/Winged Grip and Stopper...
Thankfully, we live in the modern world where a glass of wine has not been a luxury for a long time. Anyone can afford a quality bottle from time to time, but to properly enjoy it, you should be able to open it easily.
This is where a corkscrew, or a wine bottle opener, comes in. Most people prefer simple models, so in this article, we will go over some of the best ones you can get in 2023.
1. Oster Cordless Electric Wine Bottle Opener with Foil Cutter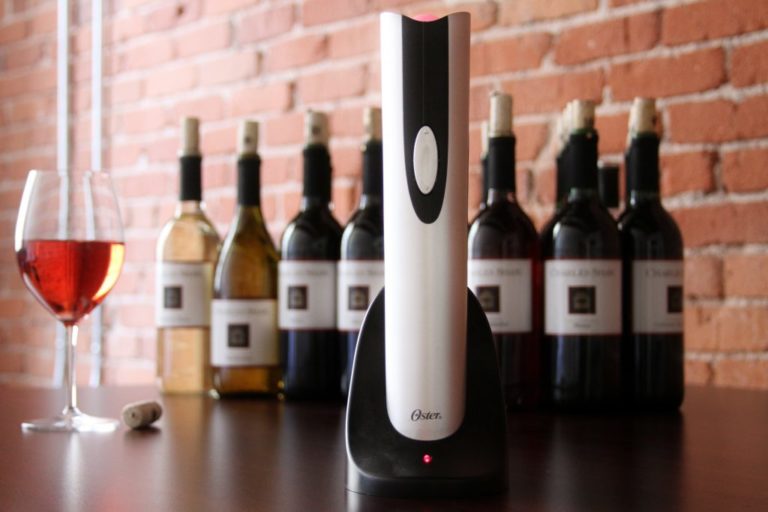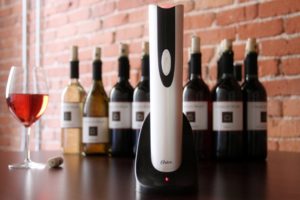 The first one is a fan-favorite model because it is very easy to use, and it gives you an open bottle within minutes. It has a built-in rechargeable battery with a lifetime of around 30 bottles per one full charge. For easier use, the charger and the opener both have power indicator lights.
What is more, this wine opener also has a foil cutter located at the back of the charger. The entire model is rather compact, and therefore easy to store. Still, you should not keep in in a drawer. For stylish fans, three different colors are available, silver, merlot, and champagne. A potential side is that it does not work well with rubber corks, and battery life is a problem for some. 
Customer Reports
Keith Coleman Jr.
I got this as a gift for my fiancé for Christmas and she was pleasantly surprised! I have had multiple electric wine openers up to this point that has all had their flaws. But mostly we have needed to purchase a new one every year. While it has not been a year of me owning this one I am feeling pretty good about the purchase thus far and do think it is quality made.
Dainett B
I tried and used different corkscrews openers, the hand pump cork remover (was a favorite but lot of work) and cordless openers. This is my favorite, effortless, and easy to use. No cork pieces in my wine and no sore hands. Came with a nice foil cutter and a very nice chill bottle holder. Surprised by the charging red lights that I use as a night light. Great product.
2. 

HiCoup Waiter's Corkscrew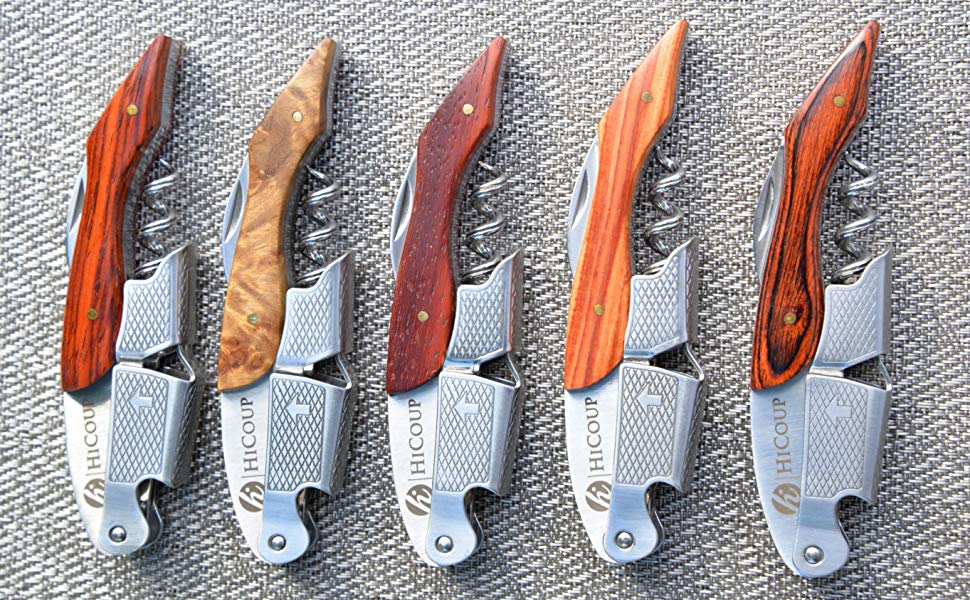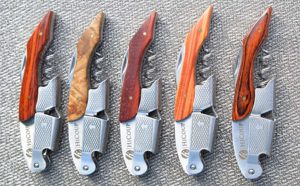 This bottle opener is has a beautiful design. It sports a 420 stainless steel body and a stylish Rosewood handle. It was made precisely to ensure there is no "dragging" while it drills into the cork but. Still, it grips it well enough to make the removal both clean and easy.
The corkscrew uses a double-hinged lever, meaning little elbow strength is necessary. You also get a foil cutter in the form of a serrated blade that easily removes foil and plastic, which can be hard to pull out at times. You can hardly go simpler or more compact, as it fits easily anywhere in the kitchen, and in the pocket.
For the old school wine lovers, it is the perfect way to go. However, you will need some practice before mastering it. 
Customer Reports
Rob G
I was just looking for a basic wine bottle opener to replace the cheapo one I had (I had to bend that one because after screwing it in all the way, I couldn't get the lever to press against the top of the bottle). This one has a spring-loaded lever that works great for starting to take the cork out when screwed all the way in, and then finishing when it is just about out. I initially had picked a similar one that cost more, then stumbled across this and gave it a shot. Glad I did, better than I expected!
Naseem
I am a career server and I have at least 6 of these bad boys. I love the finely serrated edge of the blade, although I do wish it were a smooth blade for more elegant foil cuts. My one gripe is that it's a two-handed tool- I have to use my other hand to pull out the blade, instead of being able to flick it. That being said, a little retraining of muscle memory on the floor solved the problem. I have the wood and moonstone finishes. The weight feels awesome and pulling the cork is smooth. This is my go-to wine opener both at home and at the restaurant.
3. Secura SWO-3N Stainless Steel Electric Wine Opener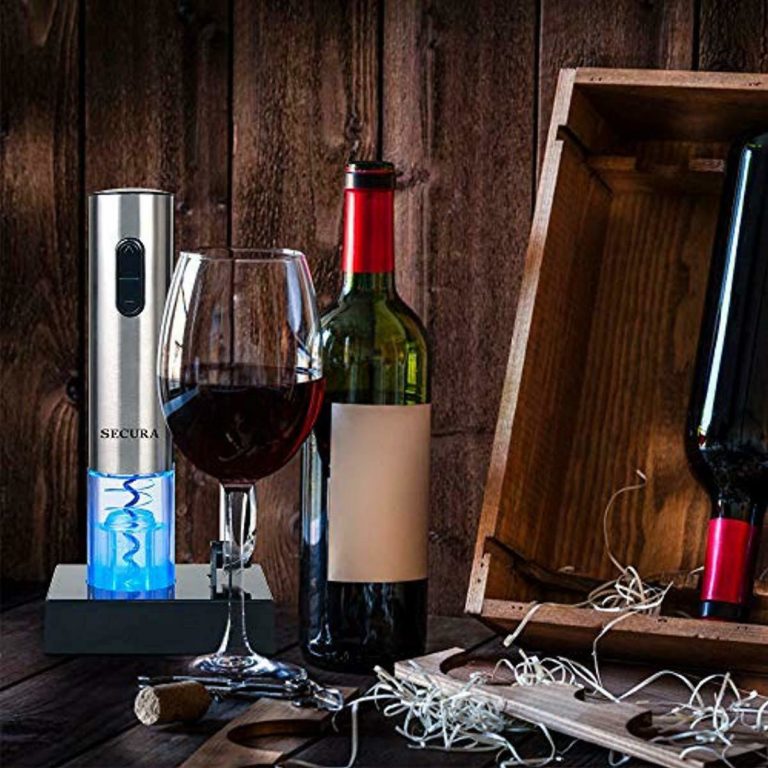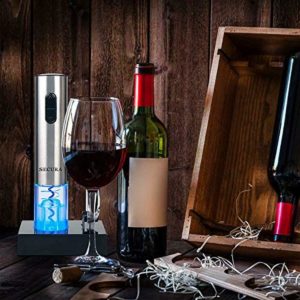 This is another electric wine opener, and it looks somewhat similar to the first one on the list. It has a transparent shell around the worm for a cool look inside while it operates. For even more style and a fancy touch, there is a blue LED light in there. Like any other electric wine opener, it comes with a rechargeable battery, a charging station, and a foil cutter at the base.
Thanks to the all stainless steel build, it looks stylish and modern. What is more, it is quiet and easy to use. Still, some consumers say it can be slippery while using it. Others report it is a bit slower than some of its electric competitors, but an additional few seconds more should not be that important. 
Customer Reports
Julie Mozingo
Bought this bad boy for work. The reviews were either great or people were upset about the battery. I've had it at work for over a month now and opened 1000s of bottles of wine with ease with it. I give this thing raving live reviews. I haven't had a cork break off or any cork in the bottles since I purchased it. If the motor had gone out after 100 bottled I'd have called it worth my money but it's still working 1000s later. It does seem to be going a little slower and the charger base is getting a tad finicky but ill just order another happily when it does go out.
Boiler
Works great. My wife and I have had this new opener for nearly a year and have not had any problems with it. We like to leave it plugged in all the time and having it sitting on top of our wine refrigerator (which also has blue LED lights inside). The blue glowing lights complement each other and look cool. We enjoyed this opener so much, we purchased another one for a friend as a birthday gift.
4. HiCoup Wing Corkscrew Wine Opener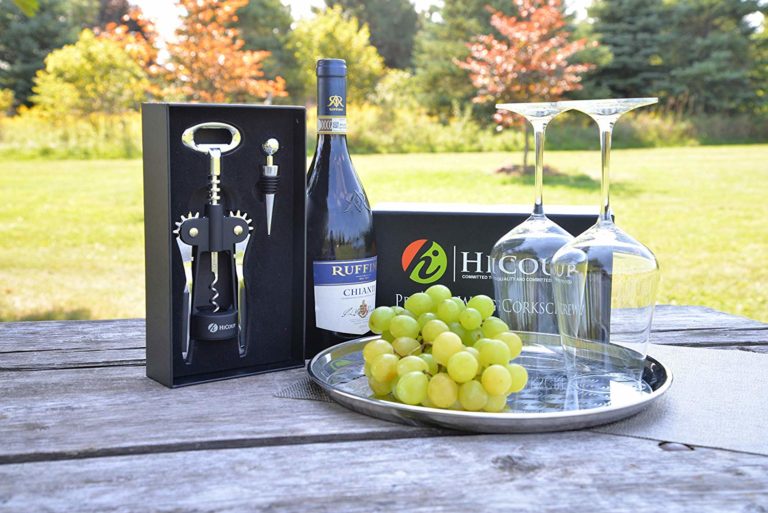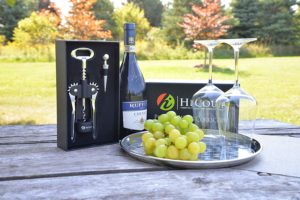 This wine opener is a traditional wing corkscrew. It has a two-inch-wide turning knob, making it easy to screw the worm into a cork.  The bottom collar allows it to comfortably sit on top of any bottle, and it also prevents it from drilling too deep. This means you will never split the cork down the middle, or damage it another way. For more versatility, the knob is also a bottle opener.
What is more, if you do not finish a bottle in one go, there is a high-quality wine stopper included that will preserve the wine until you decide to finish it. If you are not happy with the product, you can get a refund or replace it thanks to the 100% lifetime customer satisfaction guarantee.
One bad side of this one is that you need a lot of pressure to start the drilling, in order to prevent the cork pieces from falling into the wine. 
Customer Reports
BLZG
This is the best wing-style corkscrew I have ever owned. It requires only a light touch to remove both synthetic and natural corks. The styling and design are also special. I turned to Amazon when a corkscrew purchased from a major retailer of home goods broke during its first use!
Glider Pilot 2
This is my first wing corkscrew and I looked at some at our local store. I wasn't impressed with them so I decided to purchase the HiCoup. I'm very glad I did. It arrives in a very nice box which makes it great to give as a gift. The corkscrew looks well made and is visually good looking. The bottle stopper is a heavy metal and also looks very nice. I am very happy with this purchase.
Don't miss some other products available on today's market:
Sale
IPOW Wine Opener, Zinc Alloy Wine Bottle Opener, Wing Corkscrew Heavy Duty, Manual...
Sturdy Metal - Made of solid zinc alloy with high quality construction. You will truly feel this weighted wine opener is heavy in your hand.
No Cork Tear - Sharp pointed spiral goes into the cork quickly and efficiently. No need to worry about the cork remnants in the wine. Just enjoy the sip without hassle.
Easy To Screw - Featured with a big sleek turn handle for easy to screw. For people with arthritic hands and the elderly, IPOW wine opener will be a great choice.
Quick Pop - Just pull down the wings and your cork will come out! Sturdy wings with rubber provide ease and comfort for each grip. And the stable rivets ensure the cork is extracted out of the center.
Nice Gift - 2 in 1 multifunctional design can open wine or beer. With it, wine drinkers can easily open difficult bottles. A fine and elegant addition to anyone's kitchen utensils. No wine lover should miss it.
Sale
Air Pressure Pump Bottle Opener With Foil Cutter,Aerator Pourer,Vacuum...
✔️EFFICIENT AIR PUMP WINE OPENER:It is a simple,easy and fast wine bottle opener without trouble pulling and twisting.
✔️WINE OPENER SET 4PCS:The bottle opener is equipped with a cutter,a vacuum stopper and a Wine Aerator Pourer.It's a great gift for wine lovers.
✔️HIGH QUALITY:Strength ABS cover,food grade Teflon needle treatment,high strength,corrosion resistance,easy to carry,suitable for travel.
✔️COMPATIBLE WITH MOST WINE BOTTLES:The most efficient and convenient way to open a wine bottle,No damage of the cork,and No stopper debris.No pulling,twisting,or broken cork pieces.It is suitable for opening most wine bottles.
✔️100% SATISFACTION GUARANTEE:Please contact us whatever problem you meet! We will response within 24 hours. We promise 30 days 100% No-hassle Warranty REPLACEMENT GUARANTEE.
Sale
True Twister Self Pulling Compact Corkscrew Wine Bottle Opener - Ergonomic Easy-turn Key...
EFFORTLESSLY REMOVE CORKS! NO PULL REQUIRED - Simply turn the ergonomic chrome handle and this corkscrew does the rest. Just twist to insert the corkscrew into the wine bottle and keep twisting to remove the cork.
SLEEK LOOK AND BUILD - The easy-turn corkscrew easily fits in with your other wine accessories, sporting a stylish yet straightforward black and chrome look. Perfect for all manners of kitchens and bars.
EASY SELF-CENTERING NON-STICK CORKSCREW - Since the corkscrew is held in place by the handle, all you have to do is grip the easy-turn apparatus to the top of your bottle, and screw into the cork.
USE EFFICIENT MOTION FOR EASY UNCORKING EVERY TIME - No jerking, pulling, levers or bottle-twisting required. Just turn the handle and let the corkscrew do the rest.
ESSENTIAL FOR WINE ENTHUSIASTS AND WINE LOVERS - The easy-turn corkscrew is deceptively simple and a pleasure to use, making it the perfect gift idea for wine lovers, or anyone outfitting a kitchen or home bar with drink accessories.
Mixi Wine Bottle Opener Corkscrew Set, Wine Openers, 9 Pcs Wine Opener Kit with Wine Foil...
High quality and stable:This wine opener kit is composed of high quality stainless steel, zinc alloy, carbon steel£¬ABS. It is rugged and durabl
Wine Opener Kit: This 9pcs Winer Opener set with the gift box includes 1*wine opener, 1*foil cutter, 1*themometer, 2*wine stoppers, 1*drip ring, 1*wine pourer, 2* replacement cork screws
Easy to use : First use the foil cutter to cut the foil, second use the wine opener to open the wine and then use the wine pourer to pour wine.The drip ring can avoid wine flowing to other places . The replacement cork screw can stop wine oxidation.The themometer can measure wine temperature
Best Gift:This wine opener kit is the best wine Accessories tools.It can be used in restaurant,family and party.With the gift box is the best gift for women, man,father, mother,familes and friends.
Best customer service: If you have any questions about the MIXI WINE OPENER KIT please feel free to contact us by email. we promise that answer your question within 24 hours.