Thankfully, we live in the modern world where a glass of wine has not been a luxury for a long time. Anyone can afford a quality bottle from time to time, but to properly enjoy it, you should be able to open it easily.
This is where a corkscrew, or a wine bottle opener, comes in. Most people prefer simple models, so in this article, we will go over some of the best ones you can get in 2020.
1. Oster Cordless Electric Wine Bottle Opener with Foil Cutter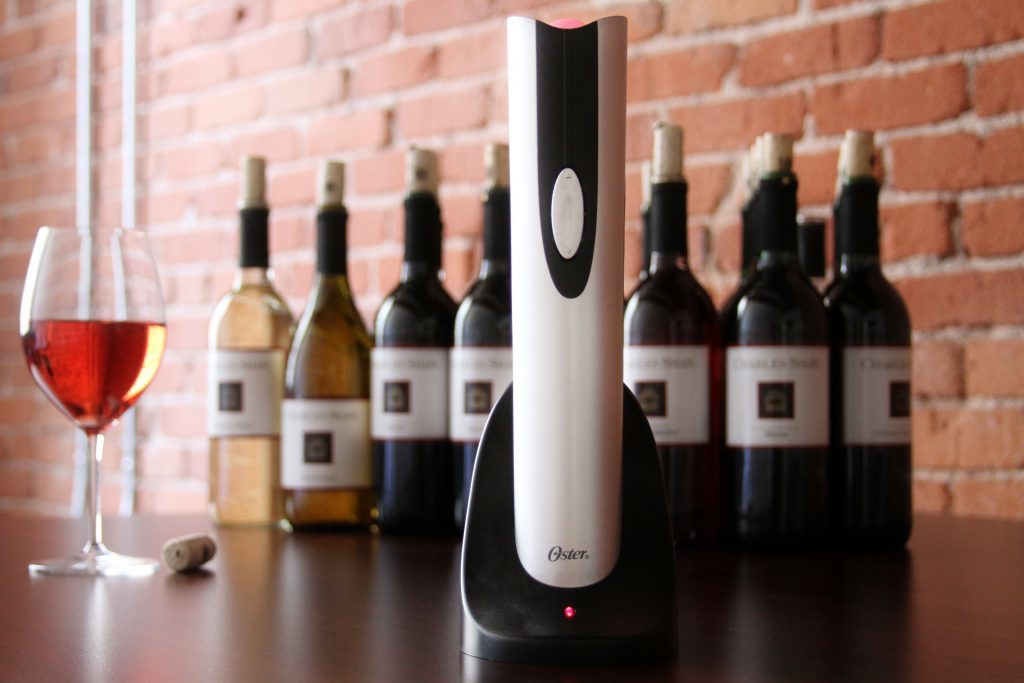 The first one is a fan-favorite model because it is very easy to use, and it gives you an open bottle within minutes. It has a built-in rechargeable battery with a lifetime of around 30 bottles per one full charge. For easier use, the charger and the opener both have power indicator lights.
What is more, this wine opener also has a foil cutter located at the back of the charger. The entire model is rather compact, and therefore easy to store. Still, you should not keep in in a drawer. For stylish fans, three different colors are available, silver, merlot, and champagne. A potential side is that it does not work well with rubber corks, and battery life is a problem for some. 
2. 

HiCoup Waiter's Corkscrew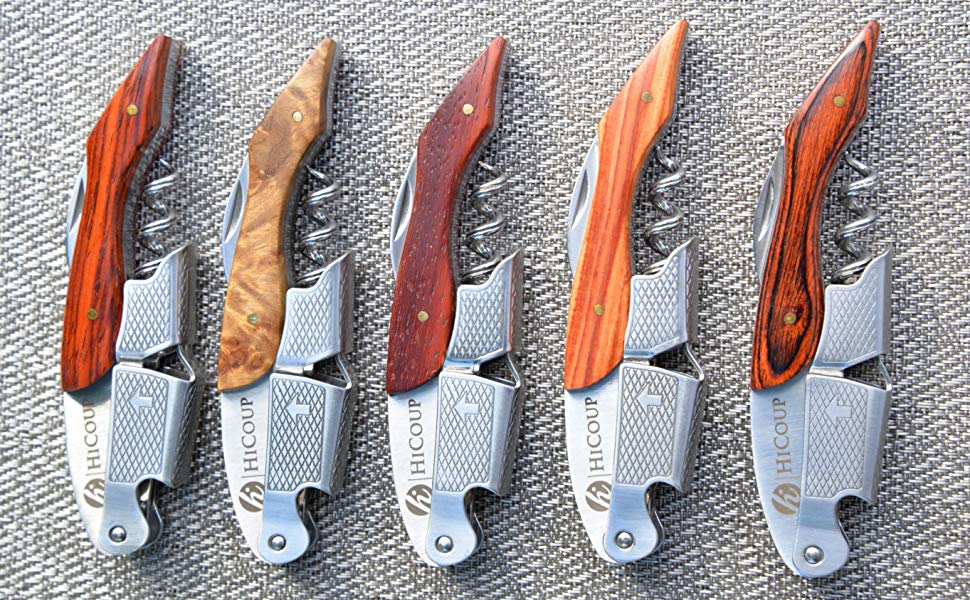 This bottle opener is has a beautiful design. It sports a 420 stainless steel body and a stylish Rosewood handle. It was made precisely to ensure there is no "dragging" while it drills into the cork but. Still, it grips it well enough to make the removal both clean and easy.
The corkscrew uses a double-hinged lever, meaning little elbow strength is necessary. You also get a foil cutter in the form of a serrated blade that easily removes foil and plastic, which can be hard to pull out at times. You can hardly go simpler or more compact, as it fits easily anywhere in the kitchen, and in the pocket.
For the old school wine lovers, it is the perfect way to go. However, you will need some practice before mastering it. 
3. Secura SWO-3N Stainless Steel Electric Wine Opener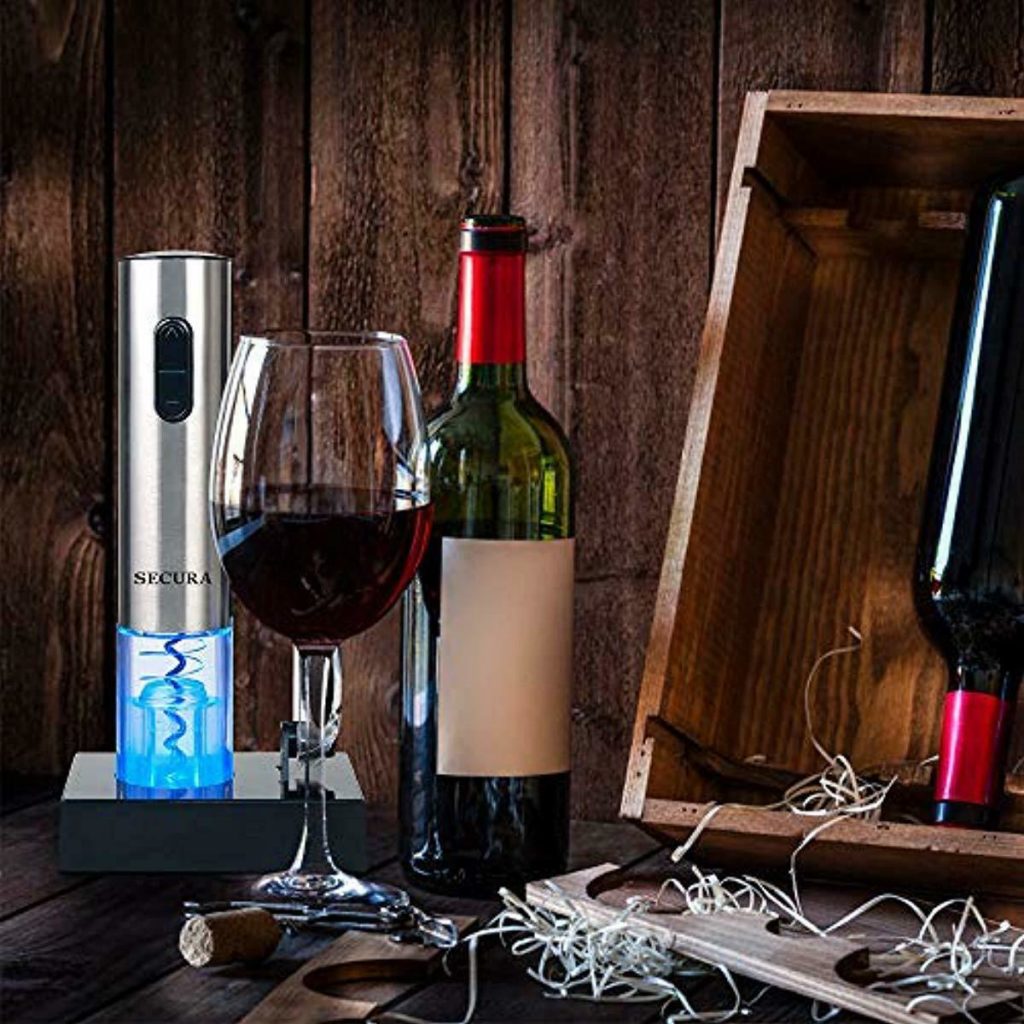 This is another electric wine opener, and it looks somewhat similar to the first one on the list. It has a transparent shell around the worm for a cool look inside while it operates. For even more style and a fancy touch, there is a blue LED light in there. Like any other electric wine opener, it comes with a rechargeable battery, a charging station, and a foil cutter at the base.
Thanks to the all stainless steel build, it looks stylish and modern. What is more, it is quiet and easy to use. Still, some consumers say it can be slippery while using it. Others report it is a bit slower than some of its electric competitors, but an additional few seconds more should not be that important. 
4. HiCoup Wing Corkscrew Wine Opener


This wine opener is a traditional wing corkscrew. It has a two-inch-wide turning knob, making it easy to screw the worm into a cork.  The bottom collar allows it to comfortably sit on top of any bottle, and it also prevents it from drilling too deep. This means you will never split the cork down the middle, or damage it another way. For more versatility, the knob is also a bottle opener.
What is more, if you do not finish a bottle in one go, there is a high-quality wine stopper included that will preserve the wine until you decide to finish it. If you are not happy with the product, you can get a refund or replace it thanks to the 100% lifetime customer satisfaction guarantee.
One bad side of this one is that you need a lot of pressure to start the drilling, in order to prevent the cork pieces from falling into the wine.